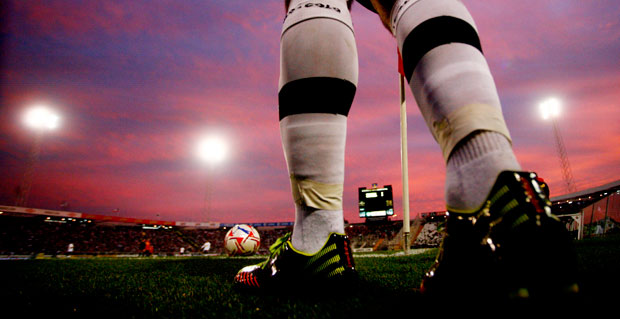 Full Name: Club Social y Deportes Colo-Colo
Known as: Colo-Colo
Nickname: El Cacique
Colo-Colo are a Chilean football club based in Macul, Santiago. The club were formed in 1925 and have yet to be relegated from the Chilean top tier, a quite incredible feat for a club with that large a history.
The club have won 31 league titles and 10 Chile Cups. In 1991 the club became the first Chilean club to win the Copa Libertadores, the South American equivalent of the European Champions League.
The Chilean league system is currently undergoing a transition.
Facilities
They play at Estadio Monumental, a 47,000 capacity stadium in southern Santiago. The stadium held the second leg of the Copa Libertadores final in 1991 in which Colo-Colo won 3-0.
Training Facilities: Excellent
Youth Facilities: Excellent
Junior Coaching: Good
Youth Recruitment: Well established
As you can see, Colo-Colo have a very good setup with regards to their facilities. This will allow you to plan for the long-term future of your saves around the youth from day one.
You will see later on in the post that Colo-Colo have several exciting youth prospects already in the squad and with facilities like these there will be more to come.
Expectations
The board expect you to win the Primera Division, as do the fans. But you will face challenges from the other 'big' clubs in Chile such as Universidad de Chile and Universidad Catolica.
Whilst the cup competitions do not matter to the board, it might be worth aiming to win the Chile Cup in your first year in case the league is taken away from you.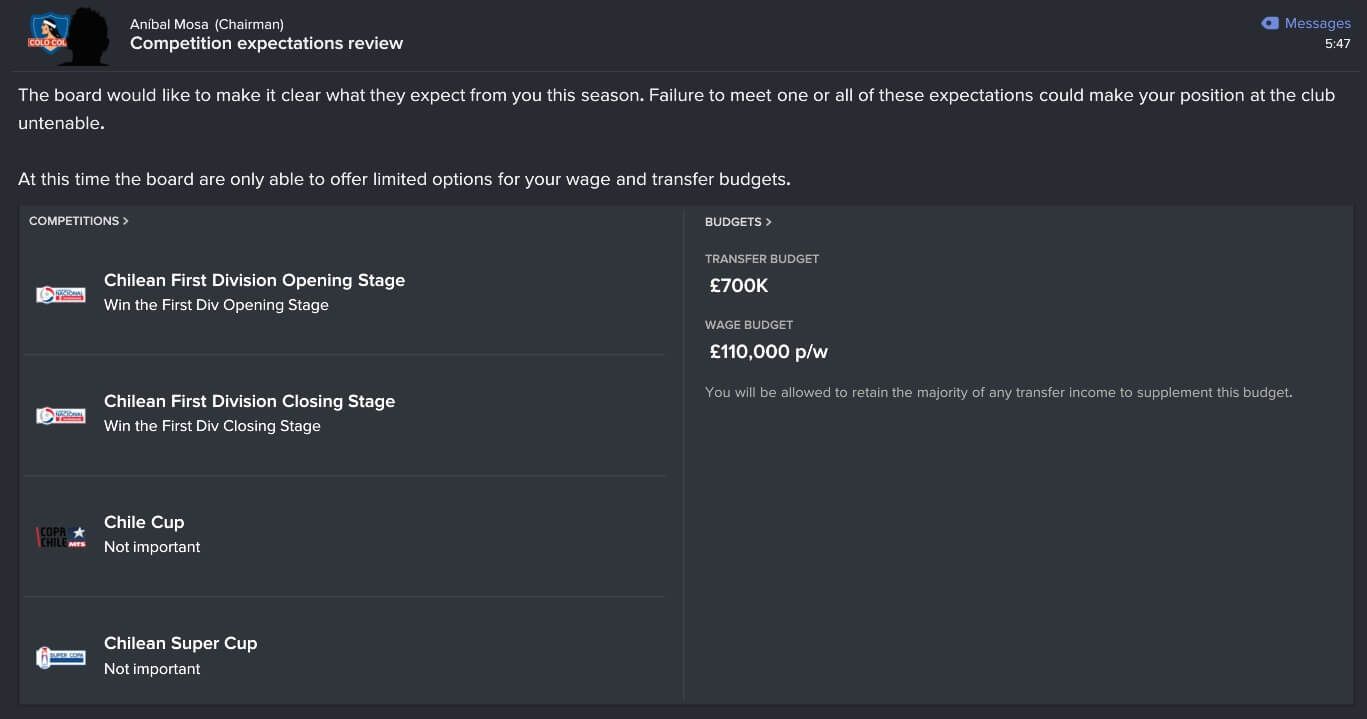 The Squad
You will inherit an ageing squad from 2016 and you will most likely need to start to filter out some of the older players over the season. Your two best players (star rating wise) are 35, whilst your first-choice goalkeeper is 38.
Having said this, as mentioned before Colo-Colo have impressive facilities and it shows in the youth currently in the first team.
In the Chilean league you must have at least two under 20's in your match day squad. Colo-Colo currently have 11 players in the first-team that qualify for this, not including those away from the club on loan.
Esteban Pavez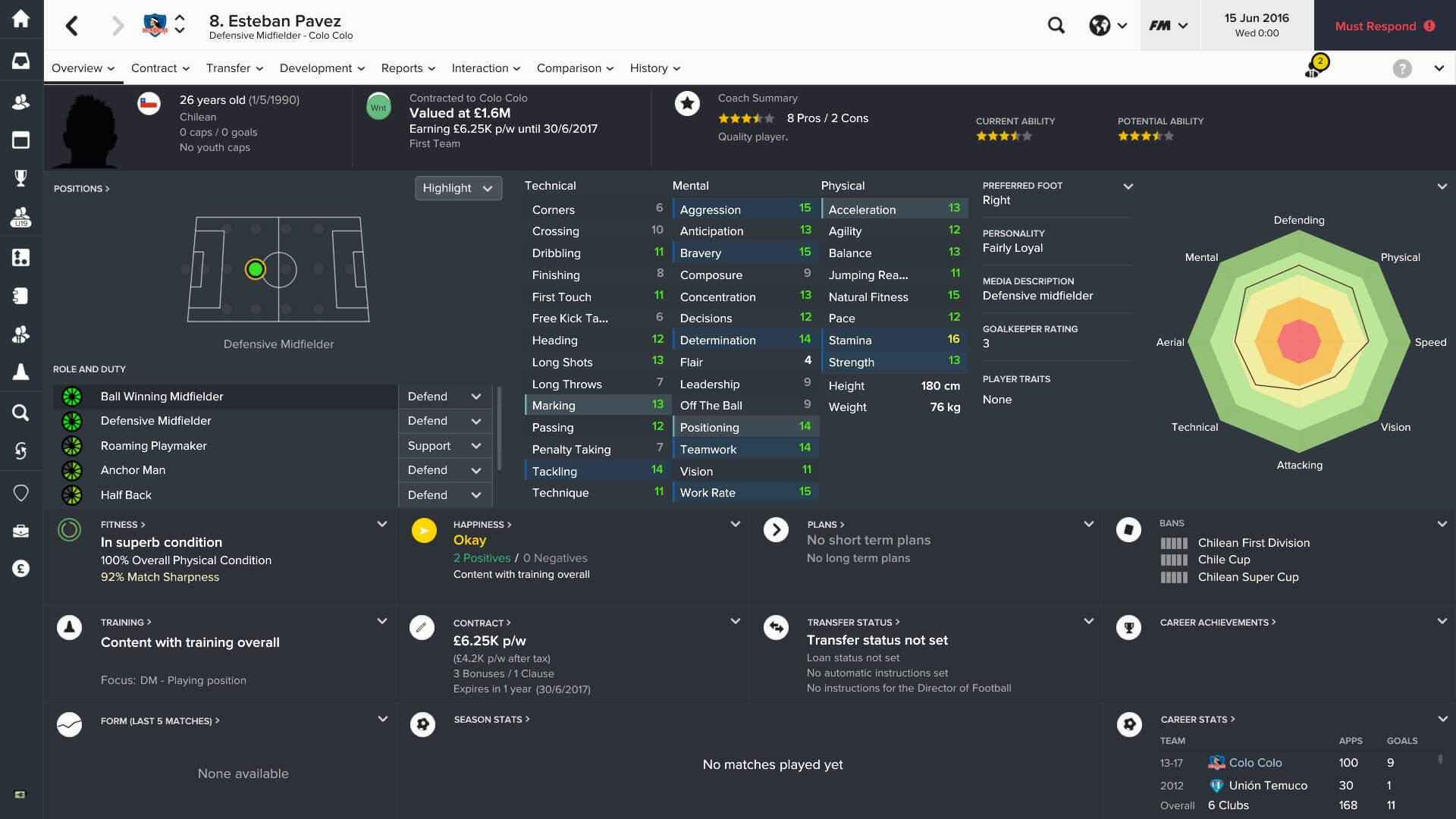 Esteban Pavez could be your rock in the central defensive midfield position for the next few years to come. He has been at the club since 2013, meaning he is well adapted to his surroundings, and he has good determination that could be passed on to some of the younger players.
Octavio Rivero
Octavio Rivero takes up one of your seven foreign player slots (you can have just five in the match day XI) but he could be a very important player for you going forward. He's 24 but has just joined Colo-Colo. He may need a little while to adapt. Also, don't allow him to tutor your youngsters, he has just 1 for determination!
Finances
The club went bankrupt back in 2002, but were revived in 2006 by a company named Blanco y Negro. It appears that, whilst in a stable position financially, you won't have much room to manoeuvre in the transfer market.
You have £2M in the bank and just £690K as a transfer budget. You are also overspending on wages by £4K per week.
Overview
Colo-Colo are in a position where they could go on to dominate Chilean football for many years, yet with some poor mismanagement with regards to finances, they could drop below the elite.
Can you take the Chilean side back to the top of South American football by winning the Copa Libertadores?
---
Thanks for reading. I'm VivaLaVidaFM and I am a Football Manager blogger. I have stories, guides and experiments on my site for clubs all around the world. If this sounds like your thing please do follow me through the links below!
Twitter: @VivaLaVidaFM
Website: VivaLaVidaFM
---