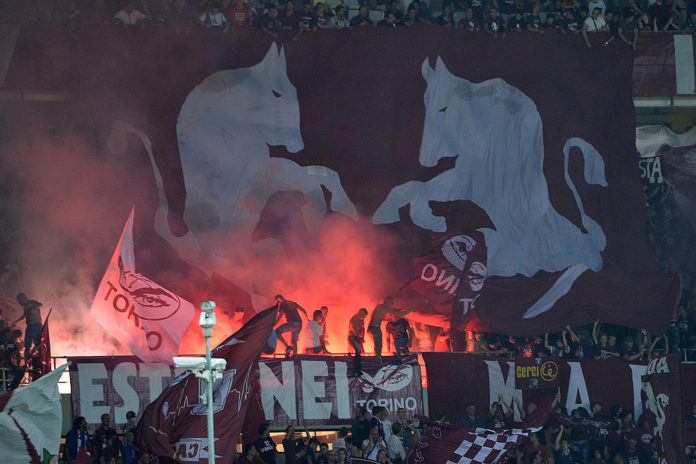 Well hello there.  I didn't expect to be writing anything "Boys of Bilbao" this side of Christmas but I have reached an opportune moment to update you all.  Fingers crossed my other FM project will be happening in the New Year and with 90% of the prep work done I was able to reload this save and try and move it forwards.
I tell you what though, I have no idea how people can produce content on more than one save at a time.  Going back into Torino it felt like I was looking at complete strangers.  These were not players that I had been tinkering with for the last ten days, I had forgotten most of their names.  That said, a couple of of quick wins and they felt like the closest family once again.
I'm writing now with just ten league games left in Serie A and the remains of the Europa League campaign to come.  We sit third, four points off Roma and too many to mention off Juventus who, unsurprisingly, are running away with it.  But, it's been a long time since we have spoken to what has been going on at Toro?
This is quite a difficult update to write because, to be frank, I have forgotten a shed load of stuff that I was doing at the start of the season.  Luckily, I had already written the title of this post before I came back to the save and it has jogged my memory somewhat.  Ah yes, rejects and regens.  The Torino diet.
In the summer transfer window I felt I did some decent business.  Players left, mainly because some of them had become a little bit too big for their boots.  And when you wear boots as small as the 5ft 2in Pablo Piatti, you can understand the problem.  Or not.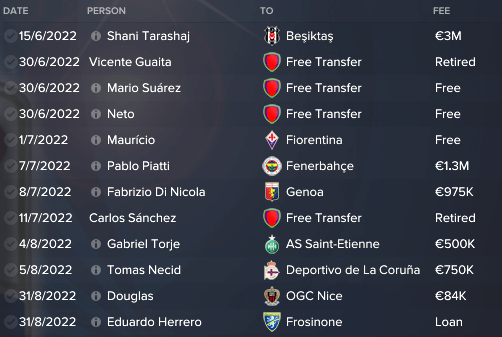 Having declared in the last update that I was determined to keep as many of the old fellas as possible to provide the team with stability, I completely changed my mind.  £3m for Tarshaj was too good to turn down, so that was an easy decision.  But then last season's stars caught wind of the fact they could get themselves one final signing on fee elsewhere.  Within days Piatti, Torje and last season's goal machine Necid were on at me asking for new contracts, moves elsewhere or for me to sign new players.  Hang on a minute lads, I do know what I am doing.  And what I am doing is selling you.  And you.  And yes, you.  Piatti went to Fenerbache, Torje to St Etienne and Necid to Deportivo La Coruna.  I didn't make huge amounts of cash on them, they are all in their mid-30's after all, but they made it clear they wanted out so out they were.  With Mauricio leaving and a few other retirees it was obvious the squad needed some fresh blood.
What I like to do in these situations, and by situation I mean managing a club just below the top tier, is find players with a point to prove.  Players that need me more than I need them.  Players that want to use a club like Torino to get back to the level they should still be playing at.  Free transfers, transfer listed, generally unhappy footballers form an orderly queue and let my scouts give you the once over.
Exhibit A.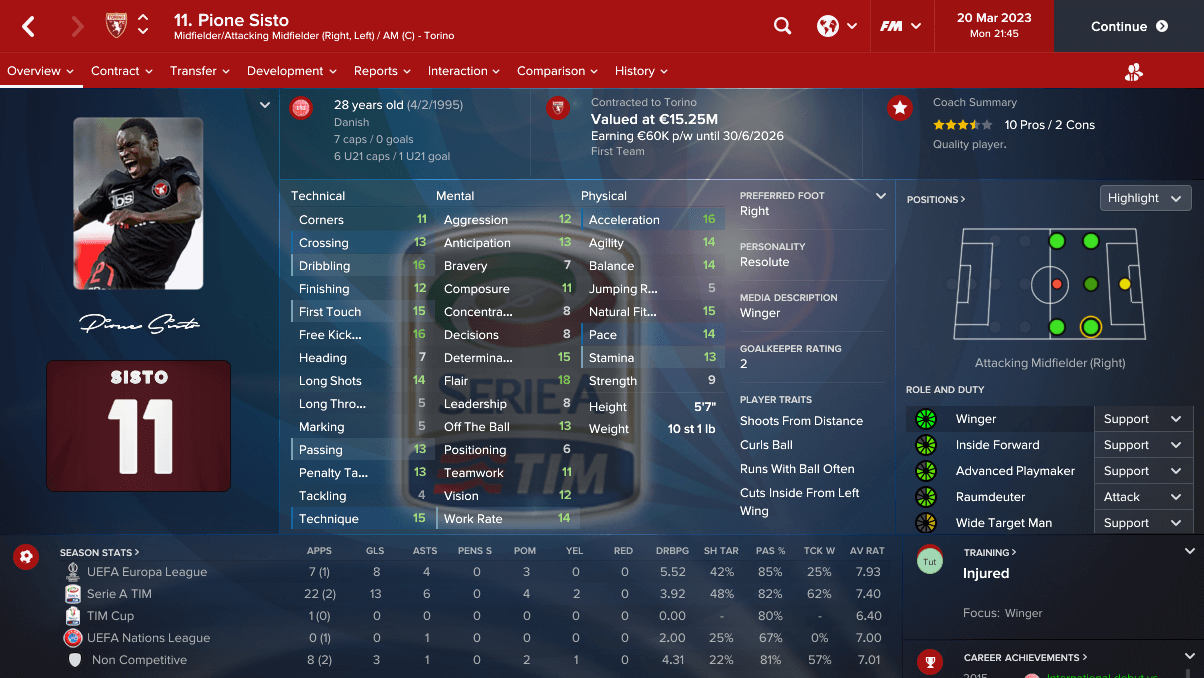 Regular readers will know, I don't dabble much in the top leagues so my knowledge of FM quality far and wide in the upper echelons is somewhat limited.  But even I had heard of Pione Sisto and when he was available on a free he immediately found himself earmarked as Piatti's replacement.  He'd done ok, as you can see.  What that screen does not tell you is that almost everyone of his goals as been an absolute thunderbastard and he has also had a 12 match drought in there.  Hell, he's he not consistent but I like having him around.
Exhibit B.
Yeah, I'd heard about this lad too.  I picked him for £5m after he failed to impress at Inter. Would you believe me if I said he is probably the poorest of my summer signings?  Admittedly, I signed him initially to play up front on his own in the 4141 I was planning on continuing with, but then the whole Strikerless withdrawal symptoms kicked in and he didn't have a natural place.  It's not his fault, it's mine – he is currently retraining to be a Shadow Striker and he isn't doing too badly.
Exhibit C.
What's that?  Would I like to have one of the brightest Italian midfield talents in years for £4.2m?  You bet I would.  He has been brilliant so far and his value has gone up quite a lot!
Exhibit D.
Firstly, you have got to be quite good to play for Barca.  Secondly, if you can them pick him up once they've chewed him up a bit and spat him out for a mere £3m then you've done very, very well.  And he has repaid me.
Exhibit E.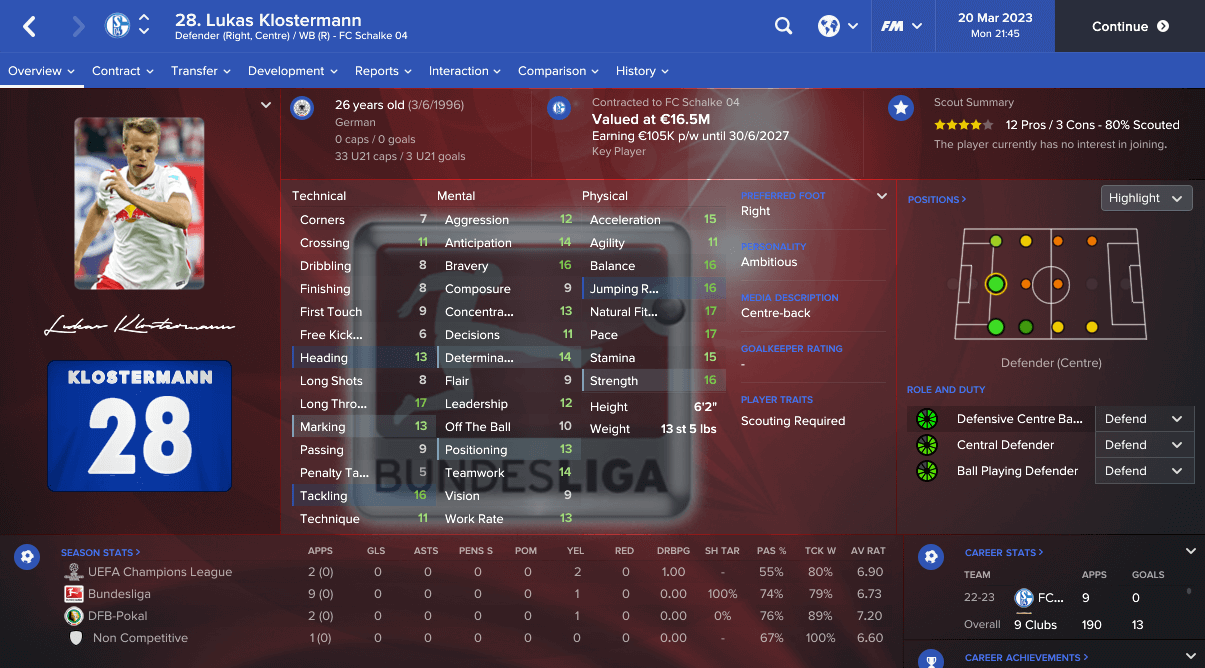 Why is he in the Schalke squad and not the Torino squad?  Well, I bought him for £3.2m in the summer and he was a superb signing.  So good in fact that Schalke came and activated his £8m release fee in January.  Yeah, a bit of a bugger but hey ho.  We doubled our money.
I did quite a few other bits of business too, as you can see.
Patrac, Baliban and Miliovejic have all been superb and only Baliban cost me a fee.
I'm prepared to accept that most of the star signings will move on in the summer, regardless of whether we qualify for the Champions League or not.  I'm comfortable with that, it is the way I always roll.  There will be others ready to take their place and our U20's won the prestigious Torneo di Viareggio so several of them will be wanting to play first team football soon.  The club is in rude health currently.
Yet we are currently only third in the table.  How so, if things are going that well and you have some cracking players in the squad?
Simply, I have been a little bit choppy-changy this season which is very unlike me.  We played 4141 pre-season, and then I changed to the #ArgSt17 for the first league match, on a whim.  We beat Napoli 2-0 which was excellent and we remained with that shape until I signed Gabigol.  I reverted back to 4141 and wasn't happy.  So I tweaked the #ArgSt17 and it now looks a little bit like this.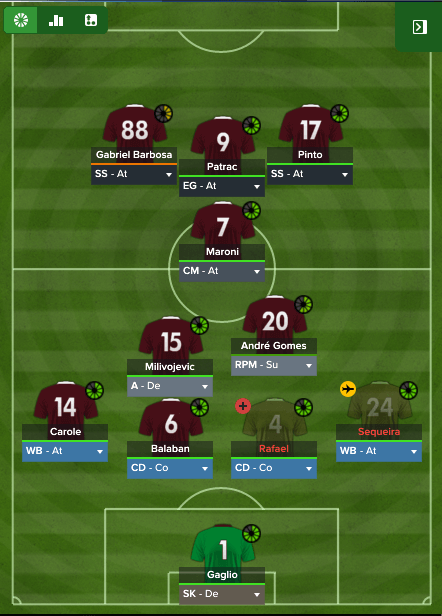 The only change has been to remove the regista and push him into another SS role, flanking the enganche.  This was going great guns until I stepped away from the save briefly.  Whilst tinkering with the potential new project I uncovered another Strikerless formation that seemed to play beautifully with wide men and, with Sisto and Gabigol in the squad, I got very excited.  When I returned to Torino I implemented the style and the results were disappointingly mixed.

Like a fool, I gave it too long and it has probably cost us a pop at the title.  But, I reverted back to the revised #ArgSt17 and we over turned the loss to Braga, winning 3-0, and smashed Bologna 4-0.
That is our run in.  I reckon we can get 2nd place if we maintain form and fitness.  Sisto is just about to come back from injury, so if he can regain his early season brilliance anything could happen.
As you may have forgotten, the point of this journey is to end up back as Bilbao's first team manager having been shown it was impossible to go straight from B team to first team.  Thanks Rafa, I still don't like you.  Frustratingly for me, Hierro is doing a fine job at the San Mamés and he has the club sitting in 4th place, consistently winning the league that doesn't have Atleti, Barca or Madrid playing in it.  I may have to wait a long time, or hope that one of those three teams sees the former Spanish international legend as their ideal next boss.
Ten games to go.  I'd love to qualify for the Champions League, obviously, and I would really, really like to win the Europa League as some silverware would be very nice.  I appreciate the heat has gone out of this save a little bit in recent weeks, but I will be 100% committed to it over Christmas and the New Year so will hopefully crank out a few more updates and delve into some other interesting things like recruitment.
As ever, comments appreciated and questions answered.
Speak soon.
===============
PPS:  Subscribe to the newsletter and get things that don't get published on the website, you know, as a special treat to you.