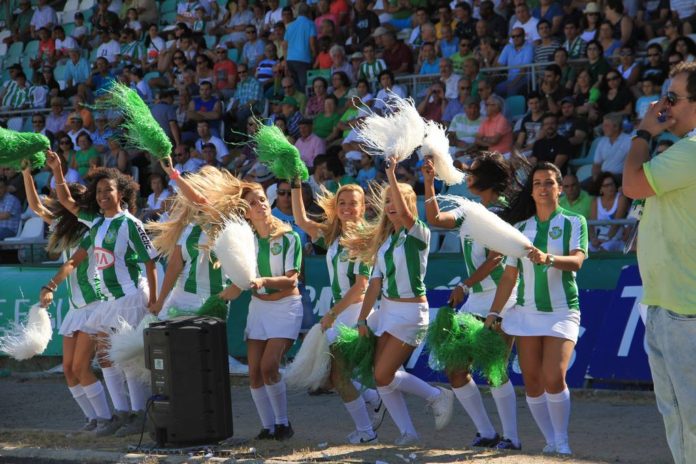 "Phil mate, if you go what the hell am I going to do?  I thought we were a team.  I was going to take you to Bilbao and everything."
United had been on the phone.  José, who I have to say is getting pretty close to being on the same list as Paco and Rafa, wants him to join their coaching staff.  Nice one José, need some folk who understand United to explain a few things to you, do you?  As beg as I might, I knew it was unlikely to make any difference.  I mean, it's United.  Phil spent many a match on the bench there, so it will be like returning home for him.  
It felt like the end of a cycle.  We knew, we really knew, that we had a huge opportunity to win the title last season and it was very unlikely the "Big Three" were going to let that happen again.  I was even flirting with spending £10m on a 19 year old Portuguese player.  I must be going crazy.  But if Fizzer goes, well I will feel quite alone at El Estádio de Bonfim.  I thought we were in this together, well at least until I buggered back off to the Basque country.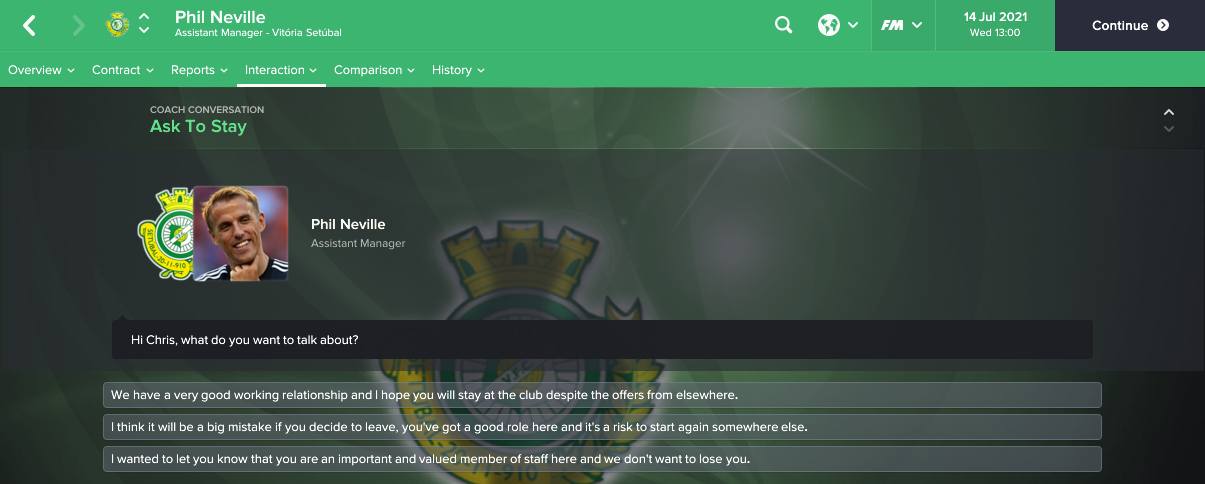 Moments after Phil left the office, the phone rang.  It was Torino…
When writing the second book in the "series" of "Johnny Cooper, Championship Manager" I recall the genuine real-life dilemma of whether "Johnny" should accept a job offer from Tranmere.  I spent the afternoon trying to work out whether I was going to completely ruin the story by letting him walk out on Mansfield Town.  Well folks, I have a similar dilemma right now and by typing it out I am hoping I get nearer a conclusion in my mind.
So Torino.  I won't bore you with the details of their history because I want to be all fashionable and make these posts really short now.  Actually, I can't be bothered to copy and paste wikipedia into here for you.  If you want to know, go find out for yourself but in a nutshell – they used to win stuff and now they don't.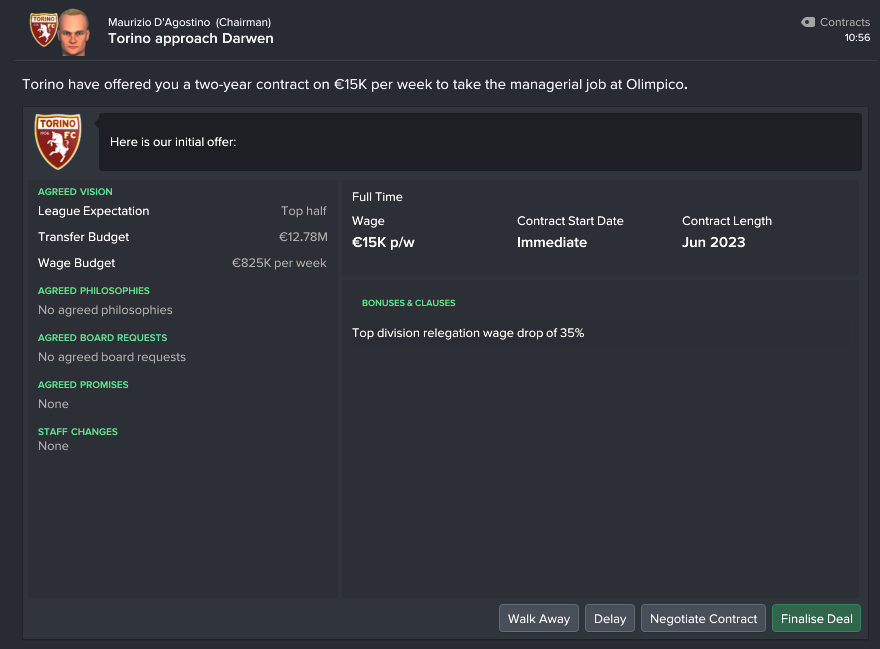 That's double my new contract at Setúbal that is.
How am I going to decide?  Well, I need to work out whether I can do something special with Setúbal before Bilbao finally come knocking.  It's a young side at Setúbal and they have potential, but am I the one to see it through?  To be frank, if this was Bilbao chatting me up I'd be off in a shot.
Let's have a look at the Torino squad and see if it excites me.

Quite the Dad's Army!  Other than their ages, the first thing that leaps out is that I cannot go in there and flick on the #ArgSt17.  The 4141 that I've been tinkering with in pre-season at Setúbal might be of interest though.  Torino are predicted 10th, and if I get a few things right early I reckon I could get into Europe at the first attempt.  Serie A is the 2nd strongest league currently on this save, plus I am armed with a £12m budget so I could make a couple of slight tweaks to the squad after an initial assessment.
What do I need for a 4141 to go well?  Attacking full backs, tick.  Good wide men, tick.  Pablo Piatti and Torje still have a bit left in the tank I think.  That said, they are the only two wide men which suddenly makes me think that maybe 4141 may not be the way to go.  I lie, Torino have another winger hidden away.  Ok, 4141 is still a possibility.  Up top, three good options to lead the line and we have plenty of central/defensive midfield options.  Hmmm, I am interested.
Due to the way the save has been constructed, there are no staff members in place.  This pleases me as I can bring in my own men without rocking the boat if I go ahead.
I have to say, I fancy it.
Especially after this news.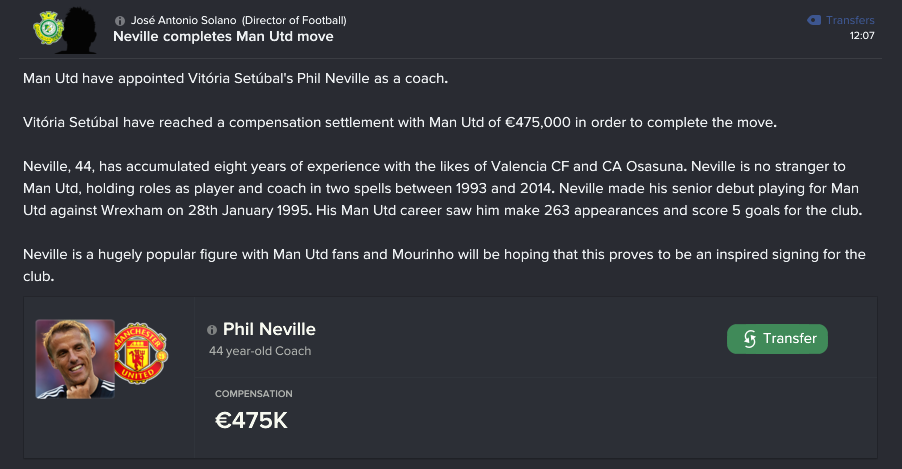 We have just spanked the money on this kid however…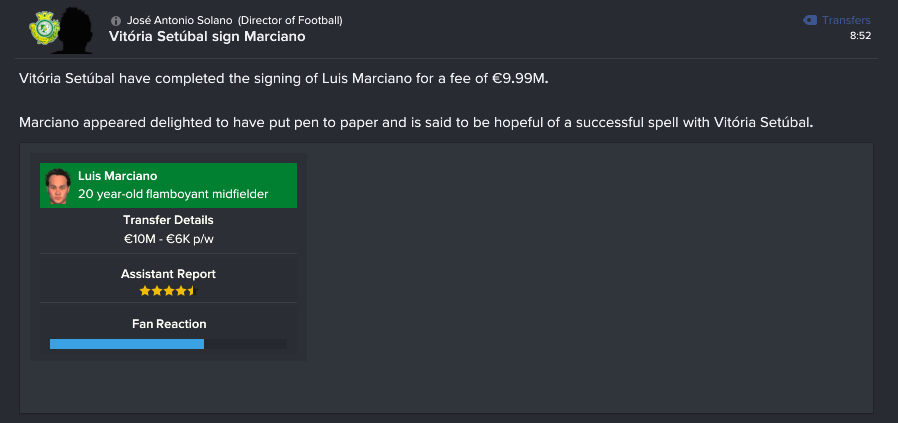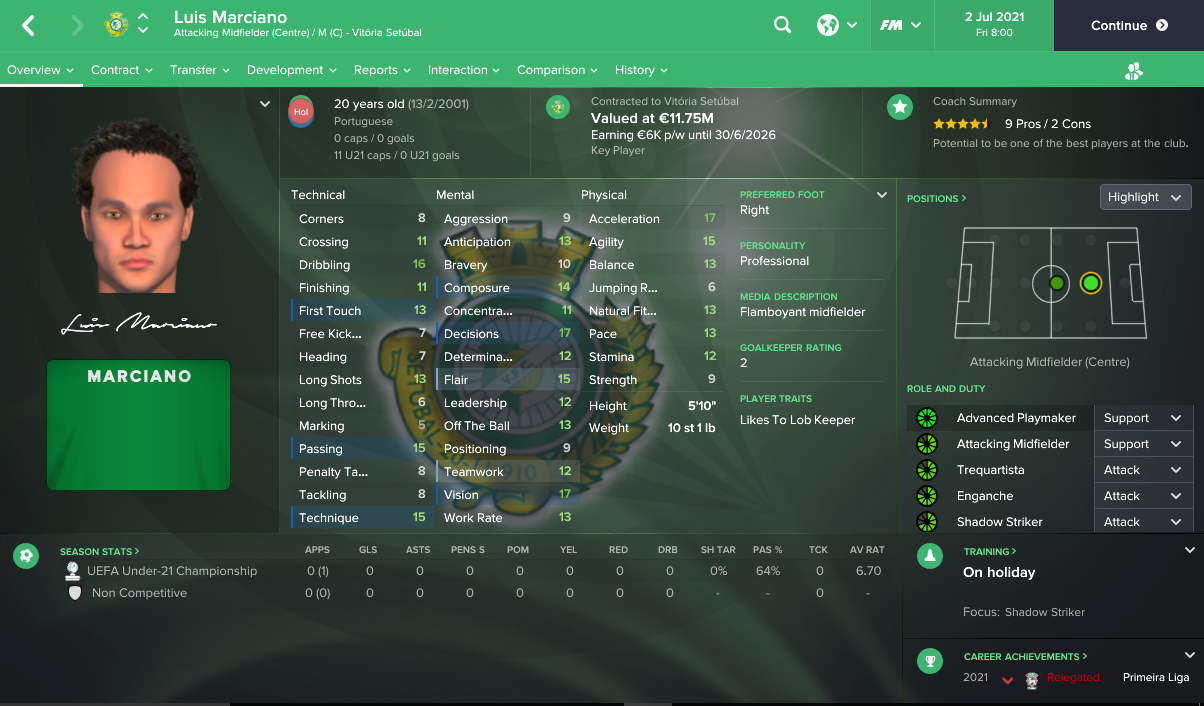 Torino.  Football Italia.  The rivalry in Turin.  The history.  I'd be mad to say no.
#FORZATORINO
===============
PS: Did you enjoy that?  Good!  Subscribe to the newsletter and get things that don't get published on the website, you know, as a special treat to you.