In 2004, Wimbledon FC became Milton Keynes Dons after relocation in 2003. This relocation was announced by the Don's board in August 2001. I must travel back in an alternate reality and stop this from happening.
A lot had changed for Wimbledon by the time the 2001/2002 First Division season was to start. This would be their 2nd season in the second tier. In real life they would end up in 9th, some 8 points short of the playoffs. This would be the start of the demise which made the supporters found AFC Wimbledon and stop supporting the club that had won the FA Cup against the odds in 1988.
I have been given the task of going back in time and stopping all this from happening and do the unthinkable: Save Wimbledon FC. I have given myself another handicap in this challenge in that I must do this the Wimbledon Way. I have to follow Dave "Harry" Bassett's blueprint: Promote from the youth team and sign players that are either out of contract or playing in divisions below us. I need to hope that I can find some gems and transform them into international stars just like Harry did.
On first look, the squad isn't too bad. Reinforcements are definitely needed in the defence, with no recognised right back in the first team squad. Although we seem to be blessed for wingers with seasoned pros Gareth Ainsworth and Michael Hughes joined up by youngsters Lionel Morgan and future Crystal Palace and Reading star Jobi McAnuff.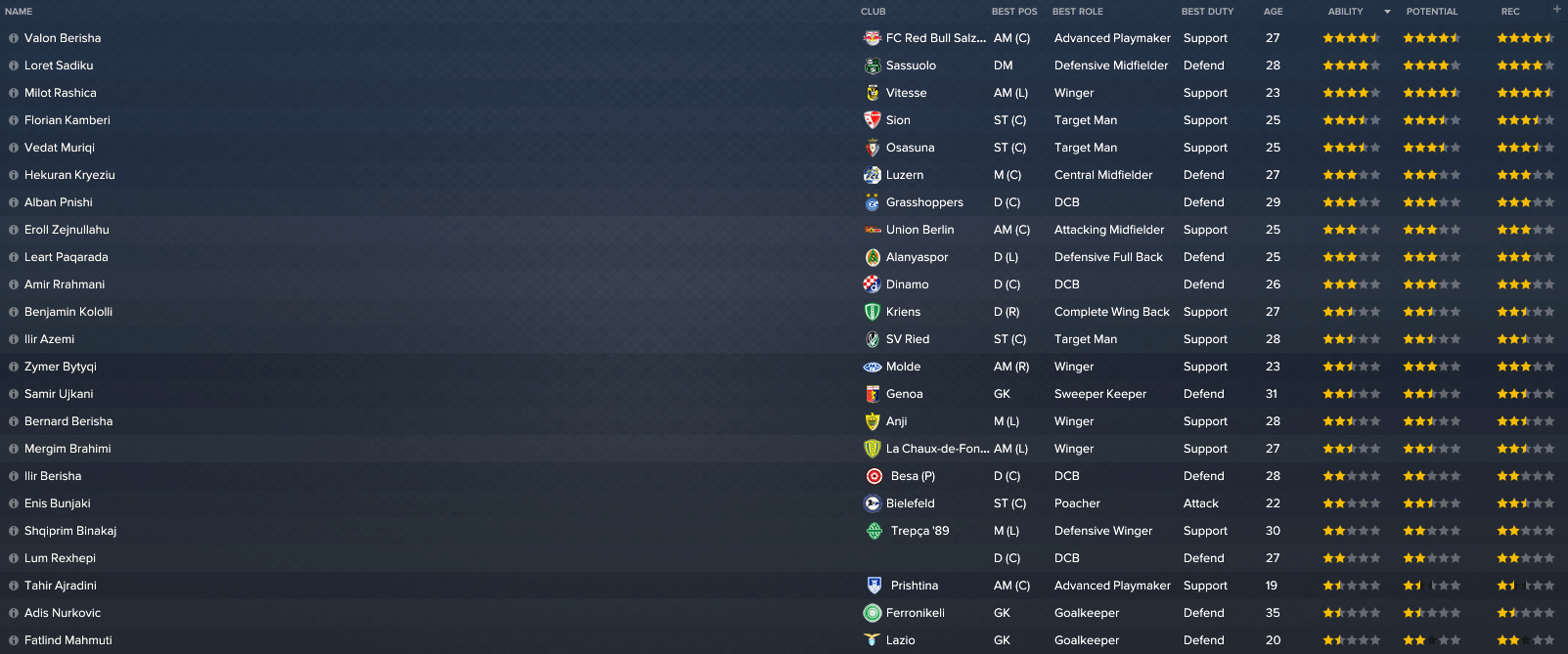 First bit of bad news is that Kenny Cunningham is out for 3 months with a torn groin muscle and Damien Francis is out for 10 months with damaged cruciate ligaments. Before I venture into the transfer market, I check the reserves to see if there are any hidden gems that can plug some gaps for me. There are two players I called up immediately, Paul Heald and Michael Thomas. Heald can replace Ian Feuer who is wanted by a few clubs and we can do with the money. Thomas is called up for nostalgic reasons and just incase we need someone to score a last minute goal to clinch a title.
Knowing we are in desperate need of some defensive cover, I look to the finances page to see whether we can afford to bring anyone in and this is what I'm greeted with….

Oh no. That's not good. That's not good at all. No new players for us then. Is it too late to start with another team? I mean, I tried right? I might have only lasted a day, but I tried?!
No, Chris, you must continue. Thousands of Wimbledon fans are counting on you.
In a bid to try and get some transfer funds, I quickly offer Feuer and Karlsson out to clubs and hope that I get to spend some of the money that is recouped. I also send my scouts out to lower leagues and to search for players between 20 and 25 who won't cost us that much.
Our first pre season match is against Willem II, on our tour of Holland (who organised this? Don't they know our financial state?!) There aren't a lot of names on their team sheet that I recognise, although there is one that I am worried about: Denny Landzaat. The Wigan Athletic flop doesn't have outstanding technical stats, however he does boast high attributes for influence, teamwork and work rate. This is enough for me to want to have a man marking him at all times. As I don't know enough about my team currently, I have decided to be quite conservative and play a defensive 4-1-4-1. I have told my players to be aggressive in their tackles and look for direct balls up to David Neilsen with the hope that Michael Hughes and Gareth Ainsworth will be able to support him from the flanks. This will be the start of playing "The Wimbledon Way".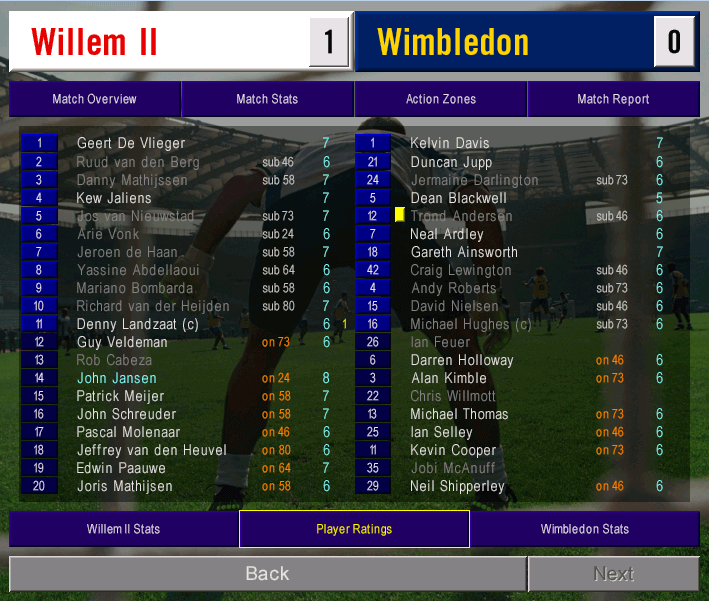 Well we managed to keep Landzaat quiet for 89 of the 90 minutes. The one minute that we let him go was the last before half time, where he was allowed to run from deep onto a Jansen cross and head past Davis. Other than that we limited the opposition to 4 shots, with only the goal really troubling our goalie. On the negative, we had 0 shots, and really struggled to muster an opportunity of any sort. I think next game I might not be so defensive and see how we go. Having no shots aside, i'm not too disappointed with the result as they will generally have a better squad than us, and it is our first game together after all.
For our second game of this tour, we were up against Cambuur. Only 3 of the squad are real players so I felt confident of us getting a result. I decided to change the team up as I need to make sure the whole squad is match fit, but using the same formation. Hopefully being less defensive will result in a better performance.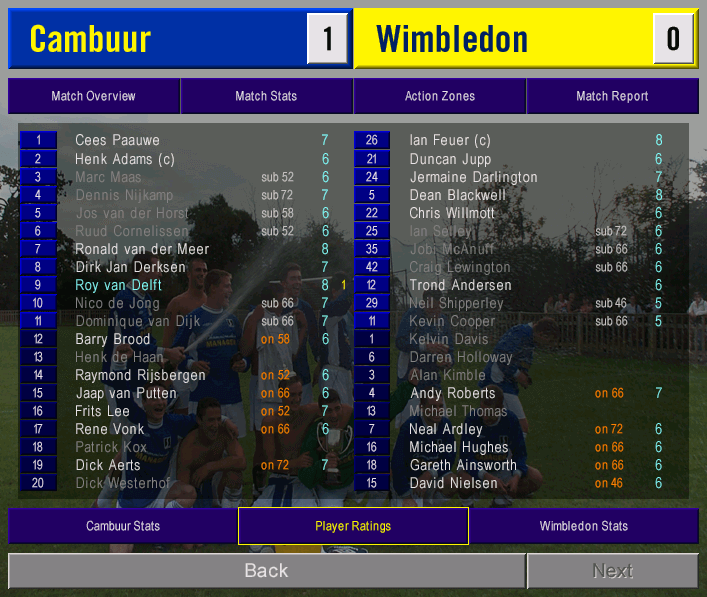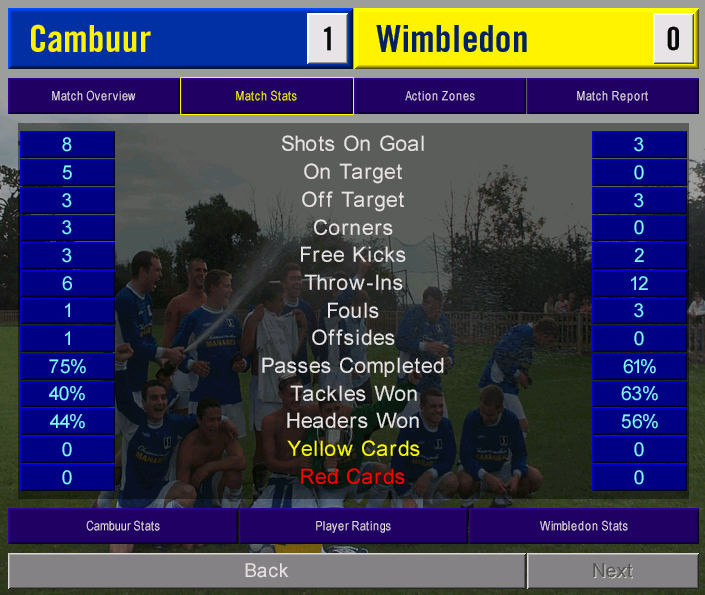 Despite us having a lot less possession than our opposition in the first half, we actually managed to produce some attacking movements but again only resulted in 2 shots on goal, both being off target. I decided to put Nielsen back up top instead of Shipperley at half time which resulted in a lot more possession in the second half but only one more shot, again off target. I really hope our strikers find their scoring boots soon. We allowed the opposition a lot more shots on our goal this game, which is understandable as we were no longer playing as a defensive team but Feuer was a match for all of it, with the goal coming from a rebound from one of his saves. Again, a one nil defeat in a friendly is not too bad, and I definitely won't be complaining.
In the last game of our tour of the Netherlands, we face Excelsior, with again no stand out names in the squad. I decided to experiment and go with an attacking team with two aggressive DMs in the hope that we could allow the front three to work some magic. I would keep one CM in the hope that they could start some attacks.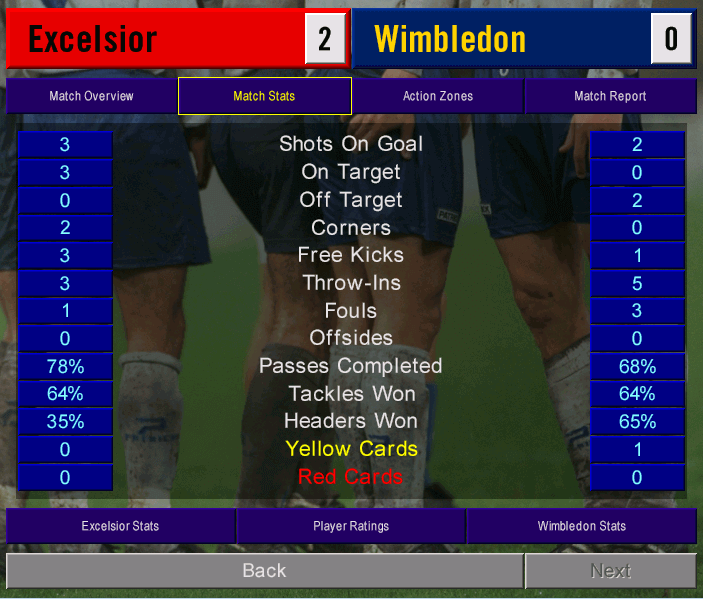 Well for the first twenty minutes we were the better team, having the lion's share of possession with Nielsen firing off two shots which went just over the bar. However, just when I was beginning to feel like I had found the perfect formula, Excelsior scored and defended for their lives. We just couldn't break them down. I made some changes and put some extra attackers on, and of course the opposition extended their lead to 2-0 around 80 minutes. I'm still worried about our chance creating as we only had those 2 shots in the first 20 minutes. I'm hoping that playing against opponents in our own league, and around our standard will mean that we play a bit better. Also it is hard to find a rhythm with so many changes being made by both teams.
Our last friendly is at home against Premier League side Bolton, who I think are more our standard than those on the Dutch tour. I decide to play our 4-2-1-2-1 formation again with our strongest players and hope for the best. Bolton went for a 4-2-3-1 in their last friendly which I hope will find them short at the back when we attack.
They actually went for a 3-5-2 with wing backs, which means that we both had 3 men in the middle. I hoped that my wingers would keep Gardner and Southall in their own half rather than in ours.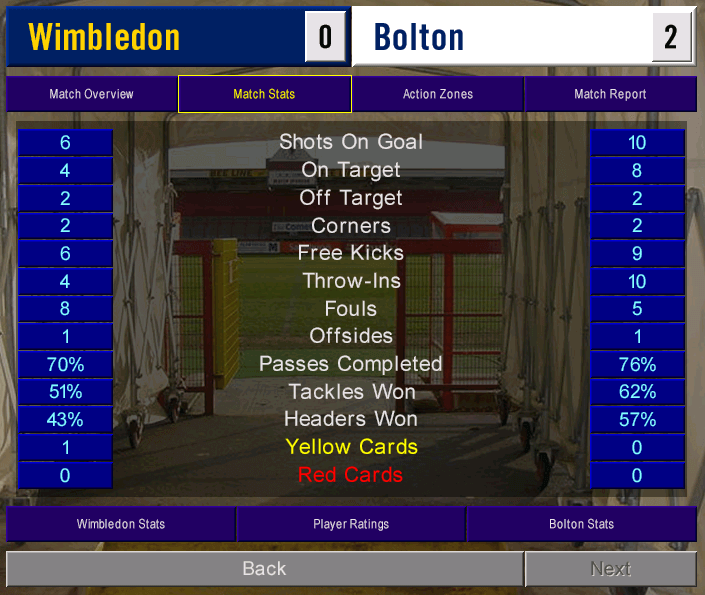 Well we made more chances, in total having 6 shots with 4 of them on target. However again, we lapsed concentration just before half time and Wallace popped up with the opening goal for Bolton, running past three of our defence in the process. I might be biased but I thought we were the better team of the first half and was confident of getting back on level terms in the second half. Bolton came out like a team possessed after the break and hammered our goal for the first 10 minutes. We wrestled back the upper hand after this though but just struggled to beat Jaaskelainen, with the keeper claiming the man of the match award. We threw on another striker and changed to a 4-2-4 which allowed Bolton to get the second goal with 8 minutes left on the clock. Again, this is only a friendly and I'm not too disappointed in the loss, however I will start to worry if this trend carries on in the league.
We also lost Gareth Ainsworth during the Bolton game to a knee injury for the next 3 weeks, so he will miss at least the first two games of the season. I hope that we have found a solid formation in the 4-2-1-2-1 that should help us against teams of our level. I also hope that our scouts have found some players that I can get in without breaking the bank even further!
Join us again soon for the next instalment of 'Saving Wimbledon', where we have 5 competitive games to get through including a tricky tie in the League Cup first round. 
=====
If you enjoyed this, make sure you never miss another post by following us on our Facebook, Twitter and daily newsletter!