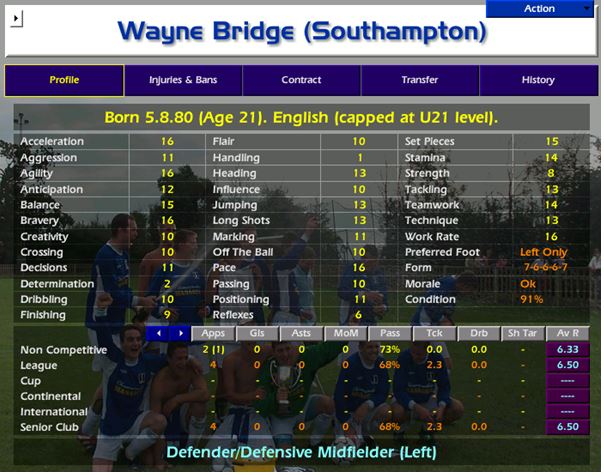 Well look who came crawling back. As we embark on trying to make our way in life without paying for anything, we've been drawing on inspirational stories to try and get us through this. Somebody once traded a paper clip for a house, with a million other trades in between. But still, very impressive, and something we can cling onto and draw parallels with. So far Dave's Beagrie for Aimar swap deals have been rebuffed, but it's only a matter of time.
Last time out Dave's Scunthorpe team were looking quite well placed to go up at the first attempt, whilst Ross' Hull side were a little bit less consistent but still in with a shout. But as 01 becomes 02, do either of us have anything to shout about?
Any transfer news?
Dave: A few more youths have been found, but they're fairly terrible and will make up my Vans Trophy team. The bad news is, Alex Calvo-Garcia won't sign a new deal and as soon as his contract is down to 6 months, he's got offers a plenty. He's going home.

On the plus side, Hodges and Brough sign on for more of this madness, so it's not all bad. Kevin Lisbie has agreed to join us in the summer but his compensation is £650k, which we just don't have. So I imagine that will fall through.
Ross: Nothing doing. Nobody wants to come to Hull.
Has there been any more ridiculous matches?
Ross: The festive season brings little joy to the tigers of Hull. Dumped out of  the FA Cup by West Ham in  a very commendable 3-1 loss. The Board I can tell are getting twitchy even though mid-table was what was asked for at the start. Maybe that adventurous start has back fired on me.
Saying that we go on a decent run. 2 losses in 8 provides something to build on. But this is turned around with a Buck, sorry Luke Rodgers hat-trick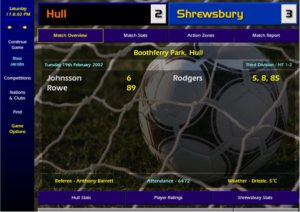 This hurts my team a lot it seems. No idea why, maybe the drizzle affected them. The following 8 games fail record a W. players are turning against more than 12 hungry celebs in a jungle. Hi Wayne Bridge.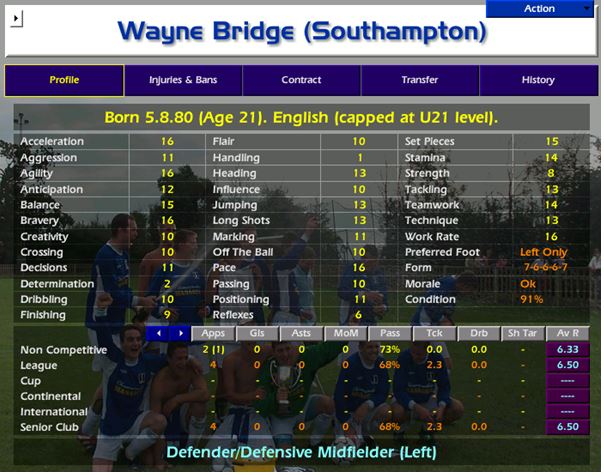 Dave: This was quite ridiculous…
Aside from that though, it's been much more mundane. Business like. Still goals galore but less eye catching. Oh and we went out of the FA Cup at the 3rd round stage

Are either of you going up?
Dave: You bloody bet!
It wasn't plain sailing by any means but we went up with 4 games to spare.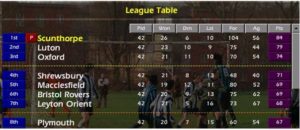 We went on to clinch the title on the final day
109 goals is not a bad effort…
Ross: Jeff Stelling's Hartlepool provide our first win in two months. UNBELIEVABLE!!!.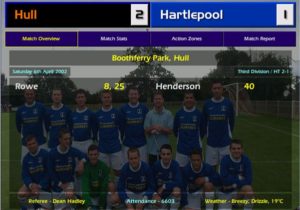 The board say they want results to turn around but the fans like me. Which is nice. I guess.
Two games later I come up against my old foes in Luton and that pesky Liam George.  Im feeling confident after a little surge in form. A loss and don't even make the play offs.
We start strong and feel good, then just before half time I get sucker punched
We are staying in Division 3.
What's the plan for next season?
Dave: I don't know! ACG got 28 goals so he'll be a big miss. If we can scrape together Lisbie's compensation he might help but really I need to sort out the defence, particularly centre half. At least we might be able to get a couple of better loans in Division 2.
Here are our goals and average ratings for posterity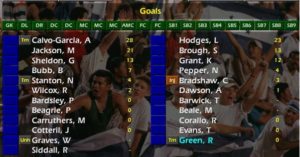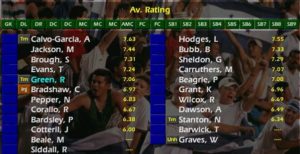 Maybe it's no surprise that three of the lads are in Team of the Season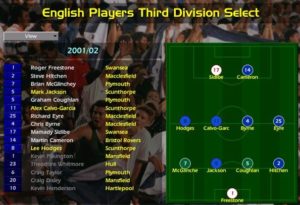 Ross: I round up the troops and my main Mann is back in Neil Mann. Probably too little too late but he seems to perk everyone up. So much so we win away 0-4 to Kidderminster and the place feels ok again. I'm already planning for next season who bring in which veterans to re coup when the worst happens.
Rumours the club want to appoint Steve Bruce and change the name of stadium the KC Stadium and want a F.A. Cup final by 2014. Oddly even changing their names to 'THE TIGERS' is muted.
Maybe I've dodged a bullet, where I end up will be revealed next time. But I've been to Hull and back…
Join us next time as we kick off season 2. Ross is down the job centre whilst Dave tries to plot a way out of the 2nd Division
You can read more from Dave on www.cm9798.co.uk whilst Ross is on twitter @riddley82