Like all bad sequels there is the initial euphoria and the excitement. But this is then followed by regret. The highs that you were hoping fade.  This was the story of my season
The season began with a defeat but this was only om the cup. However, there was disappointment as the game went to extra time. The game finished 2-1, and another cup run was over before the league season had even began.
The first league game of the season brought about a 2-2 with Forfar, a team with considerably better players than mine and for readers of my first post they were favourites for the league. They had slightly better odds of 4-1 than my 105-1. My new striker Macpherson ended the game with a goal and an assist and stretched the Forfar defence. There was certain section of my social feed that went a bit over the top with his performance. I mean he played well for a guy with a passing stat of 3, I can only feel Evie is a bit of a luddite and hasn't yet gravitated towards a television and YouTube 'skills' compilation videos.
The next few games were not as pleasing. I drew 0-0 with Elgin City, followed by a 1-0 defeat to Cowdenbeath. Then a draw with Berwick. It wasn't until Sterling visited that I would record my first victory of the season, beating them 2-0. However, before the Sterling game I had made two new signings. I signed left sided midfielder John Ackroyd on £45 a week and then a left back that was able to provide a bit of danger down the left flank but also the ability to actually defend, I signed Drummond on £30 a week. This helped sure up my left side.
Montorse were the next side to visit and we had to face the pain of conceding a 81 minute OG from the captain Mbu to draw 2-2. This was followed by nice little run of one defeat in the next four before going out in another cup competition to Elgin City.
I decided however that my current 4-1-4-1 was giving me no joy and switched to 3-5-2. This brought about a three match unbeaten streak. With Macpherson and reserve striker Dean Carse connecting well. You may have noticed that so far there has been no mention of Craig Beattie, well that is because he
was garbage. Soooo slow, I just couldn't find a way for him to fit into this side. But it's fair to say he wasn't happy about this. I then spent the rest of the season trying to offload him and his £300 a week wages (this was around 10% of my whole playing staff wages) to no avail
It was around this period that I found that I had made myself a little bit of an enemy. This enemy was no other than Conte, who was struggling in his job at Chelsea. Maybe it was my conversion to 3-5-2 that annoyed him, but something has rustled his feathers. At least I have enemies in high places.
At the half way stage I found myself in 7th but with a feeling of optimism, looking towards the play-offs rather than below me. Macpherson had scored 9 goals and assisted with 6, his average rating however was 6.97, this was the highest in my squad. Dean Cummings my CM had scored 4, but average just 6.7.
It was at this stage that I made the decision to sign a fitness coach an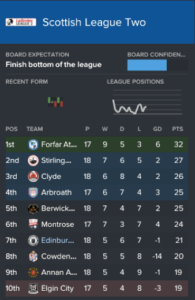 d I employed Richardson on £35 a week, the club could not afford it but fitness had become a serious issue. I also signed a new right back from Queen's Park called Mitchell for £85 a week. This was a serious outlay but I was feeling good this and he has 14 tackling, 13 stamina and many other stats around the 7 and 8 mark. Which was a vast improvement on my current options.
My form from here just capitulated, things went from back to worse. There seemed to be nothing that I tried that would bring results. I went back to my 4-1-4-1 in February but that didn't help. I tried 4-3-3, 4-2-3-1 I went back to 3-5-2 but nothing. I was slipping into despair. This was not the crescendo I wanted but more of a ritardando.
My league position dropped and dropped. I found myself ending the season in a relegation battle. It was all in my hands but it was slipping.
The season went down to the last day, it was all still in my hands. Cowdenbeath (now bottom) went to play the champions Forfar, and they needed a win to stay up. I played Annan needing just to better the Cowdenbeath result. I led 2-1 until the 80th minute when Annan equalised. It was at this point that Cowdenbeath took the lead and they managed to hold on, while I couldn't find a winner. This meant that Edinburgh City finished bottom of the table. This meant the agony of a relegation play-off.
The first leg I outplayed Brora and two Macpherson goals gave me a 2-0 victory. But on the road, where the struggle had been large all season, I managed to hold on to a 3-2 defeat to win 4-3 on aggregate and stay up. The last 23 minutes were the most stressful I have faced every on Football Manager. My goal was being peppered, but we managed to cling on.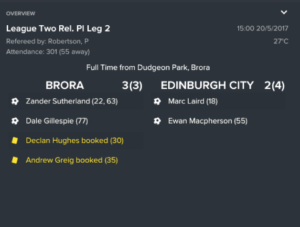 The board were actually happy with this absolute disgrace to the end of the season and decided that this great achievement deserved a new contract, it may only be one year but this will give me the chance to rebuild the squad, as most players contracts are now up. I have managed to achieve what the board wanted. But personally I feel finishing rock bottom is no achievement. But I am also someone that doesn't like to complain, so I find myself it a nice little predicament.
The performances of Macpherson were crucial. He was the second highest goalscorer in the whole league, he is my diamond in the rough, and my reason for the new contract. Without his 20 goals my gradual descent into insanity would have been much worse, however he dragged the side by its bootstraps and my career at Edinburgh City a new lease of life. We have managed to fight for another day. I may now be a failure in my own mind, but Wenger has also been described as a 'specialist in failure' and he has done pretty well for himself.
I will be able to put together a squad that I actually want. This is where I normally allow things to go horribly wrong. But the board, at the moment, are happy with the direction we are going. So here's for one for year!