Choose life. Choose a job. Choose a Family. Choose Edinburgh City.
It is time for me to break the habit of a lifetime and not jump straight in my debut save at Liverpool. This time I'm after a challenge. One where I dive straight into the lion's den. I find myself taking over at Edinburgh City in Scottish League Two having just been promoted from the Scottish Lowland League.
They were promoted to the 6th tier in 1996 so are a club with minimal current history. But they were a club of prominence in the 1930s. The club was created initially with the view to become the Edinburgh equivalent of Queen's Park. But their trajectory was very different and a long and difficult story finds them to being the first side to be promoted through the pyramid system after Dougie Gair scored the only goal in a 1-0 win against East Stirlingshire (2-1 aggregate)
I have loaded all of the Scottish Leagues and English Leagues. This is because of speed and more leagues will be added if I ever progress. I joined without coaching badges and with only Sunday League career experience.
In terms of how I will manage the team I will manage transfers within a moneyball-strata, I will not outline rules (mainly because I will break them as soon as results go against me) but personally to paraphrase Tony Blair "We're all Moneyball now". Many people I feel manage in this way in the virtual world, especially when managing a side that does not have vast wealth behind them. It's a key concept to be able to compete.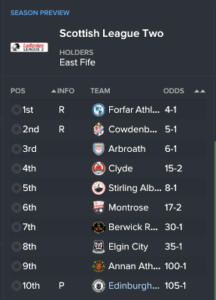 That, however, is the long-term style goal, but currently the thought of someone wanting to pay for some of the dross I expect to have at the club is laughable. It is going to be pure survival for now. The season preview was also not good reading it put us at 105-1 to win the league and the board's expectations is a rather dispiriting 'attempt to avoid finishing bottom'.
The board gave me a small wage budget of just £2,244. That adds up to the second lowest in the league just above Berwick Rovers. There is also a measly £4,044 in the bank and a marvellous £0 transfer budget.
Firstly, I needed to assemble a backroom team. Currently it's just Ross (my assistant) and I. There is no scouting team and as far as a medical team goes it's just: Ross, a bucket, a sponge and a saw. So reinforcements are needed. Primarily, I decided that a Scout would be needed so I took Richard McGeever on £80 a week. Ross was able to retire his sponge as Kevin Oxby joined on £50 a week as a Physio. There are still major holes in my backroom team but this will have to do due to budget constraints, most notably I have no U'20s staff but they have no fixtures so I've decided to leave that for now.
Then I made the mistake of looking through my squad. Horror, regret and disgust were my initial thoughts and those are still yet to subdue. There is one player of note former Celtic and Scottish International Craig Beattie. His pace, stamina and acceleration are all 4, his natural fitness is a mere 3. But he is the man tasked with leading the line, for now…
34-year-old Joe Mbu will be my captain with leadership of 16 and determination of 14 he was the only player with any suitability for the role. Reinforcements were needed and I saw that amateur side Queen's Park were being pillaged by Clyde so I decided to get amongst the action and looked around their side and found a 17-year-old striker by the name of Ewan Macpherson, who joined for £90 a week and also signed defensive midfielder and free agent Alan Walker on £120 a week.
This meant I had to flaunt some of the dead wood in my side around because wage constraints called for it. I managed to offload 4 players for a grand total of £0 to Lowland League sides. But most importantly it freed up £200 in wage budget thus compensating for my two splurges in the market.
Pre-season friendlies went along satisfactorily. The adoption of a 4-1-4-1 counter attacking style and a 4-4-2 that allowed Beattie and Macpherson to work together gave me some decent results.

The only disappointing moment was conceding a late goal against Kilmarnock. It was game that we restricted them to long shots and created many chances of our own. Everything was moving along at a reasonable standard…but then came the draw for the Scottish Communities Cup.
This was certainly going to be a major uphill struggle. Especially the game against Inverness. I was also missing my 'star' man Craig Beattie who had picked up an injury in the last pre-season game which would keep him out for 6-8 weeks. So this meant sticking to the 4-1-4-1 and hoping Macpherson (an advanced forward/poacher style player) would be able to lead the line.
In the first game I found myself 2-0 up against Queen of the South but after a shambolic second half the game ended 3-2. I composed myself and reminded myself that I was expecting a spanking. It's odd how two fluky set-piece goals can change my complete outlook and mind-set.
The competition itself is a tad strange. Games can't end in a draw, penalties decide games that end in a draw and then 2 points are awarded for winning and 1 for losing. I found this out in my game with Inverness. I had held them to a goalless draw then to my upmost surprise the players began taking penalties. Inverness missed their first but from them on everyone was on target and it came down to my goalkeeper Antell to steal a famous win. He buried it low into the corner, I did a small but resounding fist clench and pump.
But then we came down to earth with a thud, defeat came at the hands of Stenhousemuir, but there was a another high point to come in my final game. I took an away trip to Stranraer, yes STRANAER in Scotland!  A late Dean Cummings goal there gave us the win and sent the 64 away fans home full of positivity for the season ahead.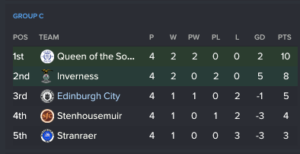 Confidence is almost flowing and my spokesperson seems to be filling my social media feed with elevated expectations. There is a feeling that the 105-1 outsiders could do something special. But that is certainly not something shared by this teams manager…
Jez