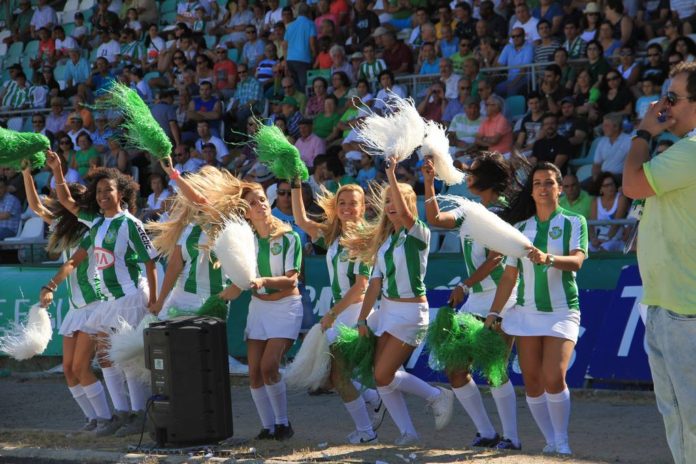 "I should feel happier than this Phil, I really should!"  Fizzer and I were in the office, the league season was finally over and we had surpassed everyone's expectations.  For little old Vitória Setúbal to finish 3rd in Liga NOS was a huge achievement, and congratulations were coming from all over the place.  Yet I felt disappointed, we were so close to achieving much more.  If we had cleared the ball slightly further up the pitch, the throw in would have been taken from deeper.  If we'd managed to slow the game for a fraction of a second, we could have regrouped.  If Catarino had just just got a little closer to Zikovic.  If Pule had narrowed the angle a fraction more.  Hell, if Joao hadn't missed that penalty against Porto…
We won the final game of the season, as expected, 3-1 against CD Nacional.  It meant there was a nervous wait before Benfica completed their routine 3-0 win against Estoril.  We knew before they kicked off we had qualified for the Champions League, but if Benfica failed to win we would go in at the group stages.  Now it would be the qualifiers.  Yes, I am happy.  Of course I am.  But I am also sad.

We were so close to the most incredible of wins in the Estádio de Luz.  We are talking seconds away, yes that close.  Had we held on we would have been in the groups.  Now we have to see who we end up with in the 3rd Qualifying Round.
Still, my initial aim was to secure the Europa League group stages, so this is a big win for us as a club.  And, in the first season, to topple Sporting is quite the feather in one's cap.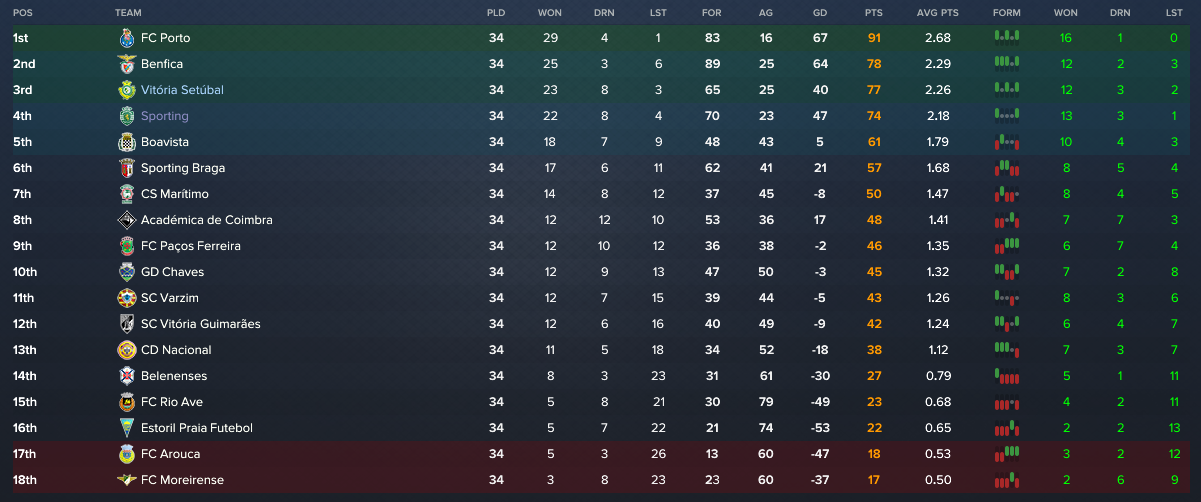 We didn't do too badly, did we?  If you told me we would only lose three times this season, I'd have laughed.  Our performances the second time round against Porto, Benfica and Sporting were magnificent and the gap is a lot closer than the final league table suggests.  With the right additions, and the right retentions we are going to be a force next time round.
Retentions though, retentions.  I can see Bernardo and Candé being very difficult to keep hold of.  Both of them are wanted by clubs Europe wide and if the money is right I always sell.  I have players waiting in the wings to replace them, but I cannot stress how important they both are to the club.  Add to that the fact that Busquets, Balaban, Kongolo, Smith and Caio are all due to return to their parent clubs and it is going to be a summer of change.  I am better prepared for the loanees to leave, especially in the DM positions, but they have all performed incredibly well.
Actually, having looked a little closer, Kongolo & Smith both have contracts that are due to expire and both carry the squad status "not needed" at Middlesboro and City.  Lads, you know it makes sense.  Equally, Caio is "not needed" at Atletico even if his contract has another two years to run.  Busquets and Balaban, well I can cover them leaving.  But if I could talk those three to coming back on permanent deals, well then next season could be massive!
Just a short post today, as this is really only announcing what we achieved in the first season in Portugal.  Also, it is to set up the fact I am likely to be doing some recruitment over the summer IF I cannot get Caio and Smithy permanently.  If I cannot, then I will be doing some "Searching the Stats" recruitment on some attacking midfielders which will, naturally, spawn an "StS 17" type post.
Stay tuned.
#SuperSetúbal
======================