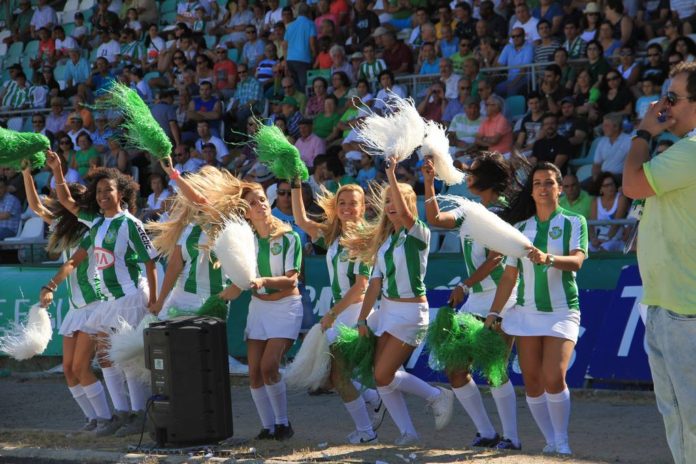 "The Beast" put his arm around me and said in his broken English, "Mister, you must be sure you made the right move now, no?"  I was, I really was.  This is what I had been craving.  A bigger stadium, playing in a competition that although not at the pinnacle of the game was on the next rung down.  The Europa League.  Sure, it was a qualifying game following a mere two pre-season friendlies but it was Europe.  It was where I felt I should be.  Bilbao had given me so much, but they could not give me what I needed next.  The platform to push for silverware, the platform to make a name for myself.  We all had to start somewhere, even José Mourinho, and by moving to the club of his home town I wondered if I could eventually reach the heights scaled by the "Special One" and, hopefully, avoid the nuclear melt-down in the second half of my managerial career.  Julio Baptista, my new assistant and known as "the Beast" was right.  I had made the right move in accepting the role of manager at Vitória Setúbal.  
Vitória Setúbal 4 – 1 AZ.  It's easy this European football lark, hey?  Our first leg of the 3rd Qualifying Round in the 2019/20 Europa League had gone to plan.  Not bad for a bunch of lads called in from all over the globe.  But first, we need to step back momentarily.  What happened at Bilbao?
As I alluded to in the last handful of posts, I knew I was getting itchy feet.  The path of the save as always left open, and once I knew it was going to be massively unlikely to move from the B team to the first team gig (especially as Rafa is currently doing a half decent job) I knew I would need a new challenge.  As I mentioned in the last post, I had been interviewed by four other Spanish teams last season but I could not see myself managing anyone other than Bilbao in Spain in this career.  Portugal was loaded and it opened up in mid-June.  
Due to the way I had set the initial database up, the vast majority of Portuguese Liga NOS sides were managerless.  In fact, all clubs bar the obvious Benfica, Sporting and Porto were looking for someone to steer their ship.  I felt I was bound to get one of them, so I started at the top and pitched myself to Setúbal, mainly as they were in the Europa League.  They could not have been quicker to interview me, and we shook hands.
I liked the idea of Setúbal not just because of the European challenge.  Mourinho grew up here, watched his first football here as his father played in goal for the club and took his first steps on to the coaching field as a youth team coach with the club.  I am a huge fan of the early Mourinho, although I cannot stand the current version.  So, for me, this feels like the right club to take the next steps.  And what a blank canvas I have been given.
When I walked into the training ground for the first time I realised I no backroom staff and a playing squad of 14 players, all bar one being FM generated.  A quick glance at Benfica, Sporting and Porto confirmed my fears – they have their full squads available to them so I am going to have to work hard to break their hold on the Portuguese game.  What fun!
I scribbled down some quick steps that I needed to take to get the house in order.
Decide what I feel I need in the backroom team

Recruit backroom team (literally no one, therefore no way of knowing who the good players are!)

Create a clear recruitment strategy – am I looking at signing players permanently, free transfers, loans, transfer listed players that I can polish up?

Recruit!
Pretty obvious steps, I am sure you will agree.  The recruitment strategy is not to say I am planning on bombing out the entire squad, but if I am to bring my #ArgSt17 to Setúbal I am going to need to bring in some players that can fit the system as the current squad would need a lot of retraining.
The board have made it clear that I need to qualify for the Europa League group stages and then qualify for the Europa League again next season, which means finishing in the top six.  That should be a free pass really, I will resign if we fail to achieve that.  More interesting is that if I can finish in 3rd then we oust one of the "Big Three" and claim a qualifying round spot in the Champions League.  But, let us not get too far ahead of ourselves.  I was having these initial conversations in an empty room as there is no bugger at the club.
I decided that as my reputation is still not that fearsome on the game, I needed a few people around me that people would have heard of.  So I recruited the following bunch to join my technical team.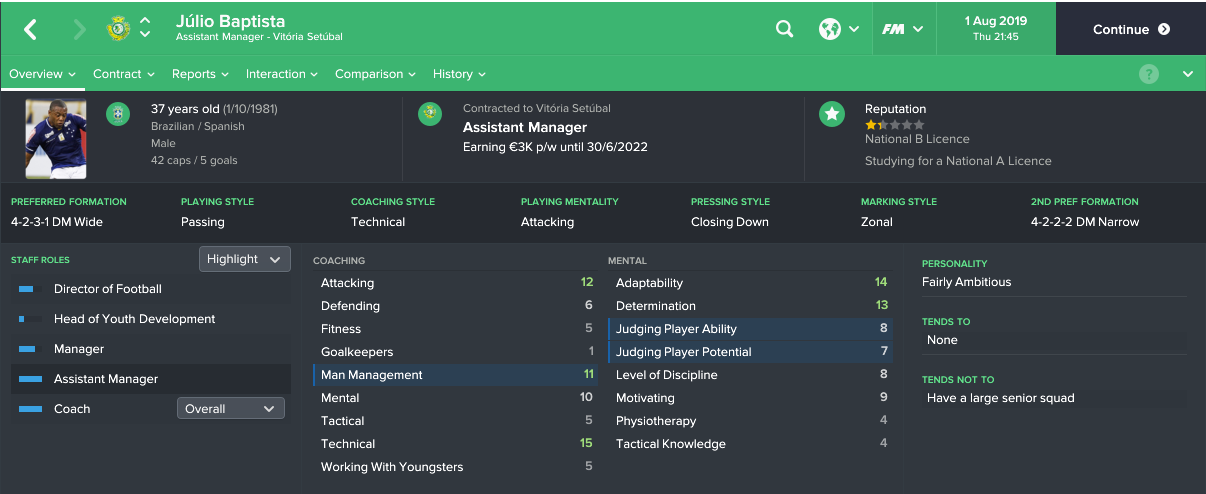 Júlio "The Beast" Baptista had just retired in the USA when I called upon him.  I won't lie, he got the call because Michael Essien wanted too much cash.  Baptista managed to play 42 times in a poor era of Brazilian football, but it was still 42 times.  Wenger rated him enough to buy him.  I am hoping some of that will help me here in Portugal.
If in doubt, call Phil Neville.  Fully qualified and actually a very good coach, I am delighted to have him on the staff.  He could have been the number two too, no offense Júlio, but he wanted too much cash as well.  So, he can have less money and spend more time collecting cones and bibs than he would have had to normally.
Miguel is quite young and played 59 times for Portugal so I really should have heard of him?  He had a quite a good playing career at Benfica and Valencia yet I still have no clue.  Anyway, another former international on the books.

I padded things out slightly with another Portuguese coach and a goalkeeping coach.  These boys will do well for me, I can feel it.  
I also needed some scouts to help me navigate the murky waters of transfer dealings because, frankly, I am a little out of practice.  It is not going to be easy to get talent to the club before the "Big Three" get their paws all over them, so I was delighted to see that some well known faces were keen to come and help me out.

I agreed that Puyol could be my Chief Scout providing he kept the stories about Messi, Iniesta and Xavi down to two a day.  If he can tell the youngsters he finds that we will make them as good as those three though, well that is fine by me.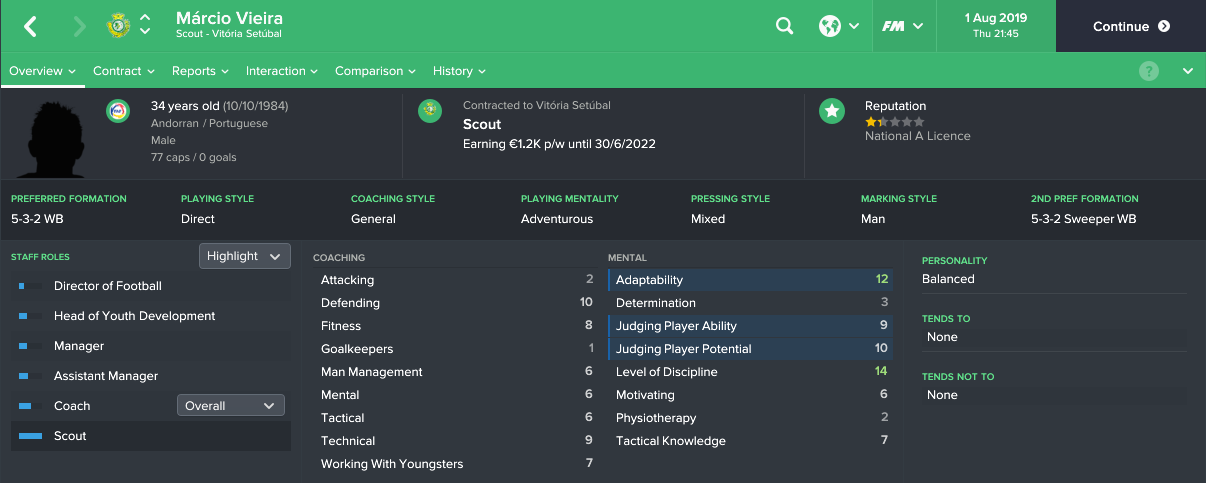 I am starting to feel a little left out with all these international caps around the place.  Oh, Andorra.  His don't count then.
Oh look, someone who might actually be a decent scout.  Fingers crossed!
I've managed to secure some data analysts and sports scientists too, which should help us.  Physios were brought in, and then replaced two weeks later.  We had a strong team to help build a strong team.
So how about building that strong team?  My plans were pretty simple having had a quick look at the glut of players that were available on loan.  Loan signings that cost me nothing, supplemented with good value buys, basically good kids or rough diamonds on the list, would be the quickest way to getting a team together that would do well.  If they cost me nothing to have at the club, it won't matter how many I have or if I get a dud or two in.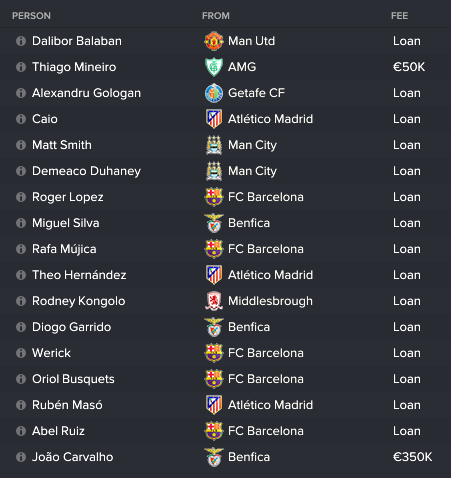 Yeah, we have been busy.  I've been working the old "well if you are at United, Barca, Atletico, City or Benfica you're probably better than this lot" routine and brought these boys in.  There might be more, I cannot remember.  For a net investment of £400k so far though, we are looking quite sharp.
The key is that the Liga NOS has no restrictions on loan signings.  As long as my registered squad has over 8 players trained in Portugal we are all good and we have 12, therefore we are all good.
It is not as if I had a squad akin to Aston Villa's relegated mob when I took over.  No, we already had some players that would feature in the side but we definitely needed a few more faces.  By moving at this speed I am hoping I have got there before all the other AI managers that will be recruited into the vacant managerial positions in Portugal.  Speed was of the essence.
I plan to let Puyol organise the scouting.  As long as he finds me some quality I will be happy.  I have gone for a risk free approach to get us started.
And when you win your first competitive fixture 4-1 then the early signs are promising, would you not agree?
I am super excited about this new role.  Many managers have made their name in Portugal before moving on to even bigger jobs so I see this as a fantastic stepping stone.  I am going to take the "Big Three" down and see where we go from there.
I just need to make sure we don't lose 3-0 in Holland now…
The next update will introduce some of the key faces in the squad, just as soon as I have worked out who they may be.
The name of the series will remain the same because I want the journey to end with me back at Bilbao, leading the side to the La Liga title ideally beating Barcelona at the San Mames.  But, for now, it is all about victory in Vitória and the sensation of Setúbal.