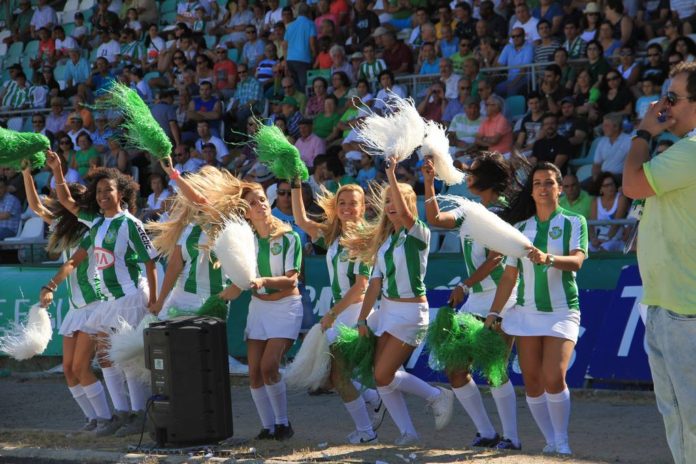 Fizzer and I hugged and both breathed a huge sigh of relief.  The duck had finally been broken.  We had beaten one of the "Big Three" and it had left us emotionally spent.  Although we managed to topple Sporting last season in the league position sense, we hadn't managed to win any of the 13 previous game against them, Benfica or Porto.
"Keep your head up gaffer" Fizzer had said after we threw away a 3-1 lead to Benfica in the first Liga NOS match of the season, losing 4-3 deep into injury time.  It was fast becoming a mental thing.  Apart from Porto ripping us apart 4-1 a few matches later, we were standing toe-to-toe with his giants of Portuguese football and edging ever closer to that victory.
Sure, when Benfica made it 3-2 with 12 minutes to go the backside got a little twitchy.  We had been here before and shipped an injury time goal to the Lisbon side in both our last encounters.  But, led by Pule in between the sticks, we stood firm and our small Estádio de Bonfim erupted on the final whistle.  As I said, Phil Neville and are were happy but relieved, but there was something I had not told him.
Bilbao were about to sack Rafa.  I'd heard it through Nola.  I had to apply, despite being in the middle of putting together an incredibly young and talented squad at Setúbal.  Would I get the gig at the San Mamés?  Realistically, probably not.  Bilbao were languishing in the bottom half of La Liga but still had enough of a pull to bigger name managers.  But they had not come much bigger than Rafa, and he had failed to deliver the Champions League qualification.  So maybe, just maybe….
Alright folks.  Sorry for the lack of updates in the last few days, I've not had a great deal of time to put virtual pen to paper.  We last spoke as Setúbal prepared to do battle with PAOK in the Champions League qualifying rounds.  I guess that mini-campaign would be a good place to start, and the fact I have called it a mini-campaign might give you a clue.
We completely froze in the second leg and were fortunate to creep through on penalties.  The draw against Roma was a bit of a killer as anyone other than them or Liverpool I felt we had a decent chance against.  We played really well but they were just better than us, especially over two legs.  Still, it meant the Europa League groups which would be another step forward for the club.
The draw was pretty tough.  I mean, when I was growing up and Football Italia was all the rage AC Milan were quite good.  Feyenoord, well they aren't short of European pedigree and Rubin are on the other side of the planet, a trip we wouldn't relish.  But, as you can see, following a slow start where it looked like we were done after three matches we picked it right up.  Other results went our way and we qualified with a match to spare.  The adventure continues.
Before we look at how the league season is progressing it is probably worth refreshing our minds over the movements in and out of the club as I appear to be operating a bit of a revolving door policy at present.  This hasn't been intentional but I do follow some pretty basic rules when it comes to player recruitment and retention.
Buy cheap

Sell at a profit or decide early to write off a loss

If anyone knocks on the door and wants to leave, immediately transfer list and offer out

Scour non-European sides for potential talent

Always try to have the replacement already signed so they can move straight into the team
Obviously this is not always possible, but I'm giving it a go.
Yes, Yeray is with me which I am delighted about – especially as I reckon Candé is off to a "bigger club" any minute now.  He wanted a decent wage, but I think he is worth the gamble.  The other boys are all African and Saeed and Agnero are making an immediate impact.
Quite a tidy profit is being turned.  Birkholz was an academy player and I could not turn that money down for a player not tearing up trees whilst on loan.  Carvalho, altough talented, blew so hot and cold I decided to get rid.  Signed for £350k, sold for £1.1m.  Good work.  And Sono?  Well he was just a tool.  He got some games and was terrible.  He then moaned that I preferred to pick players that scored goals.  Incredibly, when I put him on the list, big teams from all over Europe wanted to buy him.  Thank god I didn't sell for the original asking price of £250k!  Some clever work led the price up to £1.9m and a problem solved.  He was a free, so that is all profit.  Lovely.
Anyway, I know you are interested in Rafa getting sacked – but we will get to that later….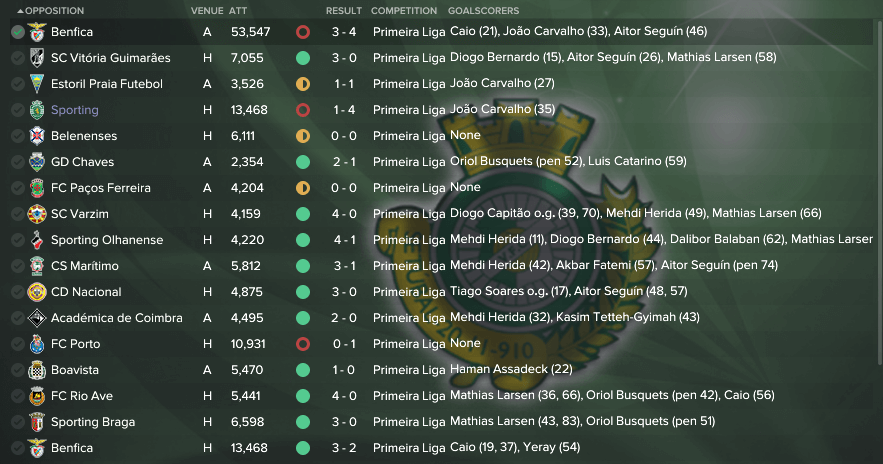 Daft thing to say, but if it wasn't for Benfica, Sporting and Porto we'd be killing this league.  The first loss to Benfica was heart wrenching, we were superb but then collapsed in a style akin to Palace at Swansea.  Sporting killed us, that kid Moises Kean is incredible.  Porto, well it took a 40 yard thunder bastard of a free kick to beat us.  And then, finally, we broke the duck.  We improved massively once I made the decision to cast aside Carvalho and put my faith in young Mehdi Herida, our little Algerian international.
This lad has stopped my obsession of looking for players that could be considered wingers to play in the central midfield position.  Garida, or whatever he was called at Bilbao, started to change my thinking when he replaced Seguín when I was there, but Herida means I will now only look for top quality regular central midfielders to play in this vital role.  Herida has a touch of the Frank Lampard's about him, with his ability to arrive in the area at the right time.  He is suffering a momentary dip in for right now, due to fatigue I believe, so I am looking after him by giving the other new boy Saeed more minutes than first expected.
Seguín has moved forward to play enganche, when not injured and Larsen, Caio and Fatemi have improved as the season has gone on, giving me confidence we have enough goals to continue our journey to the Champions League qualification spots.
Ok, ok.  Rafa.  Bilbao sacked him when they dipped to 12th and, considering they had no European football to look forward to this season, they finally decided enough was enough.  Naturally I have applied, but the favourite for the gig seems to be Ricardo La Volpe who was last seen managing América in Mexico.  His reputation is bigger than mine, although we both hold the Pro license.  I'd be surprised if I got it, I think I need to win a trophy before I am likely to get the job.  Plus, it would actually be hard to leave Setúbal with such a young, promising squad.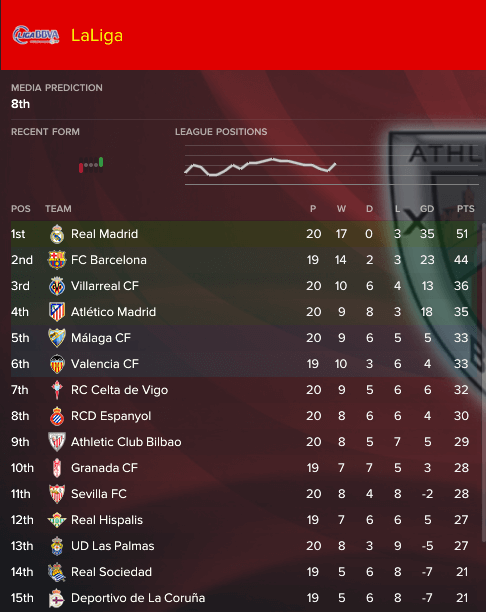 What does the second half of the season hold?  Well, as you can see from the league table we are in good shape.  If we can push on and maybe share the points in the matches with Porto and Sporting and, ideally, not drop too many more along the way I think we have an excellent chance of second place.  I'd take third, but second would avoid a round of Champions League play offs.  In the Europa League, we'll just see how far we can go.  Threats to our success include how we will cope with Candé leaving – his minimum fee has been offered so he will be off.  People are sniffing around "you'll never beat" Bernardo and his opposite full back Vale.  I have good cover for the latter, but if Bernardo goes then we are light at left back and I don't have any real transfer targets in mind.  We shall see.
If anything changes, I will let you know!