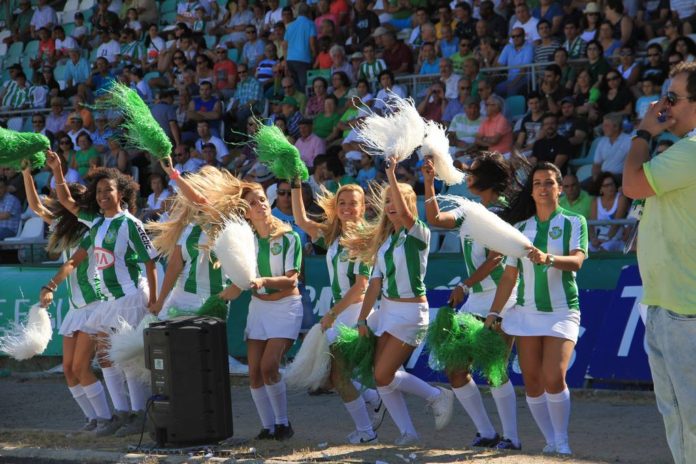 Ever been haunted by a ghost?  I think I have just been.  The ghost of Rafa Benitez.  Why did we have to draw Newcastle, the club he rebuilt and got into the Europa League?  Why?  The only more ironic thing would have been if we had drawn Bilbao themselves in our Europa League play off.  Then I could have looked Benitez in the eye, rather than feel his lingering shadow over a Newcastle side that he left 18 months previously.  Either way, my mood was being affected once more by the Spanish waiter.
We saw off AZ.  Well, I say we saw off.  We clung on by our fingernails praying that the final whistle would go and being thankful that we scored four in the first leg.  When you go into a second leg with a comfortable, if not totally conclusive, lead the last thing you really want to do is concede early doors.  Therefore when AZ's crowd erupted with hope and belief after a mere ninety seconds I had a feeling it was not going to be plain sailing.
I was right, and the next worst time for them to score was moments before the half time whistle.  It posed me a half time quandary.  Not bollocking them, that bit came all too easily, but the quandary of do we keep playing in the same shape, or do I flick to shutting up shop in the lame hope that we might actually shut up shop?  I decided to trust the #ArgST17 to see us home and, god knows how, it did.  And our reward for sneaking through to the Europa League play-off?  Yes, a trip to the North East of England.
We returned via Easyjet fairly happy with a 2-1 defeat.  We had matched them for the majority of the game and were unlucky to lose, but in defeat there was enough to suggest we could overturn the small deficit at the Estádio de Bonfim.  Smithy put us ahead with a great goal and for twenty minutes or so we were in the group stages.  Our bubble got resoundingly burst as Mitrovic levelled early in the second half and, try as we did, we could not take the game to extra time.  Less than a month into the new gig and I already had a dirty great black mark against my name.
The loss gave me some thinking to do.  I had brought in anyone and everyone on loan that was available to the club for free.  I felt, probably unwisely, that the more bodies the better.  A chat with "The Beast" and Phil Neville brought me to the realisation that in the few games we had played it was already clear who was going to be in the team and who was not.  And considering I could let people who were not in the team go back to their clubs and not mope around the training club, I should probably do that.  I mean, we play a Strikerless formation and I had brought in three strikers on loan.  Sure, I was retraining them to play as shadow strikers, but it was a waste of time and effort really.  So Ruiz, Murjica and Werick were on the bus to Barcelona and I booked Gologan a flight as he had actually scored for me.
The smaller squad were told in no uncertain terms, bar the complete uncertainty in the fact I don't yet speak Portuguese, that we needed to improve fast and ensure that we are in the Europa League mix once more come the end of the season.  I wanted responses, I wanted people standing up to be counted, I wanted results.  I wanted to beat Braga, who had not even responded to my written application for their then vacant job.
Well hello there Mr Three Points.  How are you?  Braga, tipped to finish 4th this season, had no answer to our rapid fire start to the game.  Giving the boys the silent treatment before the game paid dividends as Smithy netted a brace and Caio added the third shortly after.  We were unable to maintain the same high standards in the second period, but that was our first away win of the season and it was a good one.  Nay, it was a very good one.
Those three points balanced delicately on top of the three garnered in a dull 1-0 home win against Belenenses (Smithy with the winner) and the opening day 1-1 draw at Chaves (the other City loanee Kongola with an absolute belter from 30 yards) meant we had made as good a start as I had hoped for league wise.  These boys had been plucked from all over Europe and thrown into a system none of them had played before.  All in all, I was a very happy Mister.
I had the opportunity to kick back for thirteen days as an international break rocked round.  Eight of the squad were off to various locations and it gave me a chance to breath and consider where we were at.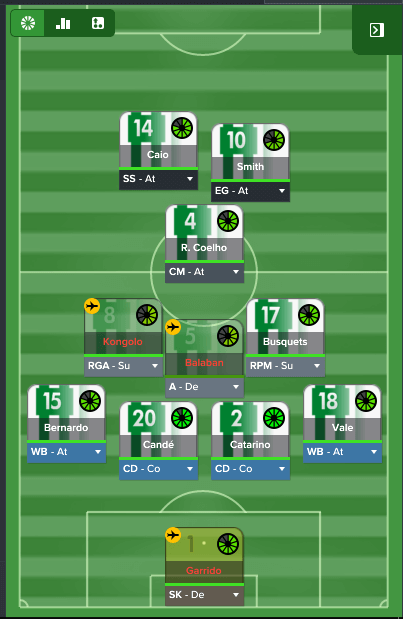 The team left on the whiteboard in the office as I took the boot room boys for a café solo in the canteen was what I considered to be my first choice XI.  Beast (I've dropped the The from his nickname as those three extra key strokes were killing me) agreed and, in all honesty, he is a lot bigger than me so if he suggested that I had the wrong Coelho brother playing, I would make the change hastily.  We are getting quite a good bond in all areas of the club now, it is a shame that players like Balaban and Kongola are off to play elsewhere.  Mind you, I got to spend some time asking Busquets younger brother Oriol, who is on loan with us from Barca, if Sergio was as much of a twat as he comes across on the pitch.  Oriol just nodded.  I think he understood my poor Spanish.
The side looks alright though.  I've been particularly impressed by the left back, Diogo Bernado.  He get's up down the left flank like a dog.  Fortunately it's not a St Bernard's dog otherwise he would never get a cross in.  Vale on the other side is doing alright too, in fact he is doing OK.  That's one for those of you familiar with the Spanish language.  I am very keen on our regista Kongolo.  I thought he was from City, mainly because he is still in his City shirt in that photo.  Actually, we have him on loan from Boro, which would suggest his career is already on a downward curve.  However, if he can keep dictating the pace of the game the way he has been he can certainly expect a move away from the grim North East of England.  He is linking up nicely with our Brazilian shadow striker Caio, who is on loan from Atletico Madrid.  A Brazilian and a Welshman playing in the attacking midfield roles for a team in Portugal.  Smithy cannot believe it.  He has 4 Welsh caps and could become a beast of a player looking at his size and stats.  Time will tell.
===========
Everyone returned from their travels in one piece.  Well except Balaban.  He looked knackered, but that's what travelling to Croatia does for you.  I told him to go home for three days and we would see him on the coach to Académia.
Académia are, I think, the oldest club in Portugal.  I might be completely wrong however.  Either way, I hoped to upset them in their own back garden.  With the match being played on the Sunday we were in 6th place knowing three points would lift us to third. Our opponents were unbeaten though, this would be no easy ride.  Everyone reported fit, I named an unchanged side from our bashing of Braga.
Well that was a funny old match to say the least.  Académia pinched the lead with a header from a free kick and then shot themselves in the foot by losing a man to the old "shocking two-footed lunge."  Coelho and Smithy were having off days and were hooked midway through the second half and Aleixo and Ribeiro were thrust into action with the silent message of "pull something out of the bag for us lads."  Aleixo, playing as the central winger, hit the bar from a yard out after a great cross by Bernardo.  He redeemed himself though, fortunately for him as it is a long walk back to Setúbal, by playing a Pirlo-esque through ball for Ribs to run on to.  Run the boy did as he got in behind, in a fashion that would have made Ryan Giggs proud in the TV studio.  He opened his body and curled the ball home from 20 yards out.  On reflection, we should have won and the boys were told this in no uncertain terms after the game.  Beast stood there looking menacing and Phil Neville tried, but failed, to do the same.
After these recent shenanigans we sit in a quietly assured 6th place with much work to be done.  One risk of having such a young squad is the level of inconsistency that we may observe throughout the campaign, so we shall do our very best as a coaching team to scare them into being consistent.
Onwards!