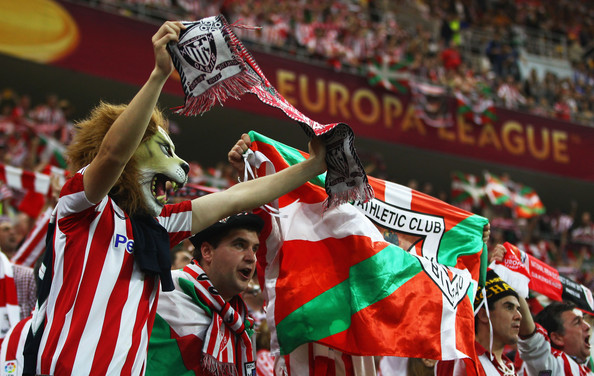 As Joseba and I shared a coffee at the training ground I said to my assistant, "starting to feel a bit like groundhog day, hey Josey?"  He nodded in agreement.  Get a squad together at the start of the season, tick.  Have a great start to said season, tick.  Panic as the transfer window closes, tick.  Wait for Rafa to call and tell us he is taking players off us to send out on loan, sit on his bench or sell for a pittance, tick.  Fight like hell to continue the early momentum, tick.  It's not much of a life being the manager of Athletic Club Bilbao B.
Though, what did I really expect when I started this journey?  I am managing the reserve team, and the function of any reserve team is to feed the first team their talent.  Actually, I don't mind it at all if Rafa takes one of the boys and uses him in the first team.  It's when they sit there in the stands not in the matchday squad yet again I get the hump.  And this habit of loaning them out to Segunda B sides when we could be competing for the LaLiga2 title is getting on my Harry Kane's.  
I have concluded that Rafa Benitez is a bit of a bastard.
The final straw was when he sold the most talented young defender in the club, Bernaola, to Leganés for a poxy £250k.  Not only had the board praised me for developing someone with a first team future, probably the reason Rafa sold him, but Levante is not a step up for the kid.  Absolute Raheem Sterling that decision.
As I said, groundhog day and I am not sure how many more days at Bilbao I have left.
The January transfer window is now shut so, I hope, further movement in and out will cease and we can try and gel this team back together again for the third time this season.
Players we have lost along the way are…
Ander Cantero, £225k to Eibar

Onai Onaindia, £215 to Hércules

Julen Bernaola, £350k to Levante

Tarsi Aguado, £450k to Oviedo

Miguel Olavide (yes, the one I signed), £450k to Huesca

Gorka Santamaría, loan to Aris

Aitor Seguín, initially to the first team and then loaned to Alcorcón

Javier García, initially to the first team and then loaned to Reus

Andoni López, loan to Cultural

Gorka Sola, first team – 1 first team appearance as sub

José María Hernández, first team = 1 first team sub appearance

Isaac Díaz, first team – 1 first team start

Luca Sagnalli, first team – no first team appearances

Markel Exteberria (released by Rafa, re-signed by me, nicked by Rafa), first team – 2 first team appearances as sub

Inaki García, first team – 3 first team appearances as sub
Players given to me…
Rubén Calvo, 18 year old dropped from the first team squad
So we go again.  I have, hopefully understandably, reset my target for the season.  I initially wanted play-offs, and whilst that is still possible if we go on a run I do believe the rest of the season will represent what happened last year.  It will be a mixed bag from here on in which, frankly, bores me.  We finished 10th last year, and I would love to better that.  If we still had Bernaola and Díaz in the squad I would believe I had a stronger side than this time last season, but with Berny being sold and Díaz twiddling his thumbs on matchday we are weak in the middle of the defence now.  I brought Sillero back to add some experience in there but, honestly, he is a quick tall full back doing a job for me in the middle.
As I often say in the press conferences, this is a great chance for someone to step up.  So someone bloody well should!  I look at the side though, and I wonder where goals will come from.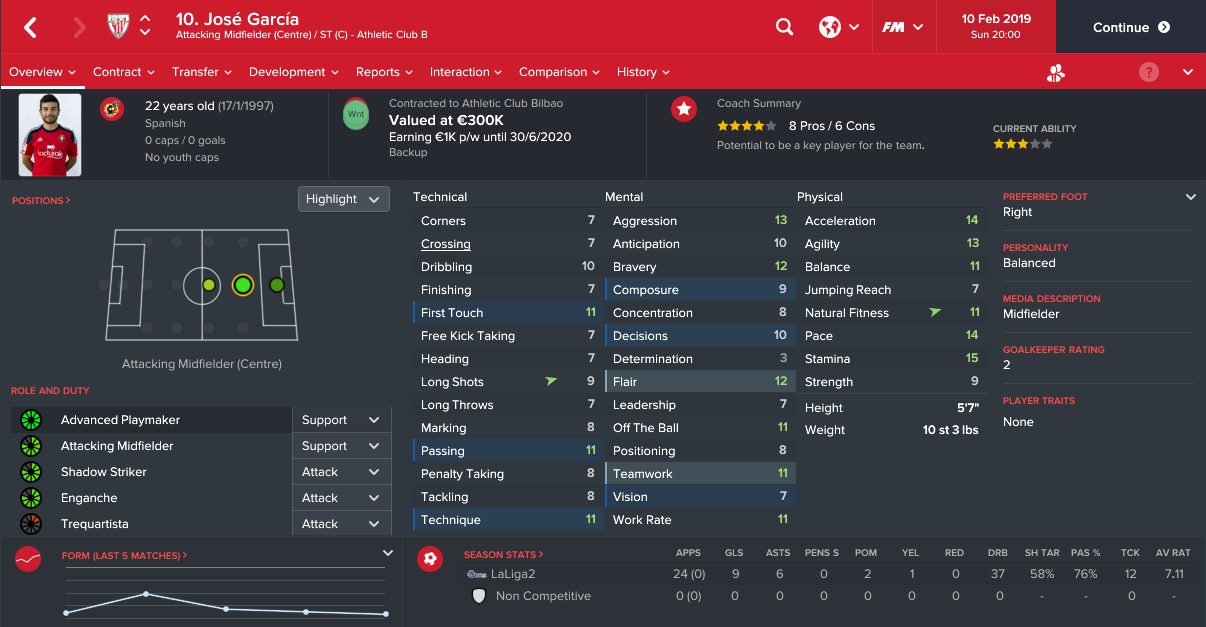 José García is doing his best, but he is massively inconsistent.  He was well supported by Sagnalli from the central winger position until, well you know what happened.  Garai will get that role back now for the time being, and if he can play as well as he did in the second half of last season that will be a bonus.  Iturraspe has dropped into regista again due to injury and it is really about time, considering he is now 24, that he made a place in the side his own.  I am likely to keep rotating Garcés, Calvo and maybe Guruceta in the shadow striker role until one of them looks like they know where the goal is.
There is a long way to go, so this season is far from over.
But will I still be there come the end?  Well yeah, probably.  Real Murcia offered me an interview a little while ago which I attended.  Not sure I would have taken it, but I didn't get the offer anyway which tells me something.  I can't even get a job near the bottom of the division below!  I find that a little strange considering what I have achieved in two and a bit years at Bilbao.  Oviedo fired their manager, but I didn't get anywhere near that one either.  No, I am going one of two ways now – if I am to stay in Spain I will only move to another LaLiga2 side or, unlikely admittedly, to a La Liga side.  I've removed Segunda B from the leagues to make room for England and Italy.  In the summer, when these leagues add, I might see if anything catches my eye.  I don't want this save to go stale and I certainly don't want to start a new career just yet.  Guido inspired me with just one save in the whole of FM16, and whilst I don't think I will be able to do that, I would like some decades behind me first time out.
How's the bastard getting on?
He's got some ground to make up if they are going to make the Champions League, but realistically Europa League for Bilbao again would be great news.  It would just be nice if he trusted some more of the kids once in a while…
Those that have been asking, yes I am still using the original #ArgSt17.  The tactic is right, it's just that my players aren't always up to scratch.  I can't wait to lay this philosophy down with a bigger club in a bigger division one day.  I genuinely think trophies would be hard to avoid.
So that's me for today folks, time to crack on with a decent session this afternoon!