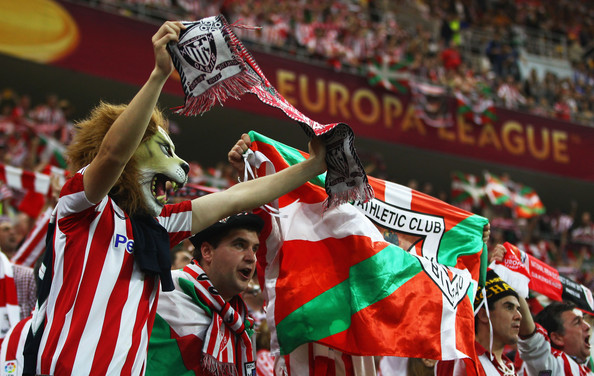 "The Boys of Bilbao is like a Director of Football challenge but on speed. It makes those DoF saves people do look so pony ??"
Indeed it is Tony, indeed it is.  Paco is, in fact, wacko and I believe he is on a personal crusade to ensure that I do not end nabbing his job anytime soon.  What?  You think I am paranoid?  Allow me to tell you what has been going on.
You may recall in the previous post I was trying to predict who would still be with me once the season had got underway.  I was able to start our Liga 1:2:3 season with the eleven I wanted, which I felt was a sign of good things to come.  Tenerife is never an easy place to go, in footballing terms, and they are known in real life for having a tight defence and not scoring many.  Therefore our opening day 0-0 was not a disgrace.  Then Paco tried to get me onside by sending me a gift.
A 6ft 3 beast who can play defensive midfield.  Thank you Paco, it's nice to see we are on the same page.
Vesga slotted into anchor man against Tarragona and our season was very much underway.  We followed it up with a second win against Numancia.  It's easy, this Segunda football hey?

In the meantime Paco was doing alright with the first team.  They had qualified for the Europa League last season and he successfully navigated them through the qualification rounds and made a solid if unspectacular start to his first full season in charge.  Then the transfer window started closing in, last orders was called.
Paco sold Laporte to Real Madrid for £16.5m.  I looked at our superb central defender Yeray and gave him the look of "clear your locker lad, I think you are going to the big time."  It turned out Paco did want to have a chat with Yeray.  He wanted to tell him he had just sold him to Sporting Gijon for a measly £1.4m.  Nice one Paco, nice one.  I could have swallowed losing him to the first team squad, but to sell him to a club in the same division as us for such a small fee was a disgrace.  Especially Gijon.  As an Oviedista, I hate Gijon.  And guess who we were playing next in the league?  Of course we were.
Bernaola was selected to make his debut and Yeray was lining up for the opposition.  Gijon had been relegated from La Liga and were favourites to go straight back up.  We won, 1-0 as the transfer window slammed shut.  Ok, I thought – we might still be ok.  Nola and Oteo were starting to form a partnership as the false front two, we might be ok without Yeray.  Oh, forgot to mention that Iriondo had already been loaned out too – but Lopéz and García were comfortably manning the left back birth.  But yeah, transfer window shut – all will be well.
Not so fast Senor Darwen, not so fast.  Paco was on the blower again.  He called Oteo up to the first team squad, you know, to plug the gaps he hadn't created in midfield for himself.  This guy is more scattergun in his buying and selling than Ed Woodward.

When we won the next game against UCAM on TV, I was starting to get excited.  We sat top of the table and were unbeaten.  Rahmani had taken Oteo's place and scored a beauty.  Things were looking good.  But, looking at the next run of matches I knew we would be doing very, very well to remain top of the table.
Sure enough, the run against the teams predicted to finish at the top of the table was tough and after the creditable 1-1 with Valladolid we managed to lose four on the spin without scoring a goal.
I reviewed the side and decided to make some changes.  Out went the 'keeper Símon, despite him not really being at fault for any of the goals.  Aguado was replaced by Dulce, Santamaría came back in as anchor man and Vesga shuffled out to regista meaning that Iturraspe was back on the bench.  Decisive action, especially as Paco was bragging about having just beaten Barca 5-4 at the San Mames.
We got a much needed win against Leganés.  We were not great at all, far from it, but a thunder bastard of a strike from Rahmani got us all three points.  He was fully 35 yards out, a fine strike.  We should have beaten Girona as we led 2-0.  Oviedo, and that was a hard place for me to go, was a thriller.  They led 2-1 in injury time when Onaindia headed home from a Seguín corner.  Annoyingly, after the added time was technically up I might add, we conceded from a corner ourselves to go home with nothing.
Bernaola was out and Sillero came in and off we went.  Thing improved dramatically.  The wins against Almería and Cádiz were particularly special as they were 4th and 5th at the time we played them.  We were sitting a very nice 4th by the end of this run, far exceeding expectations.
Still not convinced Paco is that wacko?  Well, having beaten Barca 5-4 the first team's form took a turn for the worse and they currently sit in 16th place.  Paco is feeling the heat, especially as there is a manager in charge of the B team who is clearly doing a good job in difficult circumstances.
We eased into December and thoughts started to turn to the January transfer window.  I think Paco knows the next few games will decide his fate and the last thing he wants is me continuing our current form.  So what does Paco do?
He transfer lists twelve of my squad.  Count them.  Twelve.
Not fringe players, oh no.  The core of the squad that I am doing so well with.  Shall we say morale has been a little higher?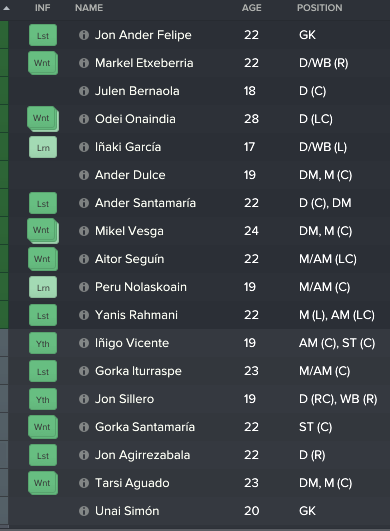 The only lads in that screen shot not on the list are Bernaola, García, Dulce, Nola, Vicente, Sillero and Símon.  The board have been digging at me for playing Símon so much, yet they let Paco transfer list the keeper I am trying to now develop?  Six of the twelve already have people sniffing round and it is December 4th.  I love a challenge, but even I cannot see what the way out of this one is!
As you can see, I have a few options in the farm team.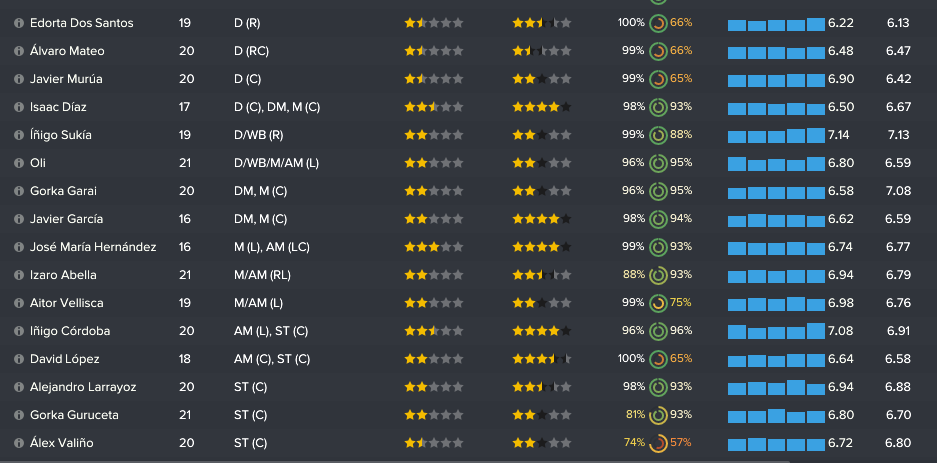 The cantera is hardly overflowing right now, either.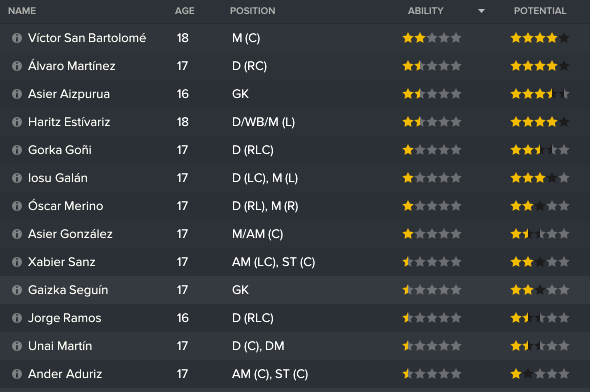 I have given Paco a list of transfer targets to work on, but for some reason I don't really trust him to do the best by me.
Our final two games before the winter break are matches we should win, if low morale, uncertainty and heartbreak hasn't kicked into the boys.  As you can see, we're going well and although I do not expect to win the title (and we cannot get promoted anyway or take part in the play-offs) I naturally want to continue surprising people.
@fm_grasshopper is right – this makes a DoF challenge look a little pony…