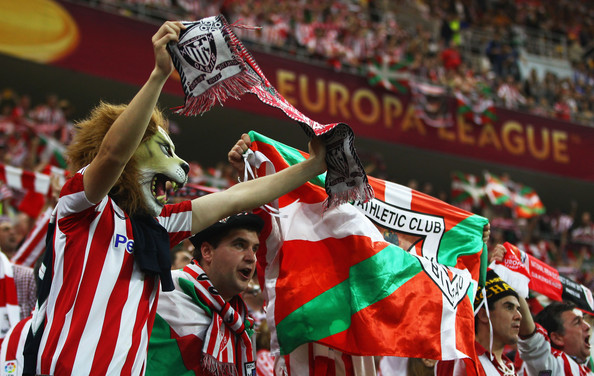 As the celebrations of promotion quietened down, the stark reality of next season started to bite for me at Athletic Club Bilbao B.  My boys had proven they could play.  But had they done so well that I would lose them all?  With the first team not really hitting the same heights as we had done, it made sense that many of my players would be moved up a level and those that weren't on their way up might consider their futures.  As a manager that likes to have a short, medium and long term plan, my times is now.
It was time to make some guesstimates – who do I think will be left come the start of the new season?
Simón – goalkeeper
Agirrezabala – right back
Aguado – DM roaming playmaker
Pérez – DM anchor man
Nolaskoain – enganche/shadow striker
Sillero – right back/centre back
Bengoa – central midfielder
Lopéz – left back
My predictions meant that I could see Yeray, Bilbao, Undaberrana, Iker, Iturraspe and Seguín all get moved up to the first team squad and my belief would be that Onaindia would probably move elsewhere in the hope of first team football.  All thus would mean at this early stage I need at least two centre backs, a regista and some attacking midfielders just to field a team!
I know I have players returning that might end up in the B squad, so who is coming back from a loan spell?
Unai López – attacking midfielder
Óscar Gil – centre back
Yanis Rahmani – attacking midfielder
Markel – right back
Álex Remiro – goalkeeper
Jurgi Oteo – attacking midfielder
Gorka Santamaría – striker/attacking midfielder
Urtzi Iriondo – left back
Will they stay or will they be loaned out again?  Frustratingly, only Gil plays in a position that I am really short at if my projections are correct.
What do the farm and academy sides have for me?  Let's have a look position by position.


Goalkeepers – Atangana stands out for me – he is highly rated and has picked up a fair few minutes in the farm side.  Good to see we have options!


I think we will be ok at right back, but we have some young potential down below.  Álvaro Martínez is a young regen with a lot of potential but is more one for the longer term.  I signed Dos Santos last season and he has been exceptional for the academy (it's worth pointing out the minutes you can see are for CD Baskonia, not U19's).  Núnez was the farm team's first choice right back and I think he is potentially better than the average rating suggests.


CB – This is an area where I might have to promote from below.  Bernola has been on the bench for the side this season and could develop into a decent central defender for me.  Santamaría is more likely to be an anchor man as he is only 5ft 9!
LB – Yeah, I think we can all agree Inaki García will be in my squad next season!


DM – This is an area where I can see myself being a couple of bodies light.  Javier García is young but has bags of potential.  Santamaría as I have already said looks like my number two anchor man,  I am not convinced Garai has what it takes to be a Segunda regista, so I may see what is out there on the Basque market.

Bartolomé is interesting to me.  He is a natural CM, but he cannot dribble which is vital in the way we play.  He can also play AM, but cannot finish which is kinda important to me.  Maybe he is a potentially retrained DM roaming playmaker or regista?  Maybe.  Mediavilla however, he can join us.  He needs a little further retraining as a DM, but I think he is my most likely regista for next season.  I'll cancel my plans to shop around.


I actually think I will have potential AM's coming out of my ears next season, but both López and Urzelai look as though they are options for me.
The net result of all this?  I don't think I need to bring in any other players to the club to be honest.  I think we have enough already in the club for us to have a go next season.
However, just so you know what I have been up to scouting wise – I searched for all the Basque players available to me and got scout reports on all of them.  Anyone that caught my eye then was filed to get a more complete report, and as it stands right now we have 13 that are identified as potential signings.
If needs be, I will do a whole "StS" method on these guys, but I have a feeling I won't need to which means "StS17" might wait for a while yet.
So, after all that – who will I be promoting to the Athletic Club B team?
Atangana – goalkeeper
Nunéz – right back
Bernola – centre back
Santamaría – anchor man
Bartolomé – retrain to roaming playmaker
Mediavilla – retrain to regista
Fascinating stuff, right?  Yeah I know, not the most interesting of posts.  But still, you've stuck by me this far….
==========================================
What a difference a few virtual weeks makes.  I am guessing the board didn't work too hard to keep these boys at the club…
Iker Hernández (free)
Unai Bilbao (free)
Iker Undabarrena (free)
Martin Bengoa (free)
Gorka Pérez (free)
Atangana (free)
I am incredibly shocked that Bilbao and Undabarrena were allowed to leave the club.  Actually, Iker too – he scored over 25 goals!
And, randomly, some of the guys that I planned to promote have disappeared – I need to investigate further.
This was an unplanned footnote, I will be back properly when pre-season is under way and I have go my head around where we are at!