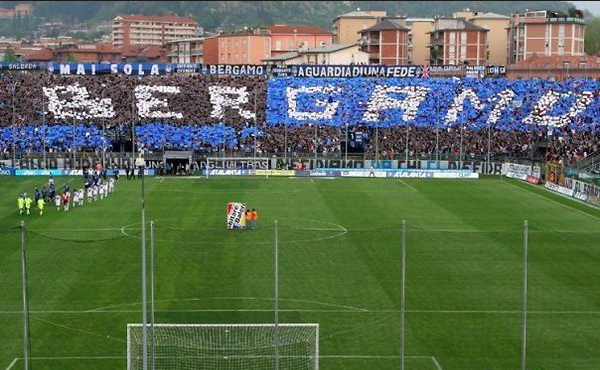 It seemed harsh.  After all, Edoardo Reja had done what was asked of him when he was appointed – successfully fighting fires in the midst of a relegation battle in the 2014/15 season that had led to the sacking of previous incumbent, Stefano Colantuono.
However, at the end of the 2015/16 season Reja got Pulis'd – the board got tired of his negative, defensive tactics and wanted change in order to move La Dea forward.
For some reason uunbeknown to all but the gods (ignoring the part about me controlling the game and putting myself in charge), they selected me.
Fortunately, I can speak fluent Italian and have obtained my Continental Pro Licence – what luck!

I'll be using that grasp of Italian to ask what has ticked off Messrs Boscaglia, Brocchi, Rastelli and Gasperini so early on.
Sinisa Mihajlovic, however, is very welcome to think what he wants.  I'd almost go as far as to say I'd completely agree with any of his constructive feedback regarding our relationship and try to change to how he wants me to be.  Just don't hit me, Sinisa.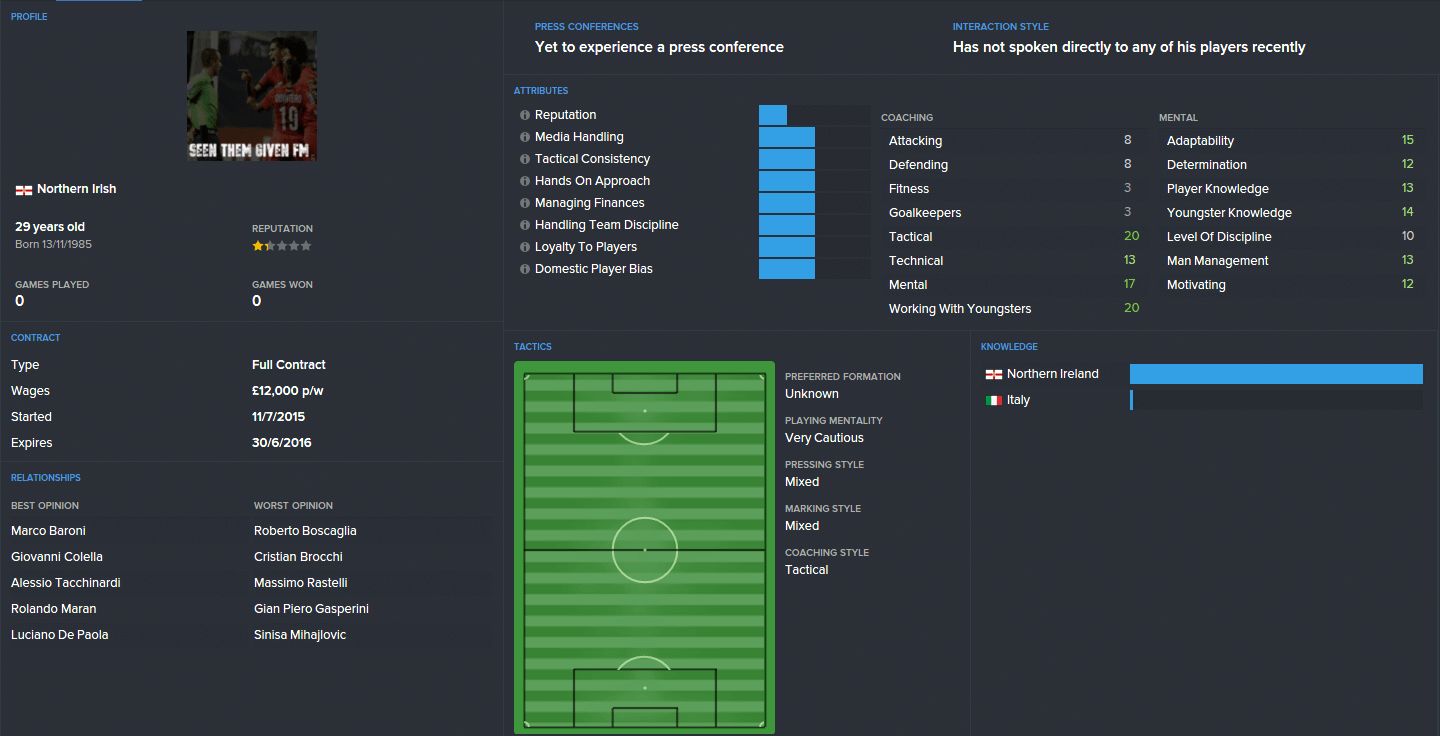 After meetings with chairman Antonio Percassi, I sat down with my assistant manager Alberto Bollini to see how the first team squad would shape up.
As discussed in the previous post, Atalanta are an established Serie A club and this is reflected in their squad – solid if unspectacular.
The spine of the squad is reasonably strong in terms of being able to match our expectations this season – all 3.5 stars or above.
The Under 20's and Under 18's have a number of hot prospects as well, though I will probably loan them out/let them play junior football for this season.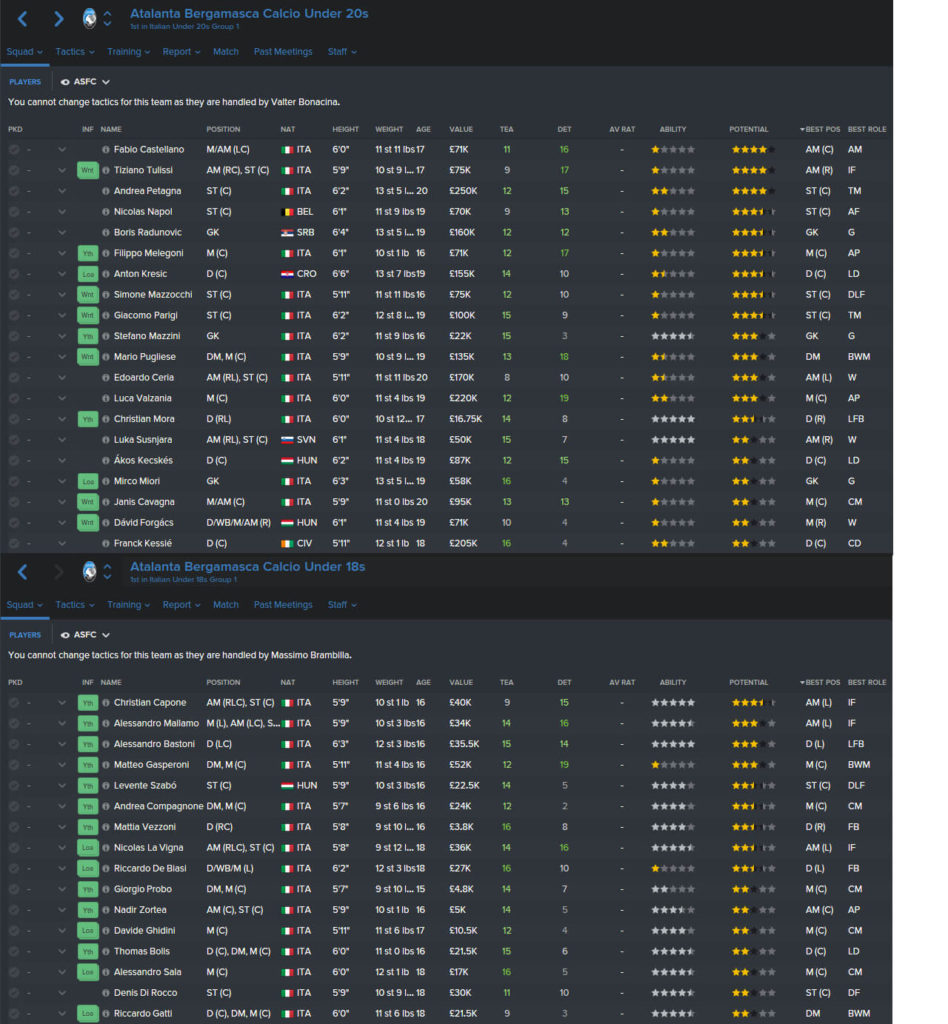 In regards to the first team, Marco Sportiello is a good option between the sticks; Rafael Tolói and on-loan Gabriel Paletta look to make an ideal Ferdinand/Vidic-esque partnership of beauty and beastliness; Jasmin Kurtic and Carlos Carmona will bring a nice mix of creativeness and destructiveness while there are options up top with one-time Swansea failure Alberto Paloschi and the acrobatic, overhead-kick-loving Mauricio Pinilla.
There is also much expected of Alejandro Gomez, the diminutive Argentinian who will hopefully provide the bullets for Pinilla or Paloschi to fire – providing Alberto has learnt from his time in South Wales and brings a gun that doesn't fall to pieces once he gets inside the penalty area.
After a period of tinkering, tweaking and tittering (Bollini has one of those pens that if you tip it upside down the lady in the pen's bikini falls off) – we have come up with the following formations for the upcoming season;
One is a *tad* more defensive than the other.  This will be used when we're trying to avoid a walloping at Juventus, Napoli, Fiorentina, Roma, Lazio, Milan, Int….God this could be a long season.
In the next instalment, I will go through any transfers I make, round up pre-season and hopefully even play some real football that actually matters – huzzah!
Be sure to look out for more Atalanta updates, and my plans for FM17, on my personal page SeenThemGivenFM and on Twitter @SeenThemGivenFM.
STGFM