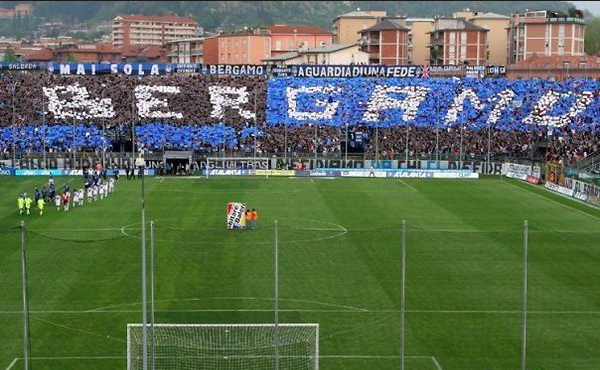 Having sealed the capture of much needed full backs, I felt increasingly confident going into September.  Unfortunately, Maurizio Sarri's perennial Champions League place chasing Napoli travelled north with the sole purpose of denting that confidence.
We were targeting six points from the following games against promoted Crotone and a Palermo side who could easily be on their second or third manager of the season under their trigger happy chairman Maurizio Zamparini.
The month ended with a trip to the Eternal City to take on a Lazio side who in recent seasons could, at best, be described as highly unpredictable.

12.09.2015 – Serie A – Napoli (H)
Having now played a game each using both formations, I felt that the more attacking 4-3-2-1 Wide gave us more of a chance.  It allowed us to control the ball but also to move up the pitch and put teams on the back foot.  Further to this we now had our first choice back four available for selection to provide added….competence.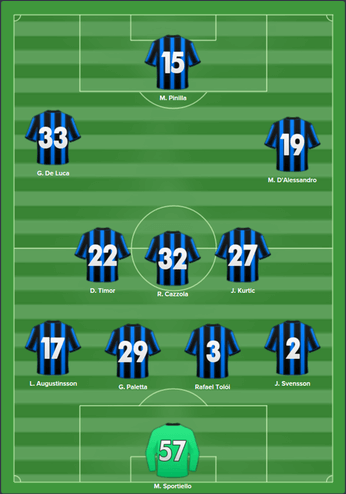 David Timor came in for his first start but, vitally, Jonas Svensson and Ludwig Augstinsson were thrown straight in and encouraged to help out D'Alessandro and De Luca respectively.
Our scouts advised Napoli tended to play very narrowly – and, good Lord above, did they ever and didn't we half exploit it.
They took the lead through Manolo Gabbiadini but we instantly hit back after some pinball in the penalty area through Pinilla.  After half time, we took control.  A ten minute double from De Luca saw us go two goals clear.  We then reverted to the 5-3-2 system to give us more of of a shield in front of our goal and Alberto Paloschi swept in the fourth after a swift counter attack.
The below is a shot taken at an hour gone and shows the average positions of the Napoli players with underlying heat map.  With no protection for the Partenopei's full backs, it's no surprise that three of our four goals came via crosses from wide positions.
I knew I was right to be confident…
20.09.2015 – Serie A – Crotone (A)
After the previous performance, this was surely a formality.  Crotone had confounded critics by securing promotion from Serie B in the previous season and were tipped for an instant return.
However Crotone were determined to prove they were made of sterner stuff.  They weren't going down with a whimper.  They would channel the spirit of the 300 Spartans at the Battle of Thermopylae…and stick eight men on the goal line and hope to bore the opposition into submission.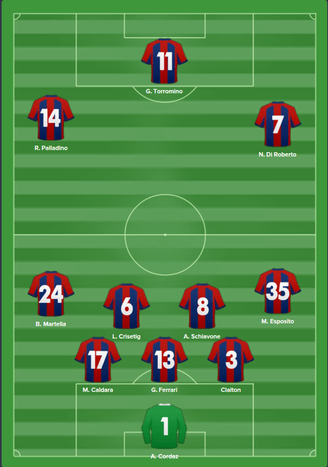 Faced with a monstrous wall to break down, I changed tactic, dropped our wingers and tried to exploit the hole they'd left in the middle.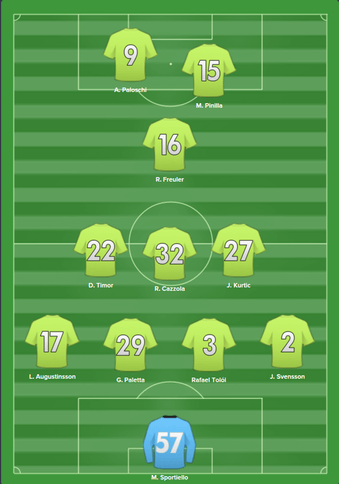 It worked in that we got a result.  Pinilla got his third of the season before an equaliser for Crotone's Nunzio Di Roberto which had threatened to ruin everything we worked and stood for.  Gómez and D'Alessandro were summoned from the bench and we went back to the winger based formation, and it was the latter who fired in a low cross to allow Paloschi to bundle home the winner with ten minutes left.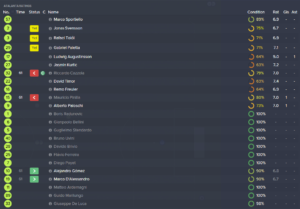 It didn't work in that again, the opposition again had shot after shot on goal and we somewhat fled north from the sole of Italy's boot, grateful for our three points.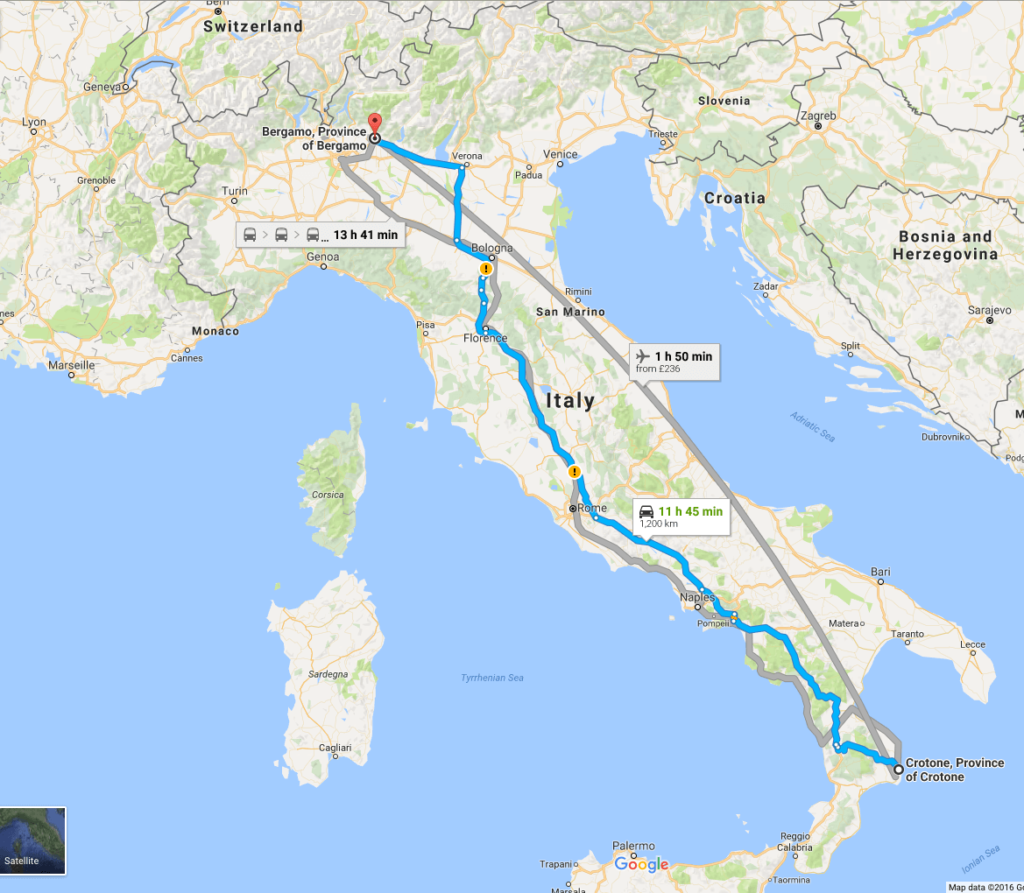 23.09.2015 – Serie A – Palermo (H)
The Sicilians travelled to Bergamo to find La Dea in high spirits after our two recent wins.  Like Crotone, they set out quite defensively but I had confidence we would be able to break them down.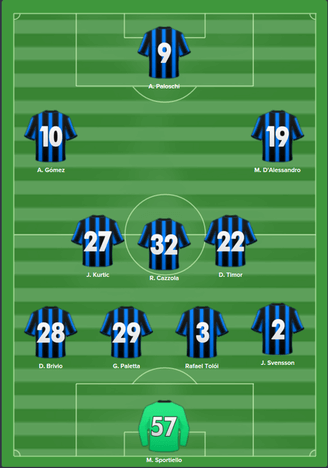 It turns out that confidence was misguided.  As misguided as Muhamed Besic's two lunges which saw him sent off thirty minutes after coming on as a second half sub.  We laboured to a goalless draw against a struggling Rosanero.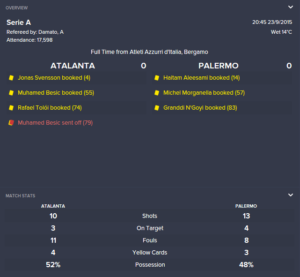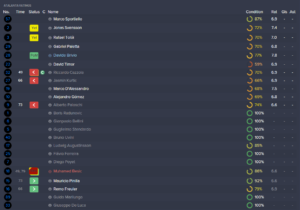 However, we held onto the ball nicely, even down to ten men, and created two clear cut chances to their one as we stretched our unbeaten run to three.
27.09.2015 – Serie A – Lazio (A)
Having only conceded two goals in four games using the 4-3-2-1 Wide formation, we stuck with it as we headed to face Lazio (though Diego Poyet dropped slightly deeper).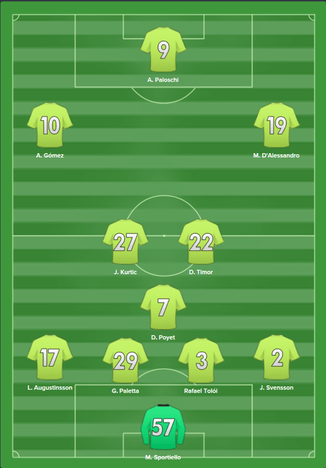 Simone Inzaghi's side had had a sluggish start and were languishing in 15th while we rode (relatively) high in 4th.  However, the Biancocelesti contained a player who embodied their unpredictable ways in Felipe Anderson.  The Brazilian could score goal of the season contenders week after week before disappearing into oblivion for months on end.
Even then, if Anderson was having one of his down periods, the very much mobile Ciro Immobile was currently plying his trade at the Stadio Olimpico and would be a threat.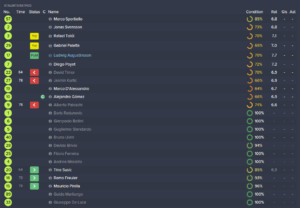 Somehow, this game was even more dull than the last one.  No clear cut chances for either side.  Nothing to see here.  Zip.  Nada.  (Though yet again, we held onto the ball more than the opposition).
Chances for La Dea seemed to be at a premium and I was keen to get Tino Susic, ruled out with a back strain for the whole of September, into the fold to pull some strings.
In summary, an unbeaten month was something to be very pleased with.  If two wins and two draws had been offered at the start of September, I'd have bit your hand off – especially when facing Napoli and Lazio.  However, having thumped Napoli, dropping two points at home to Palermo was a big disappointment.
The formation and tactical tweaks (dropping one of the central midfielders into a deeper role when facing bigger opposition) has let us to control the ball more.  Now, if we can just stop the opposition shooting at us from all angles…
Serie A Position: 4th
Results/Next Month's Fixtures

Be sure to look out for more Atalanta updates, and my plans for FM17, on my personal page SeenThemGivenFM and on Twitter @SeenThemGivenFM.
STGFM