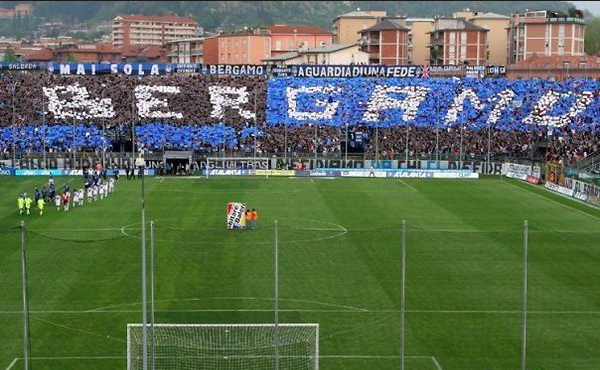 Heading into November, there were plenty of positives on show.  We sat comfortably in fourth and hadn't conceded a goal since the middle of September (spanning just over six matches).  We were also unbeaten in eight matches since the 2-0 reverse at Fiorentina in only the second game of the season.  Plus we'd even started scoring goals – yes, goals plural – again.  Huzzah.
November provided fixtures that, on paper, would allow us to build on these positives.  Home games against an Empoli side, punching above their weight in 7th place, and rock-bottom Pescara sandwiched a tricky looking game at high flying Udinese (2nd) and a trip to face promoted Cagliari (15th).
01.11.2015 – Serie A – Empoli (H)
Two changes of personnel from the Bologna win saw Paletta replace Bruno Uvini and Susic come in for Remo Freuler, but the system remained the same.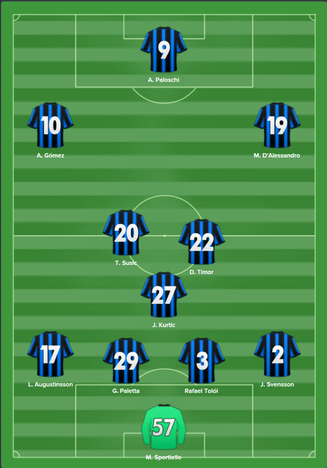 Eighty minutes in and I thought the curse had returned.  At this point, I was gulping down water and eyeing up the corner flags.  We battered Empoli but couldn't force a breakthrough.
Then, with seven minutes left, D'Alessandro got round his full back, whipped in a cross and Paloschi fired in via a deflection.  The relief was palpable – the Atleti Azzurri d'Italia had seen its first goal since Paloschi hit the fourth against Napoli  – covering nearly 300 minutes of football.
The unbeaten/clean sheet streak also stretched to another game – dare we set our sights higher than mid table mediocrity?
07.11.2015 – Serie A – Udinese (A)
Like ourselves, Udinese were flying.  The Bianconeri sat in second and had done so from the third game of the season.  They were also yet to concede a goal at the Friuli in the league.
Despite Udinese's impressive start to the season (including beating the Milan clubs in successive fixtures), our last two wins had left me giddy with confidence and I played the more open wide formation.  I hadn't lost a complete grasp of reality and, as a result, Besic was reintroduced to provide more steel in front of the defence.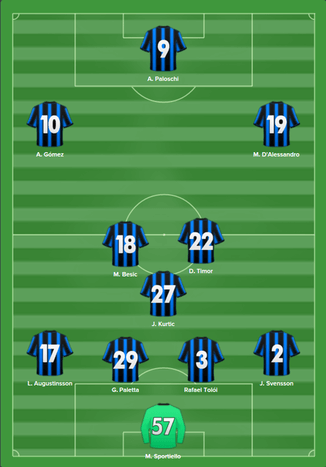 For the first time this season, we were on the end of an FMing.  We faced 10 men for over a half, had 27 shots on goal, 19 of which were on target yet we left Udine with a solitary point.  Duvan Zapata selfishly ruined our clean sheet run and fired them ahead from the spot.  The hosts went down to ten when they lost Guilherme before half time due to two bookings.
I cranked things up at half time, increasing the speed at which we played and went more attacking.  Keeper Orestis Karnezis had kept them in it at this point and it was surely a matter of time before we got an equaliser and could push for the win.
Stefano Pioli's side then had the temerity to soak up our pressure and hit us on the break.  Rodrigo de Paul.  2-0.  Merda.
Five minutes later the superb Augustinsson (check out his average ratings over the past few games) slung one to the back post and D'Alessandro headed us back into the game.
Tactically there was nothing I could do, we were more than on top.  So I played two wild cards – on came the hardworking Guido Marilungo and de Luca to try and unsettle the Udinese back four and it paid off with the latter getting a deserved equaliser after Augustinsson's neat inside pass.
The clean sheet record had gone (and all the repetitive questions from the media regarding it, thank God) but we were still unbeaten and had started to nicely dominate games.
22.11.2015 – Serie A – Cagliari (A)
An international break intervened before we were back on the road (well, in the air on a flight to Sardinia) to face Cagliari.  IRL, I've been impressed with the squad that Massimo Rastelli has put together – Bruno Alves, Mauricio Isla and Simone Padoin are all excellent additions and I have major man-love for Davide di Gennaro and the dreamy Marco Borriello.  This wouldn't be an easy trip.
Once I'd stopped nervously looking over at Borriello, hoping to catch his eye, I submitted a team containing two changes from the draw with Udinese – Flavio Ferreira in for Tolói and Susic for Kurtic.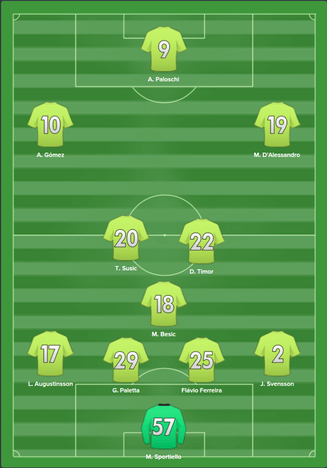 With just over half an hour played, we'd made a mockery of my prediction that this game would be a tricky one.  Marco D'Alessandro drove in his second in as many games and Paloschi put us in control with a delightful near post finish after a D'Alessandro cross.
Borriello got the Sardinians back into the game and I let out a nervous whimper as he ran towards the benches, only for him to run past me and into the arms of Rastelli.  It's always the handsome ones that break our hearts.
Despite my public rejection, we held on and secured a vital 2-1 win, and with that jumped up a place to third.
28.11.2015 – Serie A – Pescara (H)
We were now starting to really kick on – keeping the ball, creating chances and scoring goals.  Next up, the Delfini of Pescara headed to the shark tank of Atleti Azzurri d'Italia.  I fully expected a comfortable win.
I felt so comfortable that I left the so-far excellent Augustinsson out (he was knackered having already completed a fair part of the Danish season with FC København before joining us in August) – Davide Brivo replaced him.  Jasmin Kurtic also came in for the more defensive minded Besic.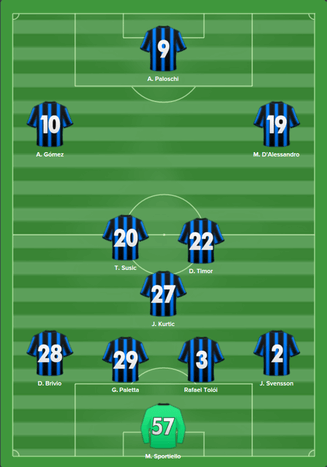 Massimo Oddo set Pescara up in a pretty narrow formation (quite similar to Napoli's) and I fancied our chances of racking a few goals up considering most of our goals came from the wide areas.
As it turned out, my side set out to make me look ridiculous by scoring from two central passes – firstly Alberto Paloschi fired in from David Timor's lovely lofted ball over the top, before Paloschi repeated the trick in the second half, this time from Gómez' through pass.
I expected more but Pescara comfortably controlled our few attacks; I can't grumble too much about three points and another clean sheet for Sportiello and the gang.
Another month done and 10 more points in an incredible start to this topsy turvy Serie A season.
Juve already sat pretty at the top, ruining any chance of a Leicester-esque title challenge, but with Inter (5th), Roma (6th), Lazio (9th), Napoli (10th) and Milan (an incredible 18th) all struggling, it was perhaps a chance for the likes of ourselves, Udinese and Empoli to maintain our bids for European football.
Paloschi had displaced Pinilla as our starting striker and hit four goals in November to take him to a promising seven for the season.  Our full backs, Augustinsson and Svensson, ate, breathed and farted out assists and D'Alessandro was chipping in with both assists and goals.  If we could get the little wizard and captain, Alejandro Gómez, providing like his wing partner, I would be even more confident that European football was a formality for next season.
Serie A Position: 3rd
Results/Next Month's Fixtures

Be sure to look out for more Atalanta updates, and my plans for FM17, on my personal page SeenThemGivenFM and on Twitter @SeenThemGivenFM.
STGFM