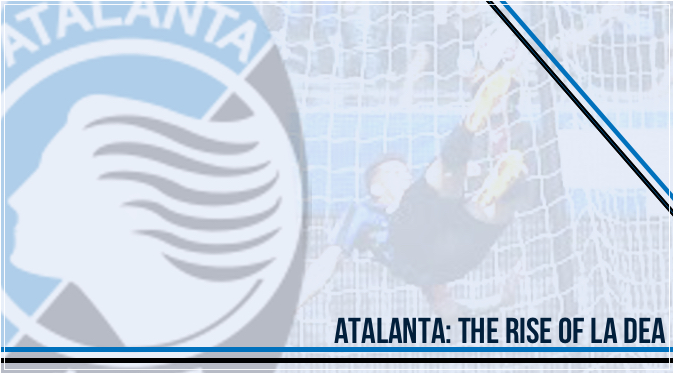 We were half way through our most testing month of the season and sitting relatively pretty having picked up 7 points from a possible 9.
After the weekend win at Chievo Verona, a midweek home tie in the Coppa Italia vs Ternana followed.  Three days later we faced the only side yet to beat us this season, Paulo Sousa's Fiorentina, before a long trip to Naples the following Saturday.
Having let the likes of Pinilla leave, I suddenly got cold feet about the youngsters.  Petagna, Tulissi et al had shown what they could do in a 30 minute blast against a tiring Lazio, but could they do it when the pressure was on, could they do it when the club needed them to get a result and – the most accurate litmus test of all players – could they do it on a cold, Tuesday night in Stoke Sassuolo?
Even forgetting the above complete 180, we were light in the striking department with only Palsochi and Petagna as recognised, out and out strikers.  I decided to bring in a man who seemed to come alive in the last few months of the season to drag his club out of their perennial relegation fight in the Bundesliga; Hamburg's Pierre-Michel Lasogga.
This brute would sit on the bench and give us the battering ram option if Paloschi's attempts to either score himself or bring Gómez, D'Alessandro, Susic etc into play wasn't working.  I'll freely admit it would restrict young Petagna, but I was keen not to have to rely on him if Paloschi started misfiring.
20.01.2016 – Coppa Italia – Ternana (H)
Considering the intensity of this month's fixtures, I decided to rotate for this game.  The front three remained unchanged (Lasogga had a minor knock and wouldn't make the bench), Valzania came into the midfield for his full debut and there were three changes at the back; old timer Bellini replaced Svensson, Brivio came in for Augustinsson and Uvini, having scored in the previous round, replaced Paletta.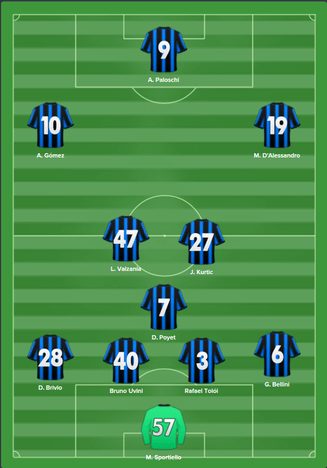 Disaster.  Having beaten Inter and Napoli, drawn with Milan and Juventus, we surrender our only realistic chance of silverware against a side who were treading water in the division below us.
The changes at the back didn't help – only 14 minutes in, Brivio failed to close down man-of-the-match Ceravolo whose pinpoint cross was gratefully nodded in by Avenatti, who had gotten the wrong side of Uvini.
Five minutes later Gómez pulled us level from the spot.  Time to kick on, right?  Wrong.  Another cross from the right evaded everyone, Sportiello made a mess of it and Felicioli tapped into an open goal.
A rollicking at half time, the first I'd dished out in my time at the club, led to an improvement in the second half.  Within ten minutes we were level through Paloschi's fine solo effort and fifteen minutes later Ternana were down to ten with Vitale picking up his second yellow card.
It was now absolutely, undeniably the time to kick on, right?  Wrong.  In the 90th minute, Ceravolo seized on some weak defending by Tolói to send us crashing out of the cup.
Having given the players a second bollocking within an hour, I returned to the rain-soaked dugout at the Azzurri d'Italia alone to contemplate one burning question – is this where it all goes tits up?
23.01.2016 – Serie A – Fiorentina (H)
Even though la Viola were now not the only team to have beaten us this season, the desire to get one over them was still great.
In August, they had cruelly taken advantage of a team in its infancy and acted the playground bully as they sent us back to Bergamo with a rather large, uncomfortable wedgie.  But no more.  We can stand up for ourselves and no longer have to run to teacher….Ternana result aside.
Having tried, and failed, to smother Fiorentina to death at the Artemio Franchi we opted for a slightly more offensive version – but with the security of regista Kurtic and ball-winner Besic in front of a fully restored defence, minus the tired Svensson.
Aaaand we're back.  The Ternana result had been well and truly banished from the memory and, more importantly, we went back above Fiorentina after winning this Champions League qualification (yes, screw it, we're going for the big 'un) six-pointer.
The game was a horrible one.  Tense and tetchy with both sides not wanting to express themselves too much for fear of making an error.  As with most of those types of matches, it was settled by a set piece.
Ludwig Augustinsson continued his fine form by floating in a free kick from the right that the much travelled youngster Gaetano Monachello guided into the far corner with a deft header for his first Atalanta goal.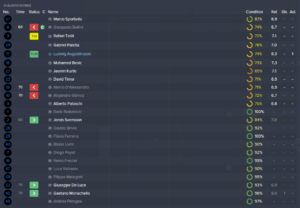 Before the Napoli game I completed our last signing of the season – Massimo Bruno on a season long loan from RB Leipzig (boo!).  He would provide right wing cover for the tireless Marco D'Alessandro.
30.01.2016 – Serie A – Napoli (A)
In a reverse of the feelings felt by both sides before the Fiorentina game, Napoli were very much out for revenge over us having been on the wrong end of a 4-1 thumping in Bergamo at the start of the season.
Like with the Fiorentina game, we set up to restrict their attacking midfielders – namely the mohican-sporting Marek Hamsik.  However, as we so delightfully exploited at home, Napoli tend to play very narrow so we welcomed back flying right back Jonas Svensson and would aim once again to attack down the wide areas.
To paraphrase Justin Bieber, is it too late now to say Sarri?  He learnt absolutely diddly squat from the hammering at Azzurri d'Italia and once again lined up in a narrow style.
Fearing a backlash due to Napoli's struggles (they sat 9th heading into this game) I set the team out in a pretty standard frame of mind in regards to attacking, playing wide etc to test the water.  As in the home game, we went a goal down.  This time Calléjon fired home for the Partenopei after getting between Paletta and Tolói.  And also like the first game, a first half equaliser appeared – Paloschi sweeping in Timor's delicately measured pass.
At half time I stepped things up – Napoli were offering little so we went more attacking, exploited the wings with Svensson and Augustinsson overlapping.  Within five minutes we hit what ended up being the winner – D'Alessandro ghosting in ahead of Ghoulam to tap in Gómez' cross.
A huge double over Napoli had just been completed and our joy was compounded as Fiorentina were held to a 1-1 draw by Cagliari opening up a gap of five points between us in 2nd and the chasing pack.
So after much panic and many prayers uttered, we left our winter of discontent pretty content.  The Ternana cup loss was a real kick to the stones but we bounced back with two superb wins to build on the three positive league results we'd secured against Inter, Juve and Chievo.
February, on paper, looked a lot less testing than January and would hopefully allow us to continue to push towards Europe for next season.
Serie A Position: 2nd
Results/Fixtures:
Be sure to look out for more Atalanta updates, and my plans for FM17, on my personal page SeenThemGivenFM and on Twitter @SeenThemGivenFM.
STGFM