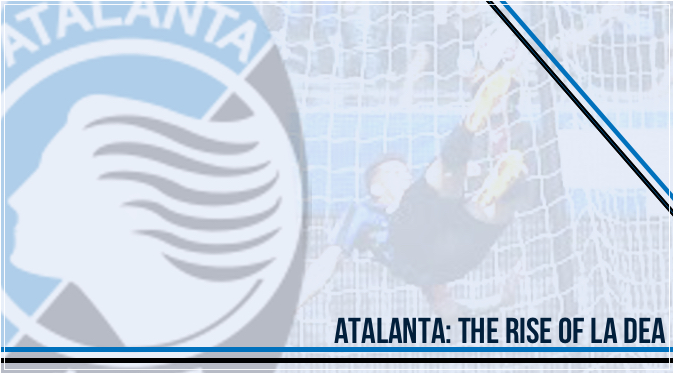 Like a student frittering away their December days watching all three Home Alone movies in a single sitting, the spectre of January was causing me sleepless nights as we hurtled through the all-to-quick winter break.
In a single month we faced four of Italy's biggest sides; champions elect Juventus, European competition chasing Inter Milan and Fiorentina, and a Napoli side seeking revenge for their 4-1 defeat at the Atleti Azzurri d'Italia earlier in the season.
A trip to Verona to face the Flying Donkeys of Chievo was anything but straightforward while the very winnable cup quarter final against Serie B side Ternana completed a busy month (hence January being a two parter!).

With January came the opening of the transfer window.  I felt that the new found prominence of some of the younger players (see previous post for profiles) meant that some squad players were now surplus to requirements and I sought to move them on to pastures new.
Tony Pulis liked what he got from Carlos Carmona in the summer window so much that he returned to Bergamo for a second time, this time to seal a £575k deal for Mauricio Pinilla.  While Pinilla was a more than able rotation option for Paloschi, his contract was up in the summer and was wanting ridiculous wages for a 32 year old back up.
Defender Andrea Masiello was also shipped out – to Serie B Cesena – for a very welcome £450k having not kicked a ball in anger since the opening day.

06.01.2016 – Serie A – Inter Milan (H)
This game, along with the Fiorentina game later in the month, would allow either team to put a serious dent in the other's European charge.  I hoped to make the most of home advantage and put the skids on the Nerazzurri.
Their club policy flew in the face of ours – Atalanta develop players, sell high and reinvest.  Inter pump money in, throw enough shit and hope it sticks.  Further to this, I've always found them ridiculously overpowered in previous FMs (compared to the circus they normally run IRL).  A victory would be sweeter than the sweetest gelato.
My my, that gelato tastes good.  Admittedly we made the most of the bizarre decision by Frank de Boer to play keeper Samir Handanovic, who was struggling pre-game with a wrist injury.
FdB then trumped that decision by using one of his available changes to replace his keeper with two minutes to go when Inter were pushing for an equaliser.  Perhaps the real life Inter circus has been applied to the FM version after all.

I became aware that something was up with Handanovic when Gómez fired a weak shot past the Slovenian keeper on 34 minutes.  Five minutes later, naturalised Italian Éder had equalised before Tino Susic capped a brilliant performance with a goal, firing in the winner after Handanovic had pushed out Paloschi's effort to the Bosnian's feet.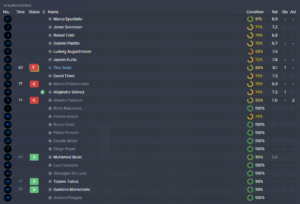 A huge win that saw us leapfrog Inter into second.  Would we cement that position with a win  at the Juventus stadium?  Probably not.
Also, after the game, another squad player bid arrivederci to La Dea – target man Matteo Ardemagni (no, I wasn't sure who he was either) left for Frosinone in Serie B for £225k.  No one batted an eyelid.
10.01.16 – Serie A – Juventus (A)
Our unbeaten run stood at 16 games.  The Old Lady's run beat that by two games – they had only dropped six points all season, drawing three games.
Positive: two of those games were against relative minnows in Palermo and Empoli (Napoli were the third).  Negative: all three games were away from the Juventus Stadium.  Double Negative: they'd won every game at home to date and were yet to concede a goal.  Merda.
With the 5-3-2 consigned to the history books, we lined up in our more defensive 4-2-1-3 formation, hoping to crowd Juve out.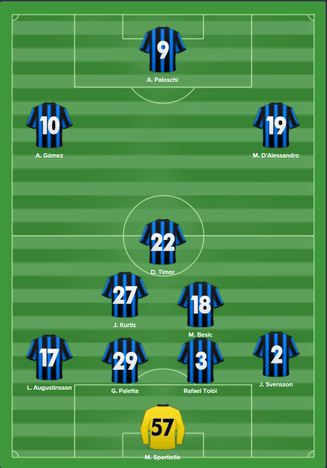 Juventus' run of not conceding at home carried on.  However, Max Allegri's side's 100% home record did not.
We held them to a 0-0 draw with a backs to the wall performance – despite losing Jonas Svensson after eight minutes (back up left back David Brivio had to fill in at right back) and Gabriel Paletta's stupid dismissal for a shirt pull on Gonzalo Higuain just after the hour mark.  Judging by Higuain's more, ahem, portly build these days, Paletta must surely be commended for being able to pull enough shirt material away from the Argentine's gut to warrant a booking.
Juve's inability to break us down saw the red mist descend on the Old Lady and they picked up a flurry of bookings in the later stages – left back Alex Sandro made it 10-a-side by picking up a straight red for a two footed lunge at D'Alessandro, just five minutes after Paletta was hitting the showers.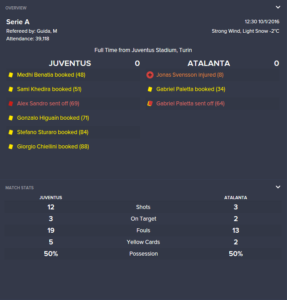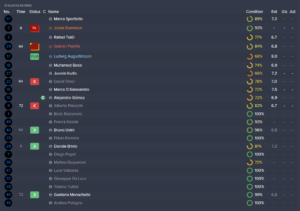 Let's not kid ourselves, Juve will still run away with the league, but this result not only gives us belief that we can mix it with the best but is also a bonus point that I wasn't counting when forecasting the rest of the season.
17.01.16 – Serie A – Cheivo Verona (A)
With an unexpected four points from the previous two games, we could now ill afford to drop points against Chievo Verona.  They were hovering around lower mid table in 14th and represented the sort of horrible West Brom-esque banana skin that could easily be slipped up on.
The previous game between the two sides, the first game of our Serie A season, descended into a booting match with referee Irrati dishing out 11 bookings – with 7 going to Chievo.
With first choice defenders Svensson (injured) and Paletta (suspended) out, I played two covering midfielders to shore up the gap in front of a defence that was low on both cohesion and match fitness.
Any pre match nerves were immediately allayed as Paloschi volleyed us in front from a D'Alessandro cross after 41 seconds.  Chievo then tried to boot us off the field once again until they came a cropper with their physical ways and conceded a penalty.  Jasmin Kurtic put clear daylight between the sides with five minutes left.
I was later thanking the good dude for that penalty as Riccardo Meggiorini seized on a hopeless Bellini back pass to reduce the arrears for Chievo minutes later.
Half way through the month from hell and we sat clutching our 7 points from a possible 9 in amazement – though we were back down in 3rd on goal difference behind Fiorentina.
By this point, I'd signed a new deal with the club and extended my stay at La Dea's heaving bosom to June 2018.
On a side note, I wasn't the only one with golden balls in Bergamo – outstanding left back Ludwig Augustinsson had only gone and picked up the European Golden Boy Award for his series of stonking performances in 2016.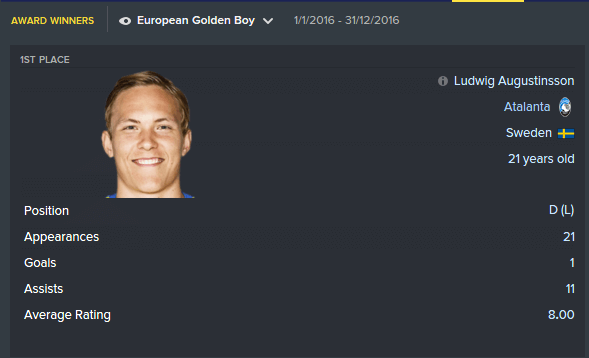 I knew scouting players properly would pay off.
Be sure to look out for more Atalanta updates, and my plans for FM17, on my personal page SeenThemGivenFM and on Twitter @SeenThemGivenFM.
STGFM