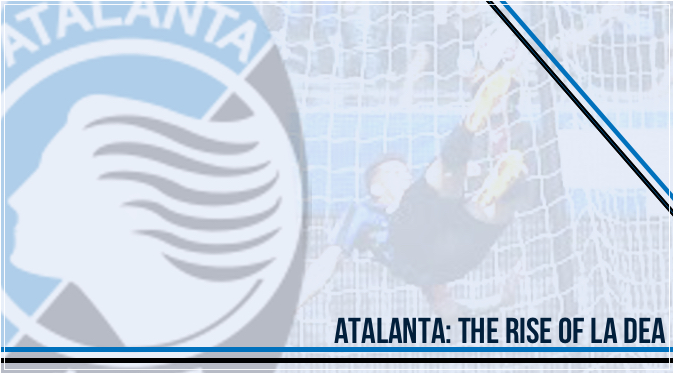 Atalanta sat 2nd in Serie A, five points clear of 3rd placed Fiorentina.  Having escaped a tough January with 10 points out of 12, February saw us play the teams lying in 18th (Crotone), 17th (Palermo), 6th (Lazio), 16th (Sampdoria) and 12th (Milan).
This month represented a chance to take a huge stride towards the Champions League; 2nd to qualify automatically for the group stages or 3rd and having to negotiate a play off.
Let's do this.

03.02.2016 – Serie A – Crotone (H)
Crotone had proven to be a tough nut to crack in the corresponding away leg on the sole of Italy's boot back in September.  They ventured north with the sole (p-unintended) intention of frustrating the players, the fans, the management, any anyone within a 5-mile radius of their heavily defended goal.
I'd also made a huge boob in allowing number 17, Mattia Caldara, to play against us – his parent side from which he was on loan to Crotone for the season.  Surely he wouldn't score…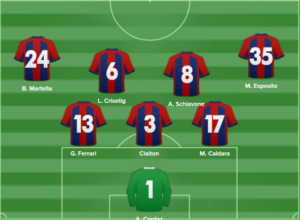 I lined the team up in a sort of anchor shape, wanting to control the huge no-man's land that Crotone would leave between the abomination above and their three forwards.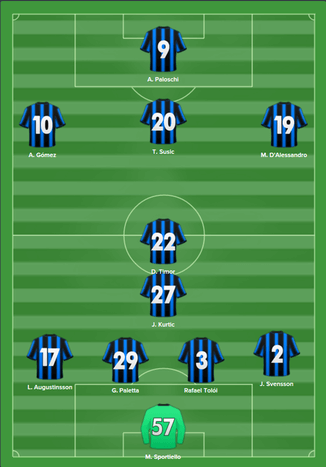 This will be filed under the "Big Opportunity Missed" category.  We looked far more comfortable than we did against Crotone first time round and took a deserved lead when David Timor fired in a 25th minute opener.
However, a second goal to kill the game remained aggravatingly elusive and in a rare Crotone attack, Tolói helpfully pushed de Giorgio's cross into his own net.  1-1.  Belter.
Oh and of course, Caldara had a great game (7.3 rating) – thanks Mattia, you Judas.  More pertinently, Fiorentina did not make a similar mess of things at Pescara and won 3-0, cutting our lead down to two points.
07.02.2016 – Serie A – Palermo (A)
We visited Sicily with Palermo, disappointingly, only on their second manager of the season – it is normally the case with the Rosanero that they end each season with more managers than wins.
Having dropped two points against Crotone, it was imperative we bounced back with a win.  As a result, I stopped trying to be clever and returned to the old faithful formation.
We did bounce back with a win but we were bloody awful.  Any hangover from the Crotone result looked to be banished when Paloschi headed in off the bar after nice build up between Svensson and Susic with just 34 seconds gone.
Then we sat back and allowed Palermo to dictate.  They had more of the ball, more shots and more clear cut chances.  With a fear that Palermo would get themselves level and kick on, it was a huge relief when Palsochi got his second of the game from man-of-the-match Svensson's cross.
Also, with this win our five point lead over Fiorentina had been restored with la Viola being held to a 0-0 draw at home by Sassuolo.
14.02.2016 – Serie A – Lazio (H)
A week later we faced Lazio for the third time this season, having drawn 0-0 at the Olimpico in the league and beaten them 4-2 at the same ground in the Coppa Italia.  As stated above, they were sitting in 6th in Serie A having climbed the table after a slow start – this would be no Bergamese spring walk in the park.
No shocks in the team selected bar Bruno coming in for his first start ahead of an injured D'Alessandro.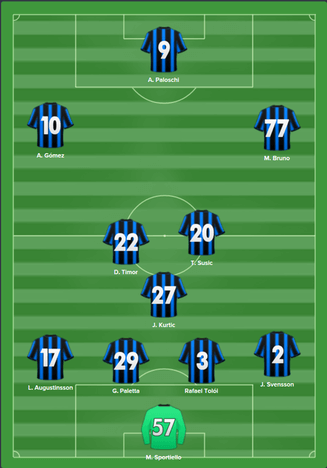 What a performance.  I mean, just look at those ratings (below).
We were unfortunate to go behind to a Caceido goal on the stroke of half time but put our foot to the floor early in the second.  Paloschi pulled the game back to all square, firing in Augustinsson's low centre, before Gómez put La Dea ahead just four minutes after the break following a lovely close control build up involving Timor, Kurtic, Susic and Paloschi.
In the closing stages Lasogga put the icing on the whole thing, holding off two defenders to fire past Marchetti for his first goal for the club.
21.02.2016 – Serie A – Sampdoria (A)
Having comfortably saw off the highest ranked team we faced this month, we travelled to the port of Genoa in high spirits to face a struggling Samp.
For once, I named an unchanged team.  The team talk was simple: Same again, lads.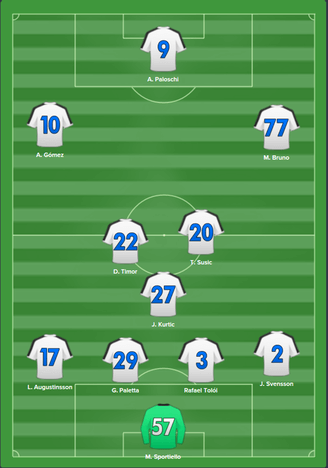 Editor's singer Tom Smith once mused that "the saddest thing that I'd ever seen, was smokers outside the hospital door".
I dread to think what mournful, melancholic, indie prose he would pen having seen Marco Sportiello's face as our unbeaten league run finally come to an end.
That run, spanning 18 games and nearly six months, was ended when Sampdoria's Sala volleyed Cigarini's cross against a post only to see the ball hit Sportiello on the back and roll into the unguarded net, with a mere three minutes left on the clock following a drab, goalless 87 minutes.
[youtube https://www.youtube.com/watch?v=KkON4WTfnag&w=560&h=315]
"Heartbreak Hotel?  Yes, I'll have a room for one please."
My mood was somewhat lifted by Fiorentina's surprised 3-1 home defeat to struggling Genoa, though our defeats allowed Inter back into the Champions League race.  We could ill afford any further slip ups.
27.02.2016 – Serie A – Milan (H)
Still shellshocked after how we had lost at Sampdoria, I led us into a home tie against a Milan side resurgent under new boss Rudi Garcia.
If you can remember back to mid October, we clung on by our fingernails for a 0-0 draw at the San Siro as Milan laid siege to our goal.  I expected similar today and with Sportiello's confidence surely shot to pieces, I was worried.
Despite this, and for the third game in a row, I named an unchanged team.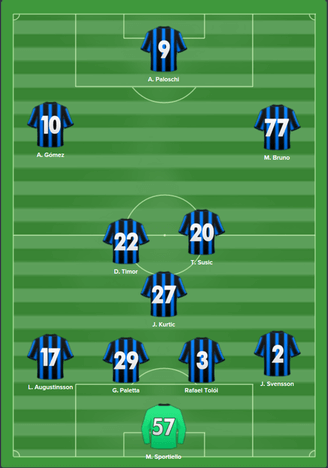 Another Milan siege survived.  Abate and de Sciglio battered us down the flanks, firing in cross after cross.  However, it was a penalty from Bacca – after a foul by Svensson on Montilivo following a Milan breakaway from a rare corner for us – that gave Milan the lead.
Just under twenty minutes later, Alberto Paloschi popped up with another goal, wriggling away from the attentions of Romagnoli and Zapata to fire Atalanta level.
While we picked up a valuable, yet undeserved, point – Fiorentina travelled to San Siro to face Inter in another Champions League qualification six pointer.  The Nerazzurri gubbed La Viola 4-0 and the two sides swapped places as the race with ourselves for the remaining two Champions League places intensified.
So, like a fat man who has done no training for a marathon, the run is over.  A hit and miss month; a superb performance against Lazio being a highlight and Sportiello's moment of misfortune being an obvious low.
However, there is still plenty to be positive about – we're still second and Fiorentina and Inter look capable of dropping points.  Plus – next month is Youth Intake month and I'm expecting big things from a club notorious for developing talent like Atalanta are.
Serie A Position: 2nd
Results/Fixtures:
Be sure to look out for more Atalanta updates, and my plans for FM17, on my personal page SeenThemGivenFM and on Twitter @SeenThemGivenFM.
STGFM