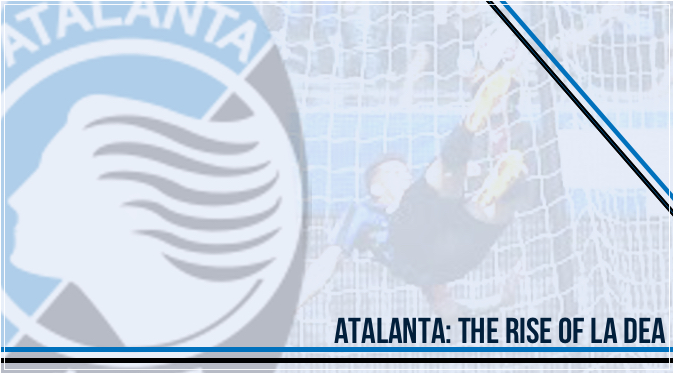 December saw La Dea return to cup action.  Having disposed of Modena in my first game in charge, we took on Joe Hart's Torino in the final qualifying round of the Coppa Italia nearly four months on.
Following that we returned to league action; travelling to Sassuolo (12th), a hit and miss side struggling to combine the rigours of Serie A and European football for the first time, facing a Roma side (6th) that was so far failing to kick into gear before ending the month at a struggling Genoa (17th).
03/12/2015 – Coppa Italia – Torino (H)
With there only being one cup competition in Italy, I played my strongest team – with Juve streaking away with the league, this clearly represented my best chance of a trophy.  This XI, with the possible exception of Gómez, were turning in high quality performances and I was looking to this form and home advantage to give us the edge.
During the 0-0 draw between the previous meeting of the two sides, in the midst of that dirge-fest across September and October, Joe Hart's Torino's Joe Hart looked nigh-on unbeatable.  The first ninety minutes of this cup tie played out the same way as Hart and our own Sportiello took it in turns to deny the outfield players opposing them.
Then, in the 89th minute, we were on the receiving end of some fortune.  Having used all their subs, Torino's Dani Avelar went off with a game ending injury.  For extra time, we would be facing ten exhausted players.
In order to compensate for the loss of their left back, Torino went narrow and tried to crowd out Pinilla, who had replaced the misfiring Paloschi, and our midfielders breaking into the box.  However, we continued to exploit the wings and, as Torino tired, it was no surprise when Pinilla guided in a Marco D'Alessandro cross on the stroke of half time before nabbing his second from another wicked Augustinsson delivery.
Following the win, the Italian footballing dignitaries drew us to face another side we had previously drawn 0-0 with – Lazio at the Olimpico.  And as this game is scheduled to take place in December, we now have an extra game to report on on this blog entry – you lucky, lucky people.

06/12/2015 – Serie A – Sassuolo (A)
We approached the upcoming fixture at Sassuolo with mixed feelings.  They are a small club with limited resources but a genius manager in Eusebio di Francesco and top players in Domenico Berardi, Francesco Acerbi and Andrea Consiglia, a former Atalanta shot-stopper.
They vastly overachieved in reaching the Europa League but were now struggling to stretch their small squad to deal with the demands of the competition plus Serie A duties.  This was starting to become evident in their performances – they had lost their last four and squeaked past Lega Pro side Foggia 1-0 in the mid week cup game.
Despite being taken to extra time by Joe Hart's Torino just three days previously, I was hoping to take advantage of Sassuolo's fragile confidence.  I made some changes, mostly due to tiredness, and, on the back of my scout's report on Sassuolo, moved the regista forward to a central Advanced Playmaker.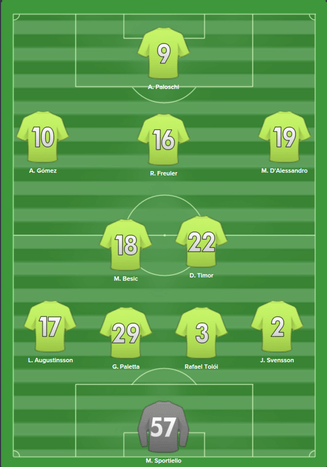 A goalless first half was followed by a four minute blitz in the second as our onslaught on Serie A's full backs continued with two more goals scored after crosses from wide areas.
First Alberto Paloschi headed in after Gómez' cross on 47 minutes before D'Alessandro volleyed in Augustinsson's deep cross with 51 minutes played.
Biondini looped in a header from Berardi's free kick to reduce the arrears on Sassuolo's part before Pinilla came off the bench, to continue his form from the Torino game, and slotted in from another Augustinsson pass.
This now stretched our unbeaten run to an incredible thirteen games and we sat in a season high of 2nd.
13/12/2015 – Serie A – Roma (H)
While the unbeaten run was was a huge confidence boost, I was aware we hadn't played any of the big teams since walloping Napoli at the start of September.  This would change as we prepared to face the Giallorossi at the Atleti Azzurri d'Italia.
Roma had suffered from a slow start, picked up and then stuttered again, drawing three winnable games in a row against Torino, Bologna and Empoli and sat in 6th position.
They played a similar formation to how we lined up against Sassuolo and in order to combat the threat of Stephan El Shaarawy, Leandro Paredes and Mo Salah pulling the strings behind Edin Dzeko, I pulled a second midfielder back to sit along side the regista – Mo Besic came in as a ball-winning midfielder.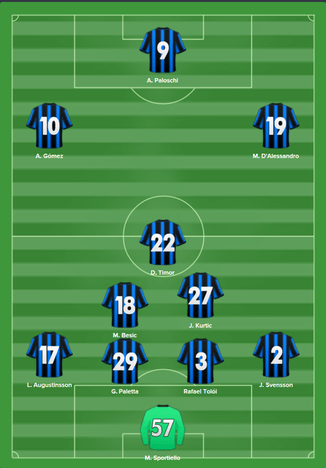 Like in the Milan game in October, Roma battered us but, unlike Milan, found a way through.  They deservedly took the lead on the stroke of half time through El Shaarawy – our cause was not helped due to the amount of bodies we had in our own box.
This is the scene when the shot left SES' (number 12) foot after penalty box pinball as our army of defenders/holding midfielders failed to clear their lines;
I gave the tactic another ten minutes in the second half to try and continue to try and tempt Roma to go for the kill before replacing Besic with Susic and pushing him up along side David Timor.  Five minutes later, Dzeko made it two.  Tits.
The great military strategist Sun Tzu once said, "if you know your enemy better than you know yourself, you will never suffer defeat".  It took me an hour to realise the ageing Thomas Vermaelen was playing left back for Roma.  I had flying machine Marco D'Alessandro (Acceleration 16, Pace 15) on the right wing.
Changes were made and the right wing was exploited.  While I was busy making the tactical tweaks, Tino Susic had headed us back into the game, guiding in yet another Augustinsson ball.
Then it happened.  The warm fuzzy feeling when you change something and it actually pays off.  We won the ball straight off Roma's kick off, D'Alessandro got the ball on the right, burned past Vermaelen and whipped in a delightful ball for substitute Pinilla to knock in – a mere 60 seconds after Susic's goal.
This was the first time this season we've had to properly "fight back" and I was bloody delighted with the response.  That night, I raised a toast to my good mate Sun Tzu.  To think what might have happened if I'd realised Vermaelen was at left back sooner…
16.12.15 – Coppa Italia – Lazio (A)
Despite my previous assertions that I was taking this competition seriously, the monumental effort to claw back a two goal deficit at home to Roma just three days previously left the players bloody knackered.
As a result, a few squad players were brought in and some promising youngsters (see end of the post for more details) made the bench for the first time this season.  Lazio named a relatively strong side; one that contained Felipe Anderson, Lucas Biglia and Sergej Milinkovic-Savic in their midfield alone.  As a result, I didn't feel too confident.
What a game.  What a bloody game.  If this had been a real game, I'd have shown this to people who say Serie A is still boring and full of crushingly negative tactics.
Firstly Alejandro Gómez seized on a defensive mistake to smash us into the lead early doors.  Gonzalez pulled Lazio level after 12 minutes, with Sportiello disappointed to be beaten at his near post.
The lesser spotted Bruno Uvini headed La Dea back into the lead with 24 minutes played and it was a lead we held until late into the second half. With legs tiring, I made three changes in the second half – on came youngsters Petagna, Tulissi and Valzania for their Atalanta debuts.
Before Valzania took to the pitch, Tankara had equalised for the Biancocelesti and it looked like we were heading towards another unwanted period of extra time.
But with time ticking down, Gómez swung in a cross, Marchetti parried and Tulissi capitalised.  Three minutes later another youngster, Petagna, made sure of our progression into the next round with a double-deflected shot after Lazio failed to clear a corner.
Petagna was lucky to be awarded the goal – until recently, the Italian equivalent of the Dubious Goals Panel would have taken goals off strikers and put them down as own goals if the unfortunate defender was in the same post code when the ball was struck.
But it mattered not, we had won again, were through to the next round and managed to blood some youngsters.  Further to this, we'd been drawn to face Serie B side Ternana in an entirely winnable home quarter final.
20.12.2015 – Serie A – Genoa (A)
After the highs of the results against the two sides from the Eternal City, we travelled to Genoa in a confident mood.  The big hitters also returned to the starting XI, though Petagna and Tulissi kept their places on the bench.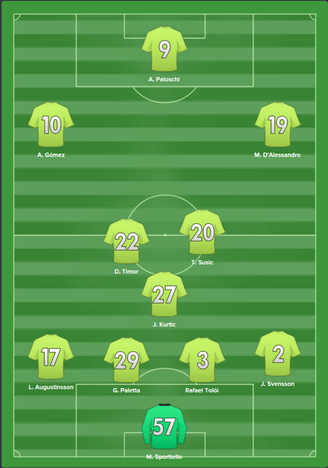 An opportunity missed – literally in the case of Paloschi's spurned penalty – as we faltered to another 0-0 draw.  The game had a bit of an "after the Lord Mayor's show" feel after two wonderful performances, but, as I keep banging on about, the unbeaten run amazingly remains intact.
We headed into the winter break in an entirely deserved but an entirely unbelievable 3rd place with only one loss to our name all season.
We were neck and neck with a similarly consistent Fiorentina side but, even at this early stage, Juve had one hand on the title and were too far ahead for either of us to have realistic hopes of catching.
Below us came a chasing pack containing Inter, Roma and Lazio (Milan sat one from bottom in 19th having lost 7 games in a row) and with only two points between us in 3rd and Inter in 4th, I knew this promising six months or so did not guarantee European football next year.
I will take the winter break to redefine our goals with the board and try and push the squad as far as I can without panic buying (or selling, for that matter).
As it turns out, the following month could define our season.  January looks to be easily our toughest month of the season with games against Juve, Inter, Fiorentina and Napoli plus a tricky trip to Chievo Verona.  I feel this month could decide whether we slip to mid table mediocrity or nail our colours to the mast and continue our march to Europe.
Serie A Position: 3rd
Results/Fixtures:

NB: As promised, here are the profiles of the youngsters that made the bench for our cup game against Lazio.  IRL, Kessié and Petagna are starting for Atalanta and both making a big impact in a season that sees La Dea sit 6th in Serie A (as of 26.10.16).
As the season progresses I hope to give them more time, but they will certainly be in and around the match day 22 (yes, 22 in Italy!) next season.
Be sure to look out for more Atalanta updates, and my plans for FM17, on my personal page SeenThemGivenFM and on Twitter @SeenThemGivenFM.
STGFM