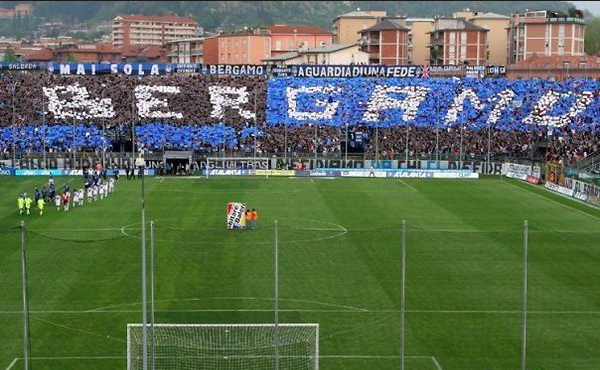 A promising pre-season led Atalanta hurtling towards a first season under my tutelage in high spirits.
The opening month's fixtures were a mixed bag; very winnable games at home to Modena in the cup plus the first game of the Serie A season against the Flying Donkeys of Chievo preceded a stern test at Fiorentina.
Before that, however, we'd not only a cup game and an incredibly infuriating, non-cancellable friendly to play but there were final transfers dealing to seal.
15.08.2015- TIM Cup 3rd Qualifying Round – Modena (H)
New manager finding his feet.  Cup football.  Lower league opposition (Lega Pro Girone A, the third tier, to be exact).  What could go wrong?
We kicked off in our more attacking 4-3-2-1 Wide formation.  No movement on finding supple, athletic full backs meant I was stuck with brutish Masiello at right back.  Tolói was out so veteran Guglielmo Standardo filled in.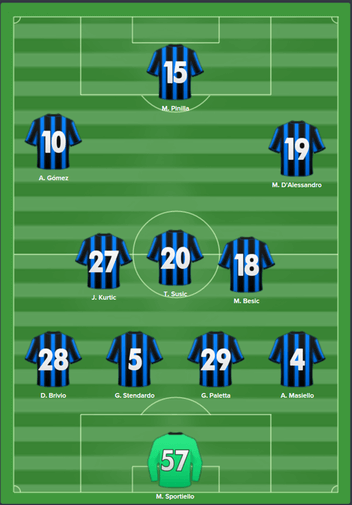 Thankfully, we made relatively straight forward work of Modena with Pinilla and Gómez getting a goal each to send us through comfortably as 2-0 winners.
The 12k that filtered out of the stadium that night could proudly tell everyone they knew that they were there to witness the start of the revolution.  Possibly.  Hopefully.
17.08.2015 – Friendly – Grumellese (A)
I left my assistant Bollini in charge for the game against Grumellese.  He'd surely have the gumption not to play our first team just days after their first competitive game of the season and with the first league game of the season on the horizon?
Jesus wept.
This was revenge for me taking his pen.  Subbing vital first teamers Paletta, Besic, Kurtic, D'Alessandro and Pinilla so late was nothing more than one in the eye for me – and it was a blow delivered using that bastard pen.
Whilst my hard work during pre-season was being sabotaged from within, I was busy bolstering the squad.
Having plugged our midfield gaps with Tino Susic, Muhamed Besic and Diego Poyet, I went bargain hunting and picked up two very capable players (according to extensive scouting reports) for absolute peanuts.
Bruno Uvini will provide cover for ball-winning centre back Gabriel Paletta while David Timor is a very tidy looking Spanish central midfielder, picked up from Liga Adelante side Real Valladolid on a free transfer.
Despite now having five players for three central midfield slots, I couldn't turn Timor down – even if he doesn't work out, I should make a profit in January or at the end of the season.
23.08.2015 – Serie A – Chievo Verona (H)
So with defibrillators on stand-by having seen my first team dragged kicking and screaming through two full ninety minute games within three days, we took on Chievo Verona at the Atleti Azzurri d'Italia.
Two changes were necessary from the Modena game (grazie once again Signore Bollini) – creator-in-chief Gómez and destroyer-in-chief Besic were at death's door following their Monday night excursions at Grummellese; youngster Giuseppe de Luca and Carlos Carmona were drafted in.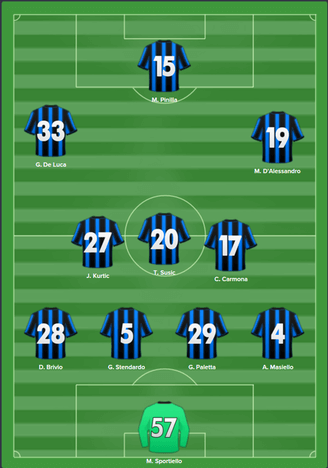 Again, we set out in the more attacking of our two formations.  Again, we won and again, we kept a clean sheet.  However, Chievo battered us – in every single sense as the shot and bookings count will testify.  In spite of this, and Brivio's sending off for two yellows, we stood firm – Sportiello and Paletta put in good shifts (none of Chievo's 18 shots on goal were described as clear cut chances) and Carmona hit our first goal of the Serie A season to give us the win.
On the morning of our following Serie A game at Fiorentina, we sealed another signing.  Flávio Ferreira, without a club since leaving Málaga, will act as back up for ball-playing centre back Rafael Tolói.  Along with fellow reserve centre back Bruno Uvini, he is 24 years of age and fits in with my buy-em-cheap, buy-em-young philosophy.

29.08.16 – Serie A – Fiorentina (A)
After Chievo had reigned in shots against us on the opening day I decided to bring out the *slightly* more defensive formation against La Viola.  The idea was we'd hold tight, frustrate Paulo Sousa's side and either hold out for the draw or try to nick something on the break.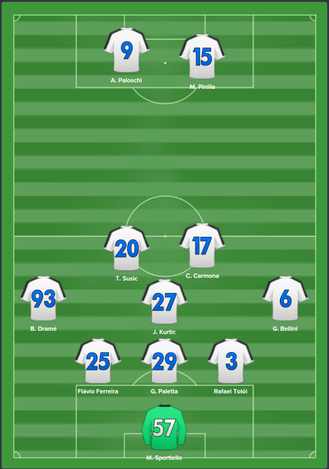 Once again the opposition had numerous shots – but only two on target which, frustratingly, Sportiello could not keep out.
Footballers can travel down various routes to end up at the same destination.  This was proved as one-time Blackburn striker Nikola Kalinic and former Barça winger Christian Tello put us to the sword.
In hindsight, the decision to ask Flávio Ferreira to get changed into his kit on the flight over to Bergamo to finalise his deal with the club and throw him straight into first team football was probably the wrong one.  Let's just say he struggled.
Having left the Artemio Franchi with a very much smacked bum I felt we were at a cross-roads.  Both our formations relied on good full backs and three technicians in the middle to keep the ball moving and spray it out to the wingers and said overlapping full backs.
There was a big tick in the midfield area with Kurtic, Besic, Carmona, Poyet and Timor to choose from.  Two big fat crosses hung over both right and left back position.  And deadline day was looming.
31.08.2015 – Deadline Day
Those of you have been keeping on top of the mathematics of it all will know that our well was very much dry.  The £3.5m budget had gone on players who would undoubtedly improve the squad over the season but I was still scrabbling round for two top (or better than what we had) full backs.
Then we received a life line from, of all places, the West Midlands.  Tony Pulis had been watching our athletic, aggressive, brave dog of war Carlos Carmona – and he liked what he saw (I know, I was shocked he was a Pulis-type player too).
A bid of £5m was received and instantly accepted.  Besic could easily fill the void left by Carmona in terms of dirty work and I was happy to put more faith in the rest of the midfield to hold on to the ball – if we were keeping the ball, the opposition couldn't average 11 shots a game against us, right?
Paperwork was signed and Carmona was not only on a one-way £9.99 Ryanair flight from Bergamo to Birmingham but also officially a West Brom player.

Time was now against us.  I'd been giving the eye flirtatiously to two players across the dance floor the whole day but we were in the deadline day equivalent of the Grease megamix on a night out and we were about to get to 90s boy bands territory.  It was time to make a move or our targets would be disappearing off into the night with a kebab and their high heels in their hands.
After much wooing and many Smirnoff Ices we'd only gone and bloody done it.  They were in our taxi – huzzah!  The funds from the Carmona sale were immediately reinvested in FC København left back Ludwig Augustinsson and Rosenborg right back Jonas Svensson.

This is it.  We're in business now.  We've a fortnight off due to the international break so I use the first week for team building before an intense training session, perfecting our new-found ball controlling, attacking panache which will be unleashed on our next, blissfully unsuspecting opponents.
Who are we playing?  Napoli?  Oh for fu….
Serie A Position: 11th
Results/Next Month's Fixtures

Be sure to look out for more Atalanta updates, and my plans for FM17, on my personal page SeenThemGivenFM and on Twitter @SeenThemGivenFM.
STGFM