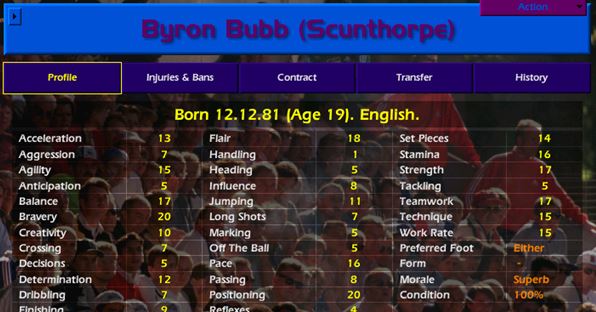 It's another CM01/02 challenge! Only this time, there are a few differences. For one, I' m not alone. I'm being joined by my good friend Ross Jacobs – he's a Spurs fan, but don't let that put you off. We wanted to do some sort of two man CM challenge, and whilst a network game would undoubtedly have broken new ground, our actual lives would make that quite difficult to negotiate. So instead, we're running separate games but with the same rule – neither of us can spend anything.
Now, don't get me wrong. We're paying the bills. But no transfer fees. Loans, free transfers and compensation is all we have to play with, but no bidding for players. We're also both starting in Division 3 (League Two in new money) and trying to see who gets furthest. Or, more accurately, who gets sacked first. This might not be very easy.
I've picked Scunthorpe, they have a strong squad which seems like a sensible move in this sort of challenge. They have no money to spend, which again doesn't really matter. Here's my squad: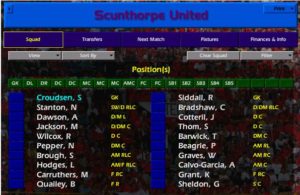 Beagrie and Wilcox are player/coaches, whilst the standout player is Calvo-Garcia
Ross meanwhile has picked near neighbours Hull City. Here's what he has to deal with: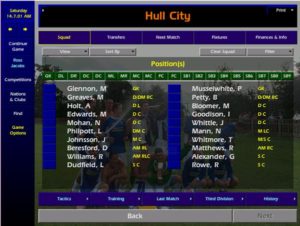 We're going to bring you the updates in the style of a comparison between the two saves. So, without further ado…
Have you been able to strengthen the squad despite the lack of funds?
Dave: Freebies and loans are the order of the day, though you can only have 2 loanees…so that's an onion in the ointment. I've opted for Aaron Hughes, he can play right across the back four and as we all know goes on to get 100 caps for Northern Ireland. He lasts until early December, where Leicester buy him outright and he's gone.

And with signings off the menu, we're going for an illustrious coach and scout setup. As I did all my scouting in CM9798, Collymore, Cundy, Dozzell and Dicks seem like a good backroom team.
With Taribo West available but obviously unavailable to a club of our means, I have to rely on freebies such as this chap: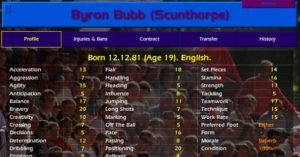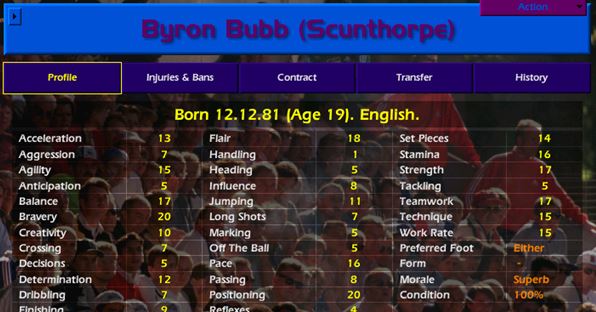 He's brave, both statistically and in terms of character, but I'm quietly confident he's a good addition. Oh and he's delighted.
Less delightfully, my on loan goalkeeper goes back to Grimsby in October and his replacement Alan Miller (on loan from Blackburn) lasts only sticks around for a few games before WBA buy him and leave me keeperless.
Hodges and Calvo-Garcia are attracting interest from home and abroad, but there is literally no point in me selling them. I can't spend the proceeds and there aren't a million Byron Bubb's around. Sadly. Even the Premier League boys want in on the action

The offers keep coming though, I can't reject them forever
I'll hang on to them all for now, but something's got to give. They're getting itchy feet!
Ross: With Wiki letting me down on how Hull's 2001/02 season went (seriously, there is nothing there) I went into the job blind.
Boothferry Park (since replaced by the KC stadium) is still a decent 15000 capacity stadium. And for Div 3 that's a cash cow I'm happy to save up with.
Not much was really needed to strengthen. I wanted to see how the original squad would do. But we did need a spare Left back. I got myself out of that tis by snapping up former Man Utd player Michael Twiss (I'll just take their word for it).
And with loans thinner than a French model on a diet I proceeded forward.
How are you setting up tactically?
Ross: I'm playing a 4-3-1-2 formation but I like to be flexible. It's attacking and I like my fullbacks to go all Brazilian and bomb forward.
Dave: I've sacked off the pre-season friendlies – Collymore's advice – so before long we've arrived at the first day of the season. I'm sticking with my trusty 4-3-1-2, but it's fair to say I'm not too sure what my best 11 is. Either way, we're scoring goals at an unbelievable rate
Any matches we should know about?
Dave: We get off to a decent start with wins at Lincoln and York before taking a little bit of time to hit our stride. But come September, it's fair to say we're in form.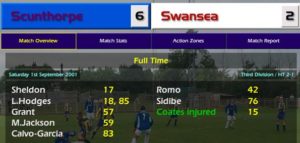 6 is good…but 8 is better.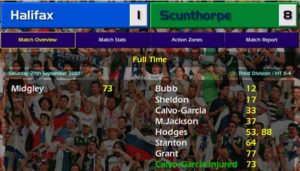 Maybe money is the root of all evil? I'm more mad that Hodges ruined the possibility of 8 different goal scorers than the fact that Calvo-Garcia got crocked. We embark on a bit of a cup journey too
This was my first home game – a good initial impression!
It is, however, Milwall away in round 2 which you'd think would end badly one way or another. Wrong!

Two First Division sides dismissed, a nice trip to a Premier League big boy wouldn't go amiss. But no, it's Bristol City away.

That sets us up for a last 16 tie at home to Premier League Everton.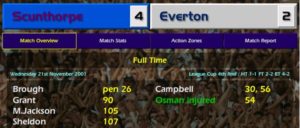 This is getting ridiculous! Unfortunately Mart Poom gets man of the match and Derby end our run.

We have however beaten Canvey Island and Blackpool to take our place in the FA Cup third round, where we'll welcome Forest again in the next update.
Is Promotion on the cards?
Dave: At the moment, it's looking good. But there are a few concerns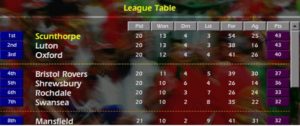 We're outscoring everybody but we now have no loan players and nobody seems that keen to join us. Most of the team have had transfer bids and they're getting unsettled, and the sheer number of games our cup runs have brought us has meant the conditioning is not the best. Big problems!
It's never dull here, as you can see from this snippet of our fixture list: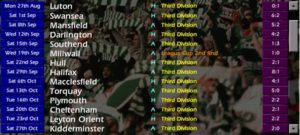 Ross: Promotion is something of a playoff dream. Though the league is as tight as a Tottenham's chairman wallet it could still end up anywhere
We are a very attractive side and 7 games in we are a happy 2nd place and look to at least a play-off position. Early season form is great. lots of goals and that's entertaining for the fans. Even the opening day fixture is a riot. If only it was in front  of 75000.
We enter the now less pointless cup (see cm9798's previous save) hoping to give 1st Div Burnley a decent game. I'm still planning on going all attack at them even though we are at Turf moor.
An early goal sets on a terrific 1-4 win, and being new to the area I treat the players to a proper Sunday roast on a Tuesday (Rooney eat your heart out). Man(n) what a miss he will be.
Back in the league we continue our great form and entertainment with Rushden feeling the wrath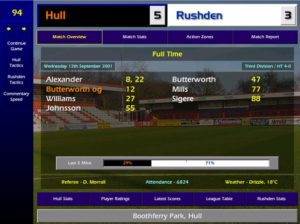 Sadly Bradford is one Div 1 side too much and we bow out of the League Cup to a credible 0-1 loss.
This sets a chain of results that send us to 11th. Losses to Plymouth and Shrewsbury mean its 1 win in 6. But the league is still tight.
I turn to Andy Monkhouse for help  from Rotherham. How slot him in is hard. But he settles well.
This brings about a change of fortune slightly. We bounce back with  a few wins and a few draws. But my usual pain in the backside Luton and in particular Liam Bloody George comes to haunt me. We lose 3-1 and 3 is kind to us. We end the year 10th and a lot to ponder.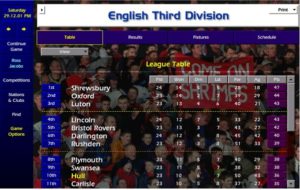 With contrasting fortunes in our seasons so far, join us next time as we try to gain promotion without spending a penny.
For more from Dave visit www.cm9798.co.uk. You can catch up with Ross on Twitter