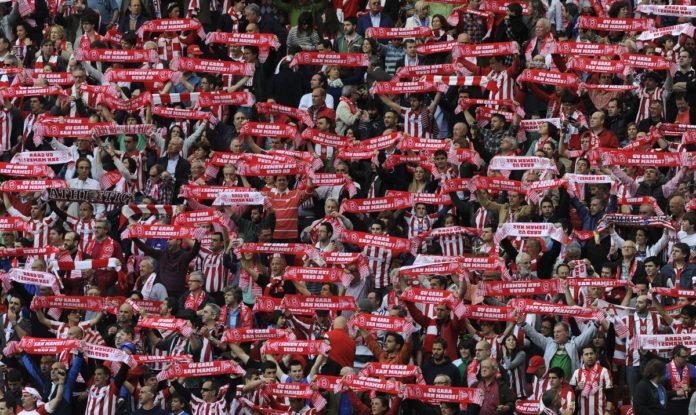 Welcome back folks – I hope you are enjoying this save as much as I am.  Well, that would probaly be impossible as I actually playing it and you are reading my summary, but I hope you get my point.  Either way, I hope it is going down well.
So far you have had the explanation to what the hell I am doing taking over Athletic Club Bilbao B team and an introduction to the #ArgSt17 which will, I hope, define my management career in the same way Pep's inverted wing backs have for him and Kloppo's gegenpressing have for him.  However, neither of those two boys have to worry about the ME potentially being updated half way through the season.  Though I suppose you could argue they do, when other teams work out how to play against them.  Gah, anyway.
What have I got in store for you in this third part of the series?  I think the save needs some characters, people you can buy into and hopefully watch develop over the next couple of seasons.  That's if the powers that be don't promote them to the first team squad, sell them or loan them out to a Liga 2 club that is.
I identified these boys in the first week as players that I, at a very early stage, believe to be the ones that will make or break our season.  I'll introduce them to you one by one and we can look back at them at the end of the season and see how they have actually performed.  I'm also going to link their player biographies so that you can learn more about them in the real world, if you like that kind of thing.
Every successful team needs a good goalkeeper, just ask any Arsenal fans post-Seaman and pre-Cech or any United fan post-Schmeichel and pre-Van der Saar.  I think we have one, which gives me confidence immediately.
Kepa is one of the most highly rated young goalkeepers in Spain which is both a good and bad thing.  It's good because we have one of the most highly rated goalkeepers in Spain in our squad.  It's bad because he will miss games for sure as Spain U21's will take him as will the first team from time to time.  I would imagine, looking ahead, that he is one that could well be in the first team squad permanently by the start of season two or, if we are still in Segunda B, would be loaned out to a team at a higher level.  Still, I am pleased to have him between the sticks.
We didn't have a right back in the squad when I turned up, so I promoted this lad up from the C team.
Agirrezabala doesn't look like much, but the coaches believe he could improve a lot.  Equally he impressed me in pre-season and not just in a "well I don't have anyone else" kind of way.  When I switched the TI's to "look for overlap" he was suddenly getting one hell of a lot of ball from the regista and the roaming playmaker and his crossing was often finding a target.  You will have seen in yesterday's videos that many of our goals have come from Agirrezabala whipping in a decent ball.  He has made me confident to dip into the farm team or the cantera from time to time.
Not only does every successful team need a good goalkeeper, but a solid pair at centre back often goes a long way too.  Adams & Bould, Adams & Keown, Ferdinand & Vidic, Baresi & Costacurta, Moore & Charlton, Terry & Carvalho and many more are testiment to that fact.  I think we are quite well stocked ourselves if they stay fit and stay in our squad.
As you can see, Yeray is 6ft and can pass a ball with the player trait of switching the ball to the other flank.  That screams of someone that we can build attacks through, which is brilliant in this tactic.  I don't need to make him a ball playing defender or anything, his natural game will shine through.  This is not to say that Bilbao cannot play a bit either.  His attributes are also mightily impressive and being 6ft 4 is an absolute beast at the back.  He is also left footed, which provides a nice balance across the back four.
If you are playing the #ArgSt17 you need someone who can shift the game through the gears playing in one of the lateral DM roles.  We have our driver right here.
Iker Undabarrena is going to be a star.  A proper star.  He made his debut for the first team back in 2012 but has been playing for the B side to further his education.  I genuinely believe he could be to Athletic what Xavi was to Barcelona, he is that good.  He has slotted into the regista role already and his player trait of dictating the tempo rings true.  He is the conductor of my new orchestra.
Most people naturally assume goals might be hard to come by in a Strikerless set up.  Therefore there is a huge emphasis on the attacking duo, as well as the central midfielder.  I've identified these two guys as potentially key to sticking the ball in the back of the net.
I admit I breathed a slight sigh of relief when I saw Iker Hernández in the squad.  Not because I know him, but because he is a striker who is already competent at playing attacking midfield.  Therefore he is instantly a shadow striker in my eyes!  Peru Nolaskoain is slightly different.  The kid is versatile and could fill any of the midfield slots other than anchor man, but I have a hunch he might make a good enganche.
This is not to say these are the only boys with talent in the squad.  People who know more about Bilbao than I may wonder why I am not talking about Gorka Iturrraspe, Martin Bengoa, Aitor Seguín, Tarsi Aguado, Jurgi Oteo or Asier Villalibre.  Gorka, Bengoa and Seguín are all to find their exact place in the system.  There is an argument for all three to play centre midfield, though Seguín would need retraining to do that.  Equally, Seguín could play as enganche though the pre-season matches kind of ruled him out of that role.  Aguado has the roaming playmaker role nailed down, but just isn't as exciting to me as Undaberrena.  Oteo clearly has quality attributes, but needs to retrain into a position that fits the system, quite probably as an attacking midfielder as opposed to another body to play central midfield.  As for Villalibre who, to many, is the jewel in the B team crown, he needs to retrain from being a striker in the Llorente mould to learn how to play my game, my way.  The first team might well pinch him anyway, which will make it easier.
So they are the players who I believe, at this early stage, to be the main protagonists in this Basque story.  I may have predicted incorrectly, who knows.  
By now I would hope you are crying out to know how we are actually doing, so the next post will be an update on progress on the pitch before we look towards how I am managing training and avoiding all these injuries everyone else seems to be suffering from.  We also need to talk about player management and communication.  But yeah, the next post will give you an idea as to whether any of this is actually working or not!
Thanks for reading!