There's nothing more thrilling than taking a small club to the heights of Europe. I've been looking for a new challenge to get to grips with on the new FM17 and this site's editor suggested trying to achieve European glory with one of this season's smaller sides. The benefits of picking a team already in the qualifying rounds means I can crack straight on with it.
I browsed this season's qualifiers and picked Red Star Belgrade, or Crvena Zvezda to Jonathan Wilson: they have some fantastic youth prospects, important because this won't be a one season wonder save, and because they won the European Cup in 1991, the only Serbian and former Yugoslav club to have done so and, arguably, the last side outside the usual suspects to have done so (pace Porto in 2004). Importantly, too, since 1991-92 they have failed to qualify for the Champions League group stages, despite being regular winners of the (now) Serbian SuperLiga.
I won't be managing with any sort of strict framework, although the Moneyball theory is now so deeply imbedded in my soul that it would be hard to leave that system behind altogether; I will also be buying and bringing on youth to facilitate Red Star's obvious business model. The aim is to qualify for the Champions League group stages in season one, and build on that to win the Champions League within five seasons, while also securing domestic titles and managing the finances of the club efficiently. As an additional challenge, I want to replicate Red Star's success with only one foreign-born player.
The 1991 Crvena Zvezda side only had Romanian Miodrag Belodedici from aboard, and he was part of the Serbian ethic minority in Romania at the time, defecting from Ceausescu's regime in 1988 to join Red Star. Though I won't actively sell foreign players just to get rid of them, the intention is to build a squad based on Serbian youth products.
I load the Serbian First League and above, the Austrian First division and above, the Croatian Second League and above, the Sky Bet Two League and above, the Italian Serie B and above, and the Romanian Second League and above, with a large database.
I get coaching history based on Red Star, a Continental Pro Licence and a national level Professional Footballer career; I don't adjust the levels, giving me 12 or 13 ratings for coaching attributes and 11 or 12 ratings for mental attributes.
On day one, I start to assemble my back room team, the key to any successful save. Dejan Suzovic, a fitness coach, joins us for £200 per week, as does another fitness coach, Saed Krdzalic, also for £200. I release Mihajlo Radulovic to make space for them, costing £4k. Former Manchester United hardman Nemanja Vidic becomes our defence coach for £200 per week. Vidic is a club icon and is welcomed home with open arms. Milenko Nedic also joins the back room team as a general coach for £50 per week. Slobodan Kuljanin becomes the new Reserves Manager, filling a vacancy, and costing £350 per week; he's a good technical and tactical coach, and is also rated highly for bringing on young players.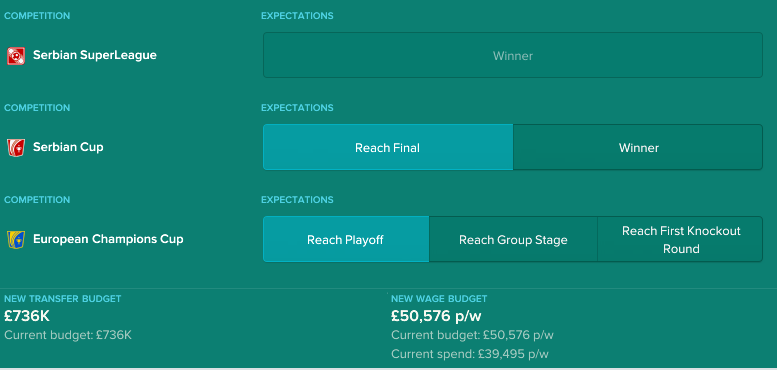 Philosophically, the club make no demands on me, but I request a meeting to add two, develop youngsters to bring into the first team squad and buy young players; both are accepted. We already have a good youth set-up, but this will help me ask the board for future investment in that area.
After adjustments to bring us into the black, I have £736k in transfer funds and £3k per week available for wages. I also get rid off Pablo Mouche, who is on loan to me from somewhere and whose £7.5k represents a staggering 15% of my squad's wages. No one is that good and so he goes. It's also worth noting that the club is £49.5m in debt, with £350k per month repayments.
I scout the entire Serbian U19 and U21 international teams, for starters. Red Star are clearly a club who develop then sell young talent, often to Benfica, it seems, so this is both good for business and for improving the squad.
We sign U19 centre back Erhan Masovic for £120k and £500 per week wages: he's 17 years old and a five star prospect in an area where we need to strengthen. We also sign Burko Duronjic, an 18 year old five star prospect striker, who can play left wing as well; he costs £180k and £2k per week in wages (a lot, but there was fierce competition for his signature and I wanted to make sure we got him).
Hugo Vieira, a four star advanced forward, is subject to a bid of £725k from PAOK; he's also on £3.2k per week, or 7% of the current wage bill, and so I accept the bid and he leaves. Srdjan Plasvic is subject to about 20 bids. The U21 attacking midfield prospect eventually goes for £375K rising to £750k to Villareal; there's no way we could have held onto him with that many clubs interested, and I have several youngsters who can take his place.
I am playing a reasonably careful 4-2-3-1, with wide players (inside forward on the left, winger on the right), a ball-winning midfielder and advanced playmaker on support as the midfield pivot, and full-backs that push up when we're at home and stay back more when we're not.
Football starts! The Second Qualifying Round of the Champions League sees us travel to Bosnian side HSK Zrinjski Mostar. We win the first leg 2-0, with a great opening goal from young striker Stefan Ilic and a genuine thunderbastard from dynamic midfielder Guelor Kanga. The return leg sees another 2-0 win in front of the notorious Crvena Zvezda fans, with goals from Ilic and Duronjic. After a win and a draw in the SuperLiga preliminary round (no, I don't know how the Serbian league works yet), we get a tough draw in the Third Qualifying Round against FC Kobenhavn. Their three most valuable players total £6m; my entire first team squad is valued at £5.4m. We travel first to Copenhagen and the result is something of a shock. Even allowing for the fact that FCK have a man sent off in the 64th minute, our 4-0 win is incredible and unforeseen. I was hoping to stay tight, maybe nick an away goal, and see how it goes at home. We have 54% possession, 14 shots to 10, of which eight are on target, and goals from centre-back Zoran Rendulic, left-back Stefan Milosevic, and two from Ilic (again), see us through, even though Babunski misses a penalty. It's a superb win that means our progress is almost guaranteed.
I sell Rendulic to Viktoria Plzen for £51k: his contract is almost up and he wants to leave; he's also only my third choice centre-back and I recall Milos Stojanovic, a three star current, five star prospect from loan to bolster my options at the back.
Filip Manojlovic keeps his sixth clean sheet in six games as we beat Novi Pazar 2-0 away in the SuperLiga; the young goalkeeper is superb and worth keeping an eye on.
The second leg against FC Kobenhavn is a much tighter affair. Manojlovic concedes his first goal in seven games in the 18th minute, but a beautifully scooped strike from Stefan Milosevic equalises ten minutes before half-time. Mathias Jorgensen scores for the visitors from a corner on 52 minutes, but we have a comfortable cushion. That cushion becomes less comfortable when a solo break-away goal from Andreas Cornelius makes it 1-3 on the night, 5-3 on aggregate. I bring on Sikimic, Duronjic, and Racic to refresh the team, who only played three days before after all. Costa Rican winger Ruiz then scores an own goal from a corner and suddenly we are one goal away from going out. Kanga drags a good chance wide and then, with two minutes to go, heads wide after a flick on. We go to Contain, retaining possession and trying desperately to prevent one last goal. The final whistle blows after what seems like an eternity and despite losing 4-1 on the night, we are through 5-4 on aggregate.
It's not good enough, though, and I tell the chaps this in no uncertain terms.
I sign Aleksandr Milisevic, an 18 year old centre back and four star prospect, from BASK; he costs £4k and £80 a week in wages (bargain).
The Champions League playoff draw is made and we get Olympiakos. It's a tough draw, but it could have been worse (Celtic, Red Bull Salzburg).
The first half of the away leg at Olympiakos is a drab affair, but things liven up in the second half when the home side score a header directly from a Marin free kick. A beautiful, slide-rule pass from Srnic allows Ilic to net his sixth of the season and bring it to 1-1 with half an hour to go. Marin takes the game to us but we slow things down, retain possession, and defend resiliently to secure a hugely valuable 1-1 away draw. It's worth remembering too that my 'keeper is 20, my two first choice centre backs 17 and 19, and my left back is 21. The second leg is a nail-biter. Brown Ideye opens the scoring for Olympiakos with a thumping header, before Babunski equalises from the edge of the box with a placed, low shot. Marko Marin handles in the box on 54 minutes and despite Mitchell Donald's penalty seeming a little weak to me, Leali can't stop it and we are 2-1 ahead, 3-2 on aggregate. I start to go defensive, but then Olympiakos, or rather Serbian midfielder Luka Milivojevic, hand me a gift by getting sent off for two yellow cards. I push my wingers high up the pitch again, bring on Sikimic to make a nuisance of himself up front, and finish the game on a high, with 22 shots to their 13. We receive £1.72m for the win and we are in the Group Stages. In the meantime, we are unbeaten in the SuperLiga with 19 points from seven games and a goal difference of plus 11. Fighting on two fronts, yes, but the Champions League group stages beckon.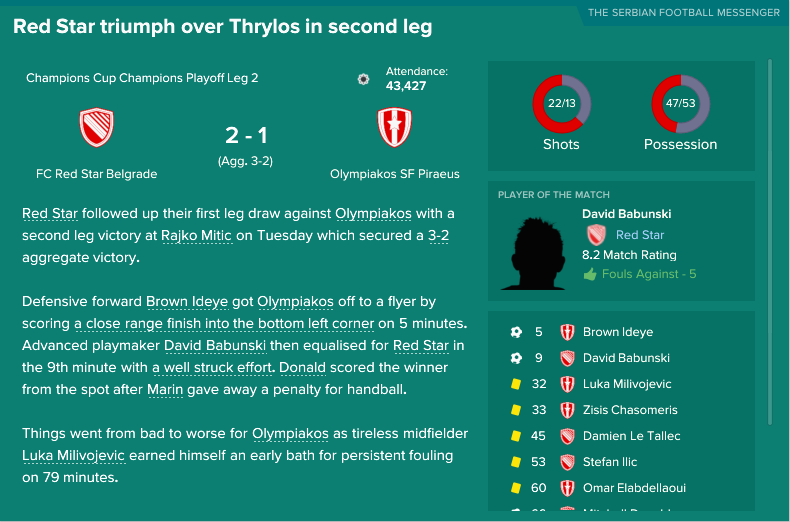 Job done, for now at least.
When not guest posting for The Higher Tempo Press, Alex Stewart writes for his very own Football Manager website, the excellent "Put Niels in Goal" where you can find his new Moneyball Challenge, and a superb scouting guide.
Follow Alex on Twitter @AFHStewart