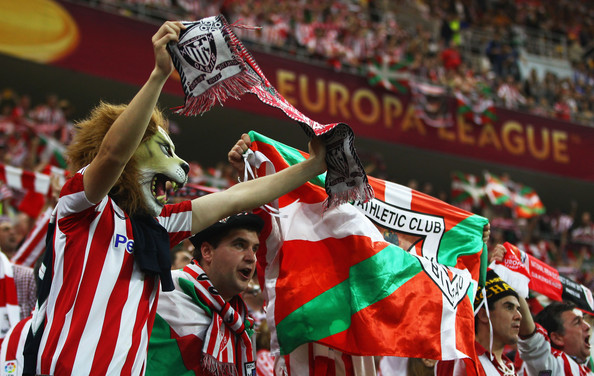 So, do you like the new website?  I hope so, and a big thanks to the guys @bbfootballuk and @ashlazy5 in particular for making it happen.  Also, a big thank you to @fm0tter for creating the new logo, the tracksuit manager version for me and the artwork for the save.  This is becoming like an oscar speech, so what do we have for you today?
I think the scene has been set for the save and if you have not read any of the posts so far I do recommend you rewind to the first three parts here.  With no further ado, I should probably let you know how we are getting on.
If you recall, this is how our pre-season went:

I seem to recall that game we lost was a penalty or a thunderbastard of a free kick or something.  Either way, I was fairly happy with how we had taken to the #ArgSt17 as a tactic and felt confident we could get off to a decent start.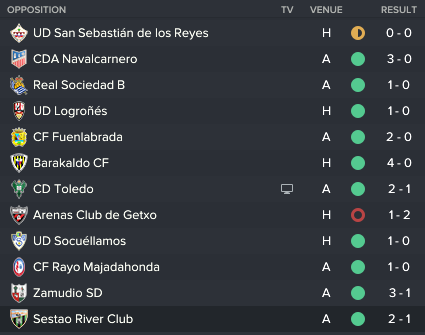 I was right, wasn't I?  Ten wins from the first twelve games, six clean sheets in the first six games and eight overall was pretty pleasing.  If I am being picky, it was very disappointing to lose 2-1 especially as we conceded twice for the first time this season but hey, if you'd offered me 31 points from 36 available I think I'd have accepted.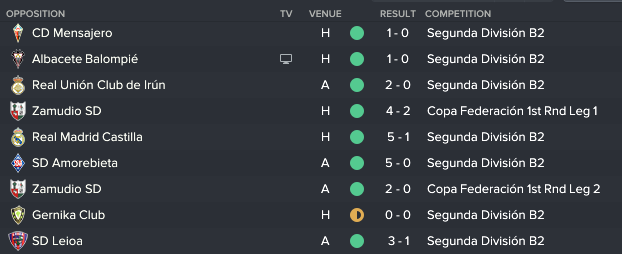 These games took us up to the short winter break we get in Spain.  A further 19 points from 21, 4 clean sheets in 7 league games and progression to the next round of the Copa Federacion.  Considering the board wanted us to avoid relegation, I was a happy bunny spending Christmas top of the table.
However, this is when it looked as though the save was going to get tricky.  The transfer window opened.
Bids started flying in for players – Yera, Bilbao and Undabarrena were all subject to loan bids from clubs in Segunda, as well as Oteo.  Kepa, the goalkeeper, was moved up to the first team squad permanently.  I was facing a total decimation of the spine of my team.  In the end, the only one that moved out on loan was Oteo, to Oviedo of all places.

This was disappointing as he had only just broken into the side having retrained as an AM.  He had moaned about not being in the team and the first team gaffer, Paco Jemez, must have put him on the loan list.  He'd scored something like five in six since getting in my side as the enganche, but he was still on the loan list so off he toddled to Asturias.  Still, it could have been worse.  The back up goalkeeper, Unai Símon, had been very reliable on the odd occasion that Kepa had been unavailable to me and between Nola and Itu I could cover the enganche role.  Losing Yera and Bilbao would have crippled us.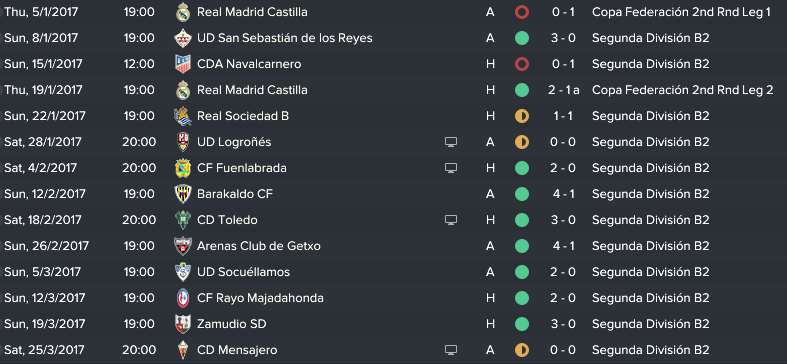 It's fair to say that we are looking pretty good for the Segunda Divisíon B Grupo II title.  We have dropped a mere 7 points from the 36 available to us, losing once in the process to a disputed penalty.  Every so often we do struggle to break a side down and I haven't had the confidence to tinker with the tactic to see how we can be different because, mainly, we are going to get more than enough points to see the season out.  The original Argentine Strikerless tactic that was born at Boca in FM15 was SO solid defensively.  I am pleased to see that this one is also looking exactly the same in that respect.  We kept a further eight clean sheets in twelve league games in this run.  Sadly Castilla avenged out 5-1 shellacking of them by knocking us out of the Copa Federacion on away goals.  I felt we should have won the tournament.
So the league table looks like this: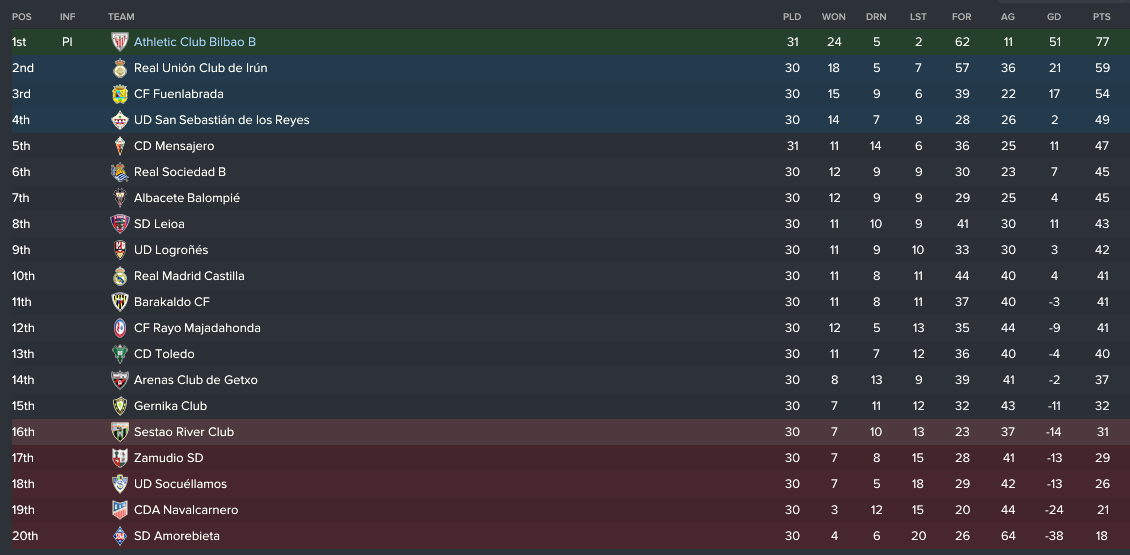 Eleven goals conceded in thirty one games, love it.  We have already qualified for the play offs.  I should probably explain what happens in Spain.  If you win the title you go into the hat with the other four Segunda Divisíon B Grupo winners.  You then play a two-legged play off final against one of them, and the winner gets promoted to the Segunda with the winner of the other match.  The two play off final winners then play a two legged match to be crowned Segunda Divisíon B champion.  IF you lose your play off final the season gets even longer.  In each group the teams finishing 2nd, 3rd and 4th are all in a play off competition also.  You then add in the group winners who failed to win promotion in the initial play off finals.  They keep going over two legs, I think it starts at quarter finals, and then eventually there is a winner of another play off final and they too get promoted.  I think I have got that right, I've seen Oviedo go through the pain and the ecstasy over the last few seasons but it still confuses me.  Just imagine being the team that loses in the final play off final!  Hopefully that won't be us.  We have 7 matches to pick up the remaining points we need to win this group and go straight into one of the first finals.
I've knocked together these views to help me monitor how the squad are performing against KPI stats defensively and offensively.
Let's look at how we are performing defensively – I used to only ever look at defensive players with this view but I have expanded to the whole team for FM17 as defending is the responsibility of the whole team.
With this view you can see how damn dominant Yeray and Bilbao are at the back.  High % completion rates on tackles and headers, great interception numbers and few mistakes leading to goals – that said, we don't concede many as I've already bragged.  If you then look at the DM3, it is equally impressive.  Even the false front three do their bit.
Let's see how we are attacking.

Cast your eyes to the right and see the very nice passing completion %.  This, along with the amount of passes each player is completing a game is great to see.  My only criticism would be the shots on target % of the false front three, that could be better and we often don't score the amount of goals our play warrants.
Why do I bother looking at these views?  Well, at the end of the season I will screen shot them and put them into a spreadsheet.  I like to keep a history so I can start to spot trends in a player's longer term form and development.  Attributes are great, but if players are not hitting KPI numbers in a game then attributes mean nothing.  This is going to be a successful season, so I will be able to build a profile of what success looks like in each position based off these numbers.  That will help me recruit, sell, promote from the farm and academy teams.
This is where we are scoring our goals – not sure if this adds any value, but it is kind of what I would hope for – we must be getting the ball into that central area often enough for it to happen.
And this is where it all originates from – as I stated in the original explanation of the #ArgSt17, win it back in the middle, find the right time to get it wide and get the cross in.  We are also capable of playing the through ball too, which is nice.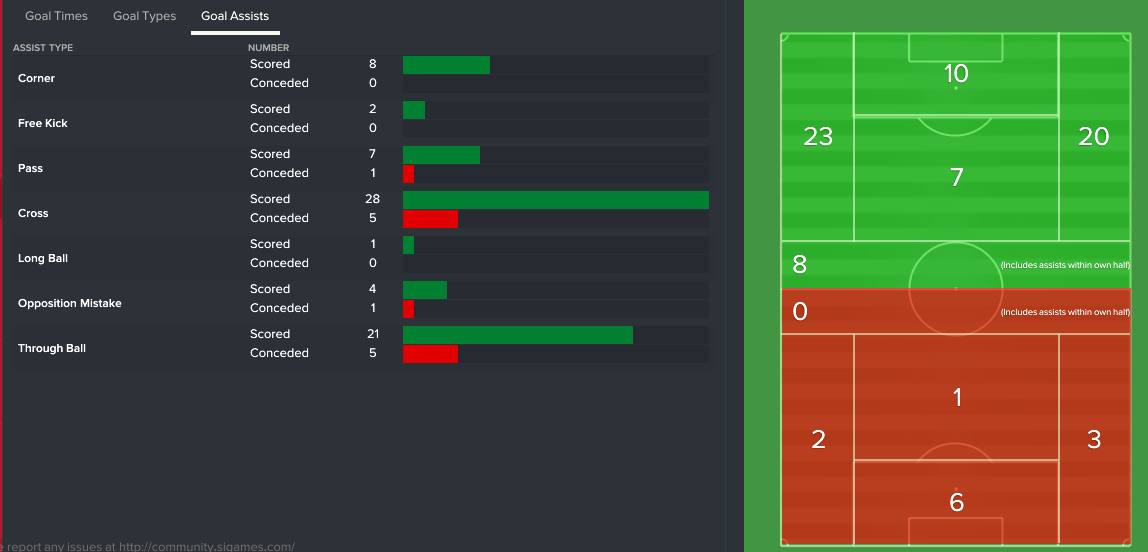 Finally, I have to show you this goal.  It does everything I want from the tactic.  Look how we funnel them centrally, then backwards, patiently waiting for the moment to pounce.  We win it, and two passes later it is in the back of their net.
Nice, right?
So, seven games then a play off final (we hope).
I'll be back with the final bit of the season next time, and then look into how we have actually achieved this – talking player interactions and training mainly.
Hope you like the new website, don't forget to subscribe…