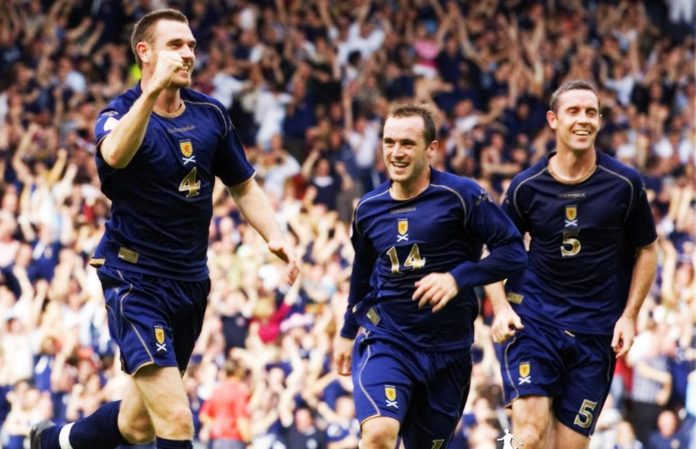 Who is the FIFA equivalent of Noddy Holder? Because today is Football Christmas, or as it has come to be known, THE WORLD CUP FINAL.
Welcome to The National Stadium in Tokyo for our sports show piece event. In one corner we have three time World Cup winners Italy, heavy favourites to make it four. Opposing them this afternoon we have plucky underdogs Scotland, already beaten by Italy in the group stage but have since regrouped and gone on an unlikely run of form that now sees them line up on the biggest stage of them all. It's a beautiful story, sort of, except it involves Matt Elliott and Craig Burley.
TEAM NEWS
Italy are without Francesco Totti, who scored both goals in the win over Scotland in the group stage. Del Piero takes his place in what can only be described as an awesome team. The Italians have conceded only one goal in the whole tournament.
Scotland captain Barry Ferguson is suspended so Matt Elliott captains the side. Paul Rudden comes into midfield and Russell Anderson replaces Jackie McNamara at right back. There are also starts for Mark Burchill and Colin Cameron
You can relive Scotland reaching the final here
It's 28 degrees here which probably won't help the Scotland players too much. David Black has rotated the squad where possible but ever presents McPhee and Kerr are perhaps a little tired.
The referee today is Kazim Ercakir of Turkey and he and his team are about to lead the players out for the pre-match formalities. Handshakes, anthems, you know the drill.
KICK OFF – Italy get us underway here.
2 mins – Italy have set their stall out here, confidently stroking the ball around.
5 mins – First shot on goal! What's more is, it's come from a Scotland boot. Mark Kerr and Paul Rudden combine to free Colin Cameron in the area and his first time shot goes over the bar. Promising though, Scotland can't just watch Italy pass the ball around them all day.
9 mins – It's gone a bit scrappy. Nerves? Who knows, either way it suits Scotland.
13 mins – HITS THE WOODWORK
Vincenzo Montella has nearly broken the post in two. It's a typically fluent Italy move that ends with Fiore surging past Anderson and floating a ball to the back post. It's over everybody and Montella waits for it like a python ready to strike. He smashes a volley that if anything he hits too well as it crashes off the post and out for a goal kick. A huge let off for Scotland.
16 mins – Del Piero spins a freekick into a dangerous area but Lee Wilkie is in the right place to head it away in the nick of time. Backs to the wall here.
20 mins – Good save! Montella has the ball on the edge of the box and he teases Matt Elliott before curling a ball over the defence for the arriving Gattuso, whose header is low to Sullivan's right but the Blackburn keeper is equal to it and it remains 0-0.
23 mins – YELLOW CARD
Paul Rudden surges forward and past Alessandro Nesta, who cynically grabs a chunk of shirt and stops him going any further. The resulting free kick is curled goal wards by Stephen McPhee and it drops inches wide. A really good effort!
28 mins – Another Scotland chance! Mark Kerr gets some space down the right and pulls the ball back for Stephen McPhee who drills a low shot wide of Buffon's goal.
32 mins – Scotland are starting to believe they can win this. Gary Naysmith turns into Archie Gemmill, slaloming round Materazzi and Del Piero but his low shot goes just wide with Buffon nowhere.  Blimey.
35 mins – It's almost constant Scottish pressure now, I don't think even the most optimistic of Scotland fans could have imagined a spell like this.
41 mins – HITS THE WOODWORK
Paul Rudden, you were so nearly in the history books. He picks the ball up on half way and Italy just keep backing off him until he gets about 25 yards from goal and he lets fly. Buffon is worried – he dives full length and can't get near it but the ball cannons back off the crossbar which just about alleviates the potential for a riot in Glasgow.
43 mins – Italy are still here. Del Piero beats Anderson and finds Fiore, who tries a curler from the edge of the box but it is a long way over the bar.
45 mins – One minute added on.
HALF TIME – Italy 0 – 0 Scotland
Scotland had a real go there, but has their best chance of winning this match gone?
Scotland have had the better of it, though they have yet to hit the target
Very uniform from Italy so far, you can't help but feel they are bound to up the pressure in the second half.
KICK OFF – Scotland restart the game, 45 minutes for someone to make history.
47 mins – Del Piero crosses to the far post but the arriving Zambrotta can only shoot well over the bar on the stretch. Have Italy had the hairdryer (or Italian equivalent?)
49 mins – YELLOW CARD
Gattuso goes in the book for a late tackle on Mark Kerr. Nobody is shocked.
51 mins – GOAL! Italy 0 – 1 Scotland (Steven Nicholas)
GOOOOAAAALLLLLL! That riot may well be on the cards now! Scotland lead and it's Steven Nicholas. Mark Kerr, as ever, is at the heart of the move, getting to the byline and smashing a low cross across the box. Buffon gets a hand to it to divert it away from McPhee but instead it sits up on a plate for Nicholas who doesn't need a second invitation and slots the ball into the unguarded goal. Get in!
53 mins – The ball is back in play but Scotland's fans wouldn't know it. Absolute carnage in their section of the ground. Kilts everywhere.
56 mins – GOAL! Italy 1 – 1 Scotland (Stefano Fiore)
Ah, boo. Italy level it up and the dream was alive for just 5 minutes. Montella slips in Fiore who goes round Sullivan and the covering Paul Rudden slides full length to deny the first effort, but the ball rebounds favourably for Fiore to equalise. That's a shame.
62 mins – SUBSTITUTION
Italy bring up on Cristiano Doni for Alessandro Del Piero.
64 mins – All Italy now, their tails are up. This time Montella heads well wide from Zambrotta's cross.
69 mins – Hold on, Scotland aren't done yet. Mark Burchill, a surprise inclusion today, does brilliantly to hold the ball up before teeing up Gary Naysmith. The full back's shot is heading for the top corner but Buffon claws it away.
SUBSTITUTION
Colin Cameron is off and Neil McCann is on. McCann is straight over to take the corner.
70 mins – Kerr heads the corner goalwards but Buffon saves again! Still anybody's game.
75 mins – GOAL! Italy 2 – 1 Scotland (Vincenzo Montella)
Picture Kevin Keegan slumped over the advertising hoardings at Anfield in 1996. That is essentially where we are now. Scotland have a corner, McCann swings it in and Materazzi heads it away. Zambrotta is after it like a gazelle though, and in seemingly no time he's carried the ball up the pitch and crossed for Inzaghi. His header forces a great save from Sullivan but the ball spills back into play and Montella arrives to tap in. Very cruel, but a lovely counter attacking goal.
79 mins – GOAL! Italy 3 – 1 Scotland (Filippo Inzaghi)
Scotland are all over the place but Inzaghi has scored a great goal to settle this final. He skins Matt Elliott, nutmegs Russell Anderson and hits a low early shot that Sullivan can't get near. That's that.
80 mins – SUBSTITUTION
It's Pessotto on for Pancaro as Italy look to see out the last 10 minutes.
81 mins – Stephen McPhee is limping. It's back to Port Vale after this though, so he's soldiering on.
84 mins – Nearly 4. Doni crosses for Zambrotta but his header is pushed away by Sullivan.
85 mins – SUBSTITUTION
Double change for Scotland. McPhee's race is run, he's off for Robbie Winters. Charlie Miller is also on for Lee Wilkie
Curiously, Italy sub Pessotto who has only been on 6 minutes for Luciano Zauri.
87 mins – Fiore hits a shot from the edge of the box but Sullivan is equal to it. The whistle can't come soon enough for Scotland.
89 mins – Gattuso heads over. 2 minutes added on.
FULL TIME – Italy 3 – 1 Scotland
ITALY WIN THE WORLD CUP
Scotland can be very proud of their World Cup, their only defeats in this month long festival of football have been to Italy.
Amazingly, Italy didn't have a single corner. A comfortable win though, in the end. Montella takes man of the match with a near perfect match for the Roma striker.
And so, we've come to an end. Whilst you can imagine Italy going up to collect the trophy and the celebrations of the Italy players, coupled with the crushing realisation from the Scottish contingent that this is the closest they will ever get to World Cup glory, I will ignore all of that and break character.
When I started this particular series on a whim about 6 weeks ago, I had no idea what to expect. There was no guarantee of Scotland qualifying at all, and I least thought we'd have the lottery of the playoffs. But it went better than I could have imagined and before long I was spending longer than I'd care to admit creating a PDF of the squad I picked for the finals. I committed to 'live' texting the World Cup games despite the obvious drawbacks of it a) being 14 years ago and b) taking bloody ages, but hopefully they have brought some cheer. I fully expected this to be done around the last 16 or the quarters at a push, I also thought it would coincide with England's exit from Euro 2016, but that's another story. I couldn't believe my luck when the draw opened up, so I thank you all for sticking with it all the way to the final if you have.
So if you've lived this with me on Twitter or just read along on here, thanks for your company. I'd also like to thank Chris for letting me loose on this series, I haven't tried this hard at anything written since A Level English, and I only got a C in that. Hopefully you'll all give me at least a B.
I'm considering continuing this save in the real life International breaks, trying to get Scotland to Euro 2004. I've spent so much time picking my team and squad that I know these players better than most squads I've managed, so maybe the journey doesn't end here. Anyway, I'll stop rambling now. See you around.