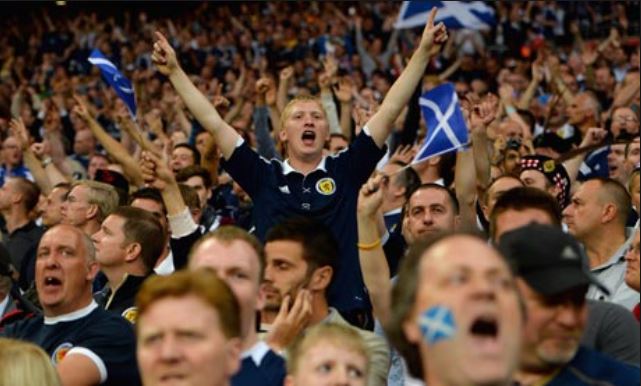 Welcome to Part 2 of What About Scotland? If you're new to this, I'm trying to take Scotland to World Cup 2002, and part 1 went rather well as we scored wins over Croatia and away in Belgium. It leaves us needing just a point at home to Latvia to secure our place in the finals, and I'll be damned if we throw this away now. I suppose at the very least we're guaranteed playoff spot, which I don't want to rely on. Anyway, let's crack on, I have to name a squad for Latvia's visit.
A couple of things to catch you up on. Mark Kerr has got his big move from Falkirk…to Roma. This is actually a disaster as he is nowhere near the team and so far this season his only games have been for the national side. Hmm. He's also one yellow away from a ban so I'm going to have to look at alternatives in my midfield three. My search for a centre half partner for David Weir has seen a call up for 21 year old Lee Wilkie, who has just cost First Division Milwall £275k. Russell Anderson is in, not least because he can also cover right back – Jackie McNamara is the current incumbent but he's not getting a game for Celtic. Paul Ritchie is on the fringes of Man City's team, so he's in the squad, whilst up front Robbie Winters is called up looking to add to his solitary cap – he has 5 in 8 for Aberdeen so far this season. He does have a knock, though.
There's a host of decent players in the Under 21 squad, the likes of Kiegan Parker and Jamie Langfield will probably get a go in the friendlies, but for now we'll make sure we get over the line.
I knew this would happen
I've gone for Darren Young, also of Aberdeen, as a replacement even though he's a midfielder. He could potentially replace Kerr and we have plenty of strikers who can warm the bench.
It is a worry though if I can't find a partner for McPhee, he can't do it all on his own. McCann has done well so far but he's not getting amongst the goals for Rangers – which begs the question of where he will score goals.
Game day then and this is the side I've gone with
Gavin Rae steps in for Kerr, who is 1 yellow away from a ban. So is Barry Ferguson but I can't go without him. It's a debut for Lee Wilkie.
Latvia's formation is…defensive
Here we go then. As Boris Becker would say in years to come, "any point will do"
One of the most one sided halves of football you will ever see, but only 1 goal to show for it. We've battered Latvia, 12 shots to 0, but only Barry Ferguson has managed to score. Kolinko has played pretty well but I rather fancy us to win this by a lot if we get another quickly. It's 0-0 in Croatia so as it stands we could lose and qualify.
And we're there! In true Scotland fashion we kept our fans on edge until the very end, McPhee finally putting the cherry on the cake in the 88th minute with a fine header from a McNamara cross. It's a goal and an assist for the Port Vale hitman, and inspired call up. This highlights my concerns though:
But it's only the scoreline that counts
Croatia beat Belgium, so they're out.
Let's just take a minute to appreciate Stephen McPhee, who has got man of the match every time he has played for his country. What a lad.
It means I can start planning for South Korea & Japan, and whilst some of the less successful nations battle out playoff matches, we welcome Greece for a friendly. It's a bit of an experimental team, with Wilkie and Cameron out injured and the rest rotated. Kerr has started making sporadic appearances for Roma, so he's in.
It turns out to be the most entertaining friendly of all time…
I didn't see a Kerr hat trick coming but there you go. A well-deserved 10 out of 10. Paul Ritchie has definitely failed his audition, but young Steven Nicholas got a debut goal – more on him later.
Nicholas cost Spurs £650k from Motherwell and he's got a couple of Premier League goals already, so I had to give him a shot. He might be around for a while based on this performance.
The next big event is the World Cup group stage draw. I've got everything crossed we get a group that won't destroy this blog in its tracks and, thankfully, it could have been a lot worse
So our first game will be against Italy in Tokyo on June 15th, and the wonderful people at the Scottish FA have arranged a trip to Ireland in March followed by a home friendly with Austria in April.
For that Ireland game, I've called up this chap who has been a mainstay in Newcastle's midfield this season. They're 4th, so he can't be that bad
Cameron is still out but Wilkie is back. There's also a first call up for this CM legend
Rudden pulls out with an injury so it's a chance for this obviously Italian man
So we line up in Ireland as follows – it's mostly a strong side, with Cameron pretty much guaranteed to start when he returns, leaving the AMC and McPhee's partner roles up for grabs.
It turns out to be an open 1-1 draw, with Ireland's goalkeeper Shay Given getting man of the match. McPhee got his goal to give us the lead and Kerr was magnificent
I haven't really learned a great deal, the weak positions (RB, AMC, CF) still seem problematic and with just one friendly to go, I need to find the solutions.
And so back to Hampden for the last meaningful part of this update. We'll have to do it without McPhee, who's stubbed a toe, but I know what he can do. Charlie Miller gets another chance in the AMC position, whilst Robbie Winters gets a final chance. He's got 22 in 33 for Aberdeen and is second only to McPhee in the charts for Scottish goalscorers, but he's been awful in his International appearances so far. Rudden is available to make his debut but Kerr is injured.
Well the good news is we're still unbeaten. The bad news is, that was awful.
Austria mustered 4 shots and scored twice, which ends any doubt that Rab Douglas will start the tournament as my number one. I have a pretty good idea who is and isn't good enough now, and also how important McPhee is. Good for Rudden to score on his debut though.
So that's it. The preparation is done. All I need to do now is select a squad and then you can join me for a 'live' blog on Saturday for Scotland vs Italy in Tokyo. There'll also be a squad announcement on Twitter on Thursday. Excited? Well, let's not go that far. Thanks for reading, see you again soon.