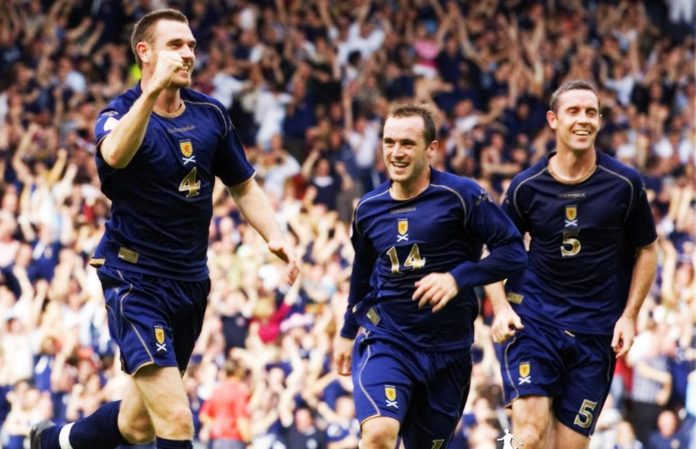 This is not a drill. Scotland are about to play in a knockout game at a major tournament. Standing in their way are Portugal – Figo, Paulo Sousa, Nuno Gomes…to name just three. It's a mighty task facing the Scots but you know fine well the Tartan Army will do everything they can to keep this summer party going.
STORY SO FAR
After an opening game loss to Italy, Scotland advanced from the group after convincing wins over Senegal and India. Scotland found their shooting boots, eventually, but there are huge question marks over the defence and goalkeeper. More on that in a minute. First though, here's how the tournament is shaping up
So it is Denmark who await the winners of this game, and it's fair to say the bottom half of the draw is a lot kinder than the top. For Scotland, there's also the added bonus that England are out. For Portugal, there's a very realistic chance to reach the final. It is beautifully set up here in Seoul.
TEAM NEWS
Two changes for Scotland, with Neil Sullivan replacing Rab Douglas in goal and Lee Wilkie replacing Matt Elliott at centre back. Captain Barry Ferguson fell heavily on his wrist in training and will play with strapping, though he is expected to be fine.
It's a huge call to change goalkeeper but we'll see just how big over the coming 90 minutes. Portugal line up with an old fashioned 4-4-2 with Figo and Sergio Conceicao on the wings.
The Dutch officials, led by Referee Dick Jol (brother of Martin), bring the teams out onto the pitch. It's anthems time, and then we'll get underway. Portugal won all three games in their group, scoring 8 and conceding 0. It's a huge task for Scotland, with Port Vale's Stephen McPhee leading the line with 8 goals in 8 caps. Ironically, he has more international goals than Nuno Gomes…
It's more Glasgow than Lisbon here though, with big winds about making it a gusty old day. Still 26 degrees though. The players are ready…
KICK OFF – Portugal kick us underway.
3 mins – Nervy start you'd have to say. It's very scrappy as a result, neither team are able to really get going.
7 mins – There's our first half chance. It's Scotland too, who have settled the better of the two sides. McCann and Kerr combine before Kerr feeds Nicholas down the left of the box. It sits up nicely and the young Spurs forward takes a swing at it, but it goes well over the bar.
10 mins – What a miss! Oh he has to score.
Nuno Gomes picks the ball up wide on the left and after a couple of step overs he's left Barry Ferguson inside out. He then whips in an unbelievable cross that he wishes he could be on the end of himself, but instead it's his strike partner Sa Pinto arriving at the far post with ¾ of a goal to aim at. However, it slices off his foot at some ridiculous angle and behind for a goal kick. It's a very bad miss.
13 mins – All Portugal now, here's another chance. In a reverse of the chance a few minutes ago, Sa Pinto chips a cross in and Nuno Gomes can't quite get a good enough contact on the volley to really test Sullivan, who happily collapses on the ball.
16 mins – YELLOW CARD
This has been bubbling up. A few minutes ago Sa Pinto slapped Ferguson's bandaged wrist and since then there's been a constant chatter between the two. I'm not even sure they speak the same language but that probably doesn't help. Sa Pinto catches Ferguson and Ferguson reacts, squaring up to Sa Pinto before teammates restrain him. The Scotland captain is booked – nothing for Sa Pinto though.
21 mins – Oh my, how have Portugal not scored here? Conceicao out runs Naysmith and floats over a great cross which Sa Pinto is all over. He beats Wilkie in the air and it's a top save from Sullivan to keep it out, but it spills back into play. Sa Pinto looks odd on to open the scoring before Sullivan recovers to smother the loose ball. Phew!
25 mins – The play is in a pattern now, Portugal keep the ball and Scotland can't get out. Rui Jorge goes on a marauding run before teasing the ball into the area for that man Sa Pinto again. His header is parried again by Sullivan before Nuno Gomes arrives on the scene. He is immediately crowded out and in trying to return it to Pinto, Gary Naysmith gets in the way and clears.
30 mins – Scotland have withheld the pressure and are keeping the ball themselves now. We're getting the Irn Bru version of 'Vindaloo' from the Tartan Army, which will help.
34 mins – Stephen McPhee thinks he has scored but it's a great save from Vitor Baia. Neil McCann the creator this time, teasing a cross in that McPhee diverts towards the bottom corner and only great reflexes from the Portugal 'keeper keeps it 0-0.
36 mins – Vitor Baia is on one today. This time Craig Burley takes aim and it takes a fingertip save to keep it goalless. The resulting corner is scrambled away.
39 mins – Scotland have grown in the game and both teams look like they have settled for half time.
44 mins – 2 minutes added on here.
45 mins – GOAL! Portugal 0 – 1 Scotland (Barry Ferguson)
What a time to score! Scotland have improved as the half went on and that is underlined by their captain putting them in front. Neil McCann is fed the ball between the defence and midfield by Ferguson and McCann fronts up Bino on the edge of the box, with the Portugese midfielder putting in a perfect tackle to stop McCann in his tracks. The ball runs loose and Barry Ferguson arrives on the scene to drill a low shot in from the edge of the area, which somehow takes no deflection and leaves the keeper stranded. It's pandemonium in the Scottish end! Irn Bru Irn Bru na na!
HALF TIME – Portugal 0 – 1 Scotland
Wow! A perfect half for Scotland, one more and they are in the quarter finals. The second half though might last forever if you are a Scotland fan and it stays 1-0. Here is the story of the match so far
The statistics show it's been fairly even, even if Scotland are being dominated aerially
On the ratings front, the recalled Neil Sullivan is making the shirt his own at the moment
Are you nervous? There's a huge 45 minutes coming up for both teams. Can Scotland hold on? Heck, can they get a second?
KICK OFF –Scotland get us back underway here in Seoul.
48 mins – Ominous start from the Portugese, with Figo pulling the strings. The playmaker finds Sa Pinto who hangs up a cross and Nuno Gomes loops a header wide. Hopefully that's as close as it gets.
50 mins – SUBSTITUTION
Double change for Portugal, and it's the two strikers who are replaced. Pauleta and Joao Tomas arrive at the expense of Sa Pinto and Nuno Gomes. Meanwhile Craig Burley pings a free kick into the wall from fully 35 yards.
54 mins – Good strength from Stephen McPhee, holding the ball up and drawing the foul from Rui Jorge. Ferguson's free kick is a bit flat and Steven Nicholas flicks it on but Neil McCann needs to grow 3 foot to do anything with it, a feat he doesn't manage.
60 mins – Half an hour to go, Scotland are doing ok here…
65 mins – Is this experience or stupidity from David Weir? Paulo Sousa knocks it past him and, with the play a good 40 yards from goal, Weir just leans into his man and the referee gives a free kick. No booking, and the decision is vindicated when Lee Wilkie clears Figo's resulting free kick.
68 mins – SUBSTITUTION
Last change from Portugal, Sergio Conceicao is off and Pedro Barbosa is on.
69 mins – GOAL! Portugal 1 – 1 Scotland (Pedro Barbosa)
What a substitution! He's been on less than a minute and his first touch is the equaliser. Another substitute Joao Tomas nearly scores, being brilliantly denied by Sullivan, however Ferguson can only half clear. Bino and Sousa combine before the latter finds Pauleta, who rolls the ball across the 6 yard box and Pedro Barbosa bundles in with his first touch. What are you made of Scotland?
73 mins – Scotland are creaking now. Lee Wilkie denies Pauleta in the nick of time before Beto steps up and find Joao Tomas, who hits a low shot that Sullivan does well to hold. Changes are imminent to try and stem the tide.
75 mins – SUBSTITUTION
Paul Rudden is the man entrusted to try and shore up that midfield for Scotland. Craig Burley is the man replaced.
77 mins – GOAL! Portugal 1 – 2 Scotland (Steven Nicholas)
It's in! I'm tempted to just mash the keyboard but that wouldn't be conducive. Russell Anderson does great down the right and find Kerr. Kerr sprays a ball about 40 yards out to Neil McCann who has got himself isolated with Xavier. McCann burns him down the outside, whips over a cross and there's Steven Nicholas to meet the ball on the bounce sliding in from no more than 3 or 4 yards out to put Scotland back in front. Can they hold on this time?
83 mins – Scotland have grown. They are men out there, seeing this out like tournament pros. Russell Anderson sends a cross into the box that he over hits and nearly catches out Vitor Baia, but the veteran stopper plucks it out from under his own crossbar.
86 mins – Portugal are pumping the ball into the area from all angles but Scotland are dealing with everything so far. They can't get out though, it is going to be a long 4 minutes plus whatever is added on.
90 mins – 3 minutes added on. 3 minutes for Scotland to hold on.
90+2 mins – GOAL! Portugal 2 – 2 Scotland (Bino)
No, no, no, no, no. NO! Portugal have been pushing and after Pauleta collects an overhit cross, he swings a cross over and Bino arrives on the scene and jumps highest to plant a header into Sullivan's goal. That is crushing.
FULL TIME – Portugal 2 – 2 Scotland
Pass the drink. Anything alcoholic. What a way for Portugal to keep themselves alive. It's extra time here in Seoul. Here's the story of the match
Such a sickener. Can Black raise his team? The stats show a draw is probably fair…
Scotland aren't rating as highly as you might think, given what they have gone through in the last 90 minutes.
KICK OFF – Remember, Golden Goal is in operation here. Next goal is the winner. And if there is no goal…penalties.
SUBSTITUTION
Scotland send on Mark Burchill for Neil McCann. Fresh legs are probably wise at this stage.
94 mins – Neither team are willing to over commit. Any mistake now would be fatal so maybe not surprising.
98 mins – If it goes to penalties, Scotland have one player who has taken a competitive penalty this season. That was in Division 2.
103 mins – A chance! The only one of extra time so far. Pauleta feeds Joao Tomas and his low shot is straight at Sullivan.
HALF TIME – Portugal 2 – 2 Scotland
Quick turnaround. Dick Jol is keen to get home.
KICK OFF – Fifteen minutes maximum for us to find a 5th goal. Denmark will be loving this.
109 mins – It's been a very cagey 20 minutes so a set piece could be vital. Ferguson spins over a free kick from wide on the left and McPhee tries to get on the end of Weir's flick, but Fernando Couto shuts the door.
113 mins – As you were then, are we going to have a hero in open play or is it going to take penalties?
117 mins – More of that please. Pauleta slaps a speculative long range shot way over the bar.
120 mins – 1 added minute, then the dreaded penalties.
FULL TIME – Portugal 2 – 2 Scotland – MATCH GOES TO PENALTIES
Scotland were hanging on at times but it's time for a lottery. But what is the next twist?
The ratings are still heavy in Portugal's favour, not that it matters of course.
Well. 120 minutes later and I have nothing left. I can only imagine what the players are going through, particularly Scotland. How did they raise themselves after conceding such a late goal? Are penalties going to be the cruellest of endings to this tale for Scotland? Good luck, you brave bastards.
Here we go then, Portugal first. Captain Figo puts himself forward.
Figo SCORES (Portugal 1 – 0 Scotland)
I think this is called putting your best foot forward. Top corner, no chance Sullivan.
McPhee SCORES (Portugal 1 – 1 Scotland)
McPhee is the only player in Scotland's team to take a pen for his club this season. He scored both of those and he makes it a third here.
Rui Jorge SCORES (Portugal 2 – 1 Scotland)
Bang, straight down the middle. Sullivan went to his right.
Kerr SCORES (Portugal 2 – 2 Scotland)
No nerves from the young man, finding the corner and giving Vitor Baia no chance.
Pauleta SCORES (Portugal 3 – 2 Scotland)
A stuttering run up but a seamless pen. Pressure on Scotland again…
Ferguson SCORES (Portugal 3 – 3 Scotland)
Bad wrist or not, the captain scores!
Beto SCORES (Portugal 4 – 3 Scotland)
Another great pen, Portugal practice these I think. Top bin.
Nicholas SCORES (Portugal 4 – 4 Scotland)
The young man from Tottenham keeps his nerve and we're down to essentially sudden death.
Bino SAVED (Portugal 4 – 4 Scotland)
HE'S SAVED IT!!! Neil Sullivan! SAVED!!!!!!!!!!!!!
Burchill SCORES (Portugal 4 – 5 Scotland)
Don't you bloody dare miss…HE HASN'T! Scotland!!!!!!
SCOTLAND WIN 5 – 4 ON PENALTIES
Unbelievable. Neil Sullivan is the hero, there's a pile of Scotland players on him. Bino is the comic book villain. Even in these tense times I can find time for a pun. I could cry.
Whilst I get something out of my eye, here's the important overview
So ironic that Bino has gone from potential statue to villain within 45 minutes. Of course, penalties are a lottery and you can't really blame him. It wasn't a great pen but you have to give credit to Neil Sullivan. He gambled and pulled off a great save. And how about the Scotland penalties? Fantastic.
Here is the confirmation of that World Cup Quarter Final draw
You have to say, the bottom half of the draw is anybody's game now. The top half is a minefield, just think, if Scotland had beaten Italy and won the group they'd be up against Brazil. What it does mean is that I'll be back next Wednesday with Scotland vs Denmark. See you then!