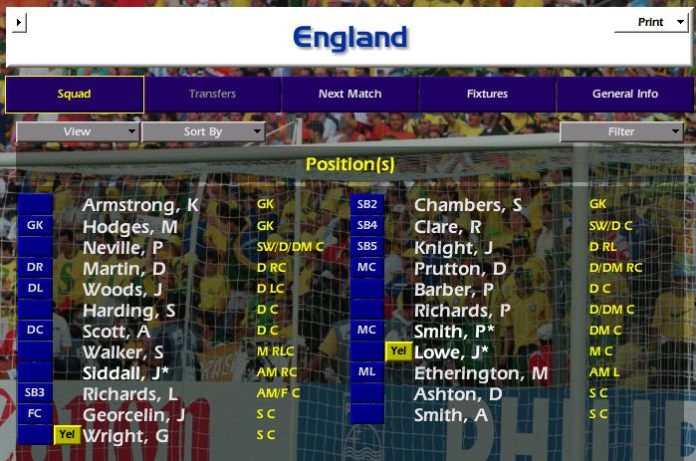 So, who's excited for Euro 2016? As the tournament is expanded to 24 teams we've essentially got a mini-World Cup on our hands, with rare tournament appearances for the likes of Wales, Northern Ireland and Albania, there's the added underdog ingredient to add making it a fairly unique tournament.
As my writing tends to focus on retro Championship Manager, there was only one thing to do in anticipation. Fire up one of the old titles and get to Euro 2016 – that will give us a clue as to who will this summer, obviously!
OK, clearly it won't and this is entirely fanciful. Not least because there's only 16 teams in the tournament on the game, but also because it is being held in Yugoslavia, which is now a former country. There's a lot more to it than that which I will let you research in your own good time, but that's by the by.
Now, we've had about 15 seasons of game time and let me tell you, things started out fairly normally but the wheels soon fell off and it's chaos.  England, managed by Graham Rix (which in itself is unbelievable given Rix's past) have qualified, which is also a relief, and there's a handful of non-regen players who have made Rix's final squad.
So, who's real? Justin Georcelin starts the game at Northampton but has enjoyed a meteoric rise and, after over 10 years at Newcastle, has signed for Roma for £18.5m. Yes, that is Dean Ashton, and you would think by now he's racked up the England caps. Well, he hasn't. In fact, he's yet to be capped. He's been at Crewe his entire career  before getting his big move to Liverpool last summer, which is seemingly enough to get you a spot in the England squad.
Alongside Ashton you'll find Alan Smith. The former Leeds forward has moved onto Rangers and then more latterly Ipswich – much more on them later. Matthew Etherington is still playing, having played for Spurs, Chelsea and Arsenal he's obviously a very loyal man.
You'll also find David Prutton in the squad. The Sky Sports pundit once cost Sunderland £9m, but now at age 34 he's also at Ipswich having amassed 8 caps. The final real player is Rob Clare…who starts the game at Stockport and is currently at Southampton. I have no idea how he has made the squad but he has 2 caps, so good for him.
From the old guard, Ashley Cole got a massive 111 caps and still plays for Barcelona but he's too old for Rix. Make your own jokes. Joe Cole has played for Barcelona and Real Madrid and is currently at Chelsea but no place for him and his 97 caps either.  Michael Owen has 104 appearances for England but as Oxford's player-manager, his International days are behind him. Rio Ferdinand (95 caps) was recently sacked as Bournemouth manager and is now Badajoz manager, with Jonny Woodgate his first signing on a free. Somehow Woodgate hasn't fallen apart yet. John Terry has 56 caps and has just spent a season at Sevilla, whilst Steven Gerrard has the same number of caps and turns out in Blackburn's midfield. Oh well.
I said I'd come back to Ipswich and now is the time. Take a look at the Premier League roll of honour
George Burley has, inexplicably, been there since the start of the game and took Ipswich to back to back Premier League titles. Takes all sorts. Gillingham are still managed by Andy Hessenthaler too, so stability is the key. Tottenham, managed by who else but Lawrie Sanchez, have managed to knock Burley off his throne but they'll be back I'm sure. Incidentally Man Utd are managed by Brian Little – follows of my CM9798 blog will join me in wondering how he got to be so highly rated by all CM games.
It's been mad in the Champions League too, 2014 was seemingly the tipping point for sense to drop off the radar.
Anyway, back to International football and it hasn't been much more sensible on the World stage either
Again, things were fine up until 2010. And now Graham Rix is a World Cup winners, beating the USA in the final. Argentina wouldn't know what to do with themselves. There will have been mass investigations as Switzerland were awarded World Cup 2014, but any thoughts of odd goings on were quashed with a Croatia vs Greece final.
If that's not bad enough, Norway are the European Championship holders…
Apparently trying to beat Norway in Norway is the impossible dream. Big John Carew was a handful and Italy couldn't handle him. However, they haven't even qualified for Yugoslavia 2016, which is probably some sort of record. Here's the groups this time around:
Now you're caught up, let's go to France, er I mean Yugoslavia.
The hosts get things off to a bland start.
Day two is very exciting with some of the big name nations in action – incidentally Robben & Van der Vaart still turn out for the Dutch and Quaresma for the Portugese.
Sunday though…is England vs. France. Amazingly, old boys Smith and Etherington get the goals and the would be hosts are defeated.
Romania, captained by Christian Chivu and with Marius Niculae up front, lose 2-0 to Austria. Niculae I'm pretty sure is on 97/98 so how he's still going is anyone's guess.
Sweden lose 1-0 to Greece despite this man leading the line
Belarus beat Bulgaria but what can you really say about that.
It's the turn of the Scots, finally, as they face Poland. Scotland boast CM legend Mark Kerr, one of my favourite ever CM players, so I'm delighted he got his big move to Man Utd back in 2011. The Scots are managed by Billy Davies and captained by Darren Fletcher, with the evergreen Shaun Maloney still knocking around. The Scots win 1-0, so that's a good start.
The hosts win! Though it is a result that practically eliminates Sweden
This is a strange old result
The Czech's are captained by Tomas Rosicky, who has just been released by Liverpool. It doesn't help them against the World Cup runners up.
In England's group, France come from behind to beat Bulgaria 2-1 and it's followed up by a contender for worst game of the tournament as Germany and Poland draw 0-0 with just 7 shots in the whole game.
The scheduling for this tournament is all over the place. We're back in group 2 as Holland beat Austria 2-0, Arjen Robben getting man of the match and Huntelaar climbing off the bench. Glenn Loovens is in the squad, read into that what you will.
It's a disastrous day for England. A 1-0 defeat against Belarus can't ever be considered a good day, but coupled with a red card for Alan Smith (shock) and an injury to recently crowned European striker of the year Justin Georcelin makes it a pivotal day in the tournament. David Prutton got man of the match though, so there's that.
The English mood is probably soured further by Scotland beating Portugal, making the Scots the first and only team so far to qualify for the last 8, with a game to spare.
So now we're into sudden death, and both games will happen simultaneously. The hosts somehow end up winning their group despite their rocky start, and the Czech's join the Swedes in the exit lounge.
Group 2 and try and pick the bones out of this
I'll put the final group up in a bit but head to head has ruined Italy.
Germany are out! Scotland do what England rarely manage and see them off. Portugal get the job done on Poland to take the second spot.
So it all comes down to England
Beat Bulgaria and you are through lads
Barry* Manolov sends England away and it's tears in Belgrade. France beat Belarus so both of those teams advance. Rix out.
*Not actually called Barry
Scotland carry home nations hopes in the quarter finals.
Where did it go wrong for England? Well in Georcelin and Smith's absence, 33 year old Ashton got his first cap. Dean Martin at right back? That's amore.
The show must go on though and those crafty Greeks are at it again
Also, Portugal have a man named Jose Jose. Which I'm a big fan of. They're in the semis
Belarus see off the Scots, so they've broken more UK hearts
But the real drama is reserved for the hosts. Imagine the scenes when that late equaliser goes in…followed by an early winner! Golden goal still in operation after Trezeguet and Bierhoff settled consecutive Euros with one.
So, Yugoslavia and Belarus in the semi final nobody expected
Followed by Greece and Portugal in a repeat of the Euro 2004 final (which of course never happened)
So it all boils down to the hosts Yugoslavia against Greece.
Greece is the word! The World Cup runners up go one step further and win Euro 2016. So make of that what you will.
What have we learned from this? Actually, very little. In a tournament where the World Champions (Croatia) didn't qualify and the holders (Norway) didn't either, it's fair to say this crazy simulated world has very much evened out the quality across Europe. I'm off to put a tenner on the hosts losing in the final, though I'm a lot more confident of that with it being France rather than Yugoslavia. Until my next stupid idea, see you around.
For more Classic Championship Manager, check out Dave's blog at cm9798.co.uk