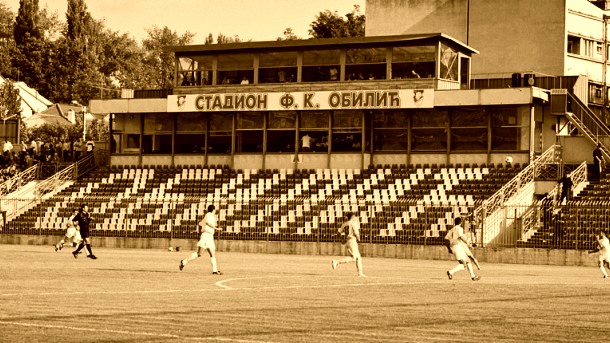 I have lots of ideas over the course of a day.  Some are stunningly awesome.  Some not so much.  Some are downright ludicrous.  Deciding to take over FK Obilić in the 7th tier of Serbian football is certainly one of them.
In FM15 I always started lower league (and did quite well) until I embarked on the Wolves-Internacional-Boca-Lazio save that lasted about six months.  I always did quite well at the lower level, I had a pretty impressive promotion record with CD Torrevieja, Clapton, Carl Zeiss Jena and Guildford City.  I had forgotten one thing though, before I embarked on the creation of the Serbian league database.  One thing.  It is bloody hard work in the lower leagues.
Within about 25 minutes of firing up the save and being turned down by four potential assistant managers, a physio (I mean they should be desperate for work right?!) and a scout it all came flooding back.  Tactics will take a long time to train in – we train twice a week.  Fluidity might appear by Christmas.  Retraining players into new positions?  Yeah, that will take a while too.  "Go and get some new ones then!"  If only.  Although every player in the lower levels of Serbia is an amatuer, and therefore can move across teams freely at no cost inside the transfer window, no bugger wants to leave their club to come and play for us.  Plus, there are only about four free agents in Serbia that would even consider joining the club.
A quick check on the pre-season odds sees the favourites priced at 1-5.  We are 150-1.  Only one team gets promoted into the Nizi 1.  #TheArgentineStrikerless has beaten the odds once on FM16 so far, winning the Hungarian Division with Honved twice in a row, both times the club was tipped for relegation so I am not totally scared off by the odds but is fair to say that Honved had slightly more to work with than these boys at FK Obilić.
So, yeah – this is going to be tough!
Anything tough needs a plan.  So this is mine.
Club Culture
FK Obilić might not win much in the talent stakes initially, but they will win the on the "culture."  Players are going to train hard, become technically and tactically aware from a young age, hopefully with the ability to play in multiple positions.  The club will always focus on youth, developing talents eventually that will go on and play at a higher level.  Creating the environment with the right coaches with a lack of facilities will be a huge challenge in the early days.  In terms of communication with players I will follow my usual rules.  The only time I give a pre-match team talk is when I have the option of "tell the players to pick up well they left off."  Other than that, I say nothing.  No matter how we are doing at half-time I am not happy and I always praise the win, criticise the loss – even if we were expected to lose.  Praise good training performances, criticise bad training performances.  Any player with under 6.75 average for the last 5 games will get told to get his act together.  I am consistent, and eventually the players respond well to this culture.
Recruitment
For the first season, anything "Searching the Stats © v2.0" can go out of the window as I will not have the data.  Plus, as I moaned about above, signing anyone is a bonus so if a scout says they are half decent, I will try and bring them in.  Longer term, I will be in a "StS' heaven as there are so many players at this level and I will have data on all of them as the scouts are working overtime already – even though it is unlikely anyone will join me before the end of the transfer window.
Tactical Approach
We will remain consistent as #TheArgentineStrikerless is the way I want the club to play, and eventually be defined.  The early signs are that we will get there with the right players, even if at the moment it is slow going!  That said, to get to the top flight is six promotions – can I realistically achieve that playing one way?  We shall see.
Training
As I mentioned under culture, I want players that are technically competent and tactically aware.  Therefore all of them are training on a positional basis according to the tactic and where I see them fitting in.  Equally, they are all working on a specific area that is relevant to the role.  As the season moves past the transfer window and I know I have these players for a while, I will start working on training some PPM's into them, again specific to the position – I will write a piece on this when I get there.  Generally, training is just fitness/low so not to overload the players.
If I can start to get progress and structure in each of these areas over the course of the first season I might accept not getting promoted first time out.  For me, the minimum accepted performance this season will be top 5.  The realistic goal is top 3.  The stretch goal, obviously, is promotion.  We shall see.
Anyway, I shall not bore you with the ins and outs but we are three league games into the season after a long pre-season.  We drew the first two games and nicked a 1-0 in the third.  Little by little, little by little.
Early impressions of the squad is that our defenders are massively inconsistent.  In each game I have had to hook one of them at half time for having a rating of 6.3 or less.  On the flip side, two converted wingers are adapting to being defensive midfielders pretty well, both with average ratings of over 7 so far.  Chances are at a premium so far, we have probably only created four decent chances in three games – I am hoping that will come over a little bit of time.
This is going to be a long, tough challenge but ultimately I feel it will be worthwhile.
Stay tuned folks, I will be back soon.
@www.thehighertempopress.comcomeontheoviedo