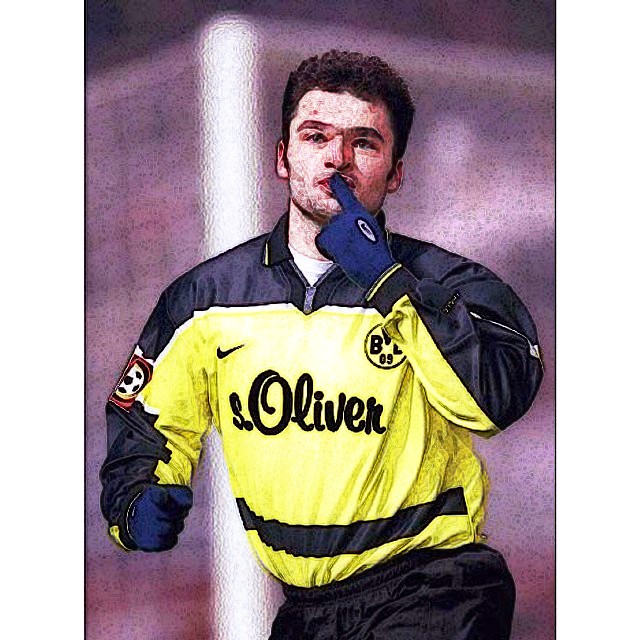 Welcome back! In Part 1, I considered why Borussia Dortmund fell apart domestically in 1997/98 and came to the conclusion that I could do better – hypothetically speaking. I mean, I am using a management game that's 18 years old. Anyway, it's been going surprisingly well and the European Champions sit 3rd in the table. We're hanging on by a thread in the Champions League though – more on that later. For now though, it's a trip to bottom of the league Berlin.
That actually lifts us to 2nd ahead of the winter break. I've never seen this happen though, and I've been playing this game a long time. The Champions League programme is a little bit reduced…
Basically the three German teams are all on their winter break, so apparently we won't play Champions League games either. We do what we want. Although apparently that doesn't extend to the European Super Cup.
What a stupid schedule. That trip to Karlsruhe will be fun. All of this does mean I know what I need to achieve to get one of the 2 runners up spots should we fail to beat Barca in that all important group game. Fancy having Barca as your next 3 fixtures. Happy 1998.
Anyway, Super Cup time. In reality, Barcelona ran out 3-1 winners over two les. Did you know this was the last Super Cup played over 2 legs? Either way, the 2nd leg is irrelevant here.
What a disaster. It is our first game in a month, but hardly an excuse. That group game is going to be a disaster.
Oh, this happened in the meantime.
Some pride is at least restored in the 2nd leg.
Somehow we have to get a result at the Nou Camp in a few weeks' time. If we are to lose, all might not be lost. The two best runners up go through, and with most groups already finished, only one team have more points than us (Porto, with 12 points). PSV join us on 11 with a +4 goal difference, whereas Leverkusen have 10 points with one game to go. They end with a trip to Parma, who have surprisingly lost all 5 of their games. In short, a win is great, a draw will do, a loss and we're up against it.
Balls.
A late Tino leveller potentially puts us through…I think?
Yes!
No easy games at this stage.
Back to action in the league, and a brief wobble is fixed by a mazy Chapuisat dribble and chip. That guy.
Oh hello top spot!
Now the key is to not to let it go.
This should have been another 3 points but Bobic's penalty woes continue. Why did I sign the only German who can't take a pen?
Game in hand time now and it's Duisburg again. Deuxburg perhaps? Anyway we score twice in a minute to overturn a deficit and move clear again at the top.
2 days later (this schedule is ridiculous by the way) we have a tricky looking trip to Leverkusen – everybody's favourite Chap scores again late on to send the away support wild.
But now the real test is here. After our dramatic group stage, we've got to try and make the most of our second chance.
Balls.
We'll have a go in France but that will be a tall order.
We're a bit flat in our next home game and it costs us 2 points. We're getting to that stage of the season where there are lots of little injuries and suspensions so we need to hang in there.
We're still top though with 10 games to go – 9 for most.
We're given a chance to atone for that draw with our game in hand against 1860 Munich. It's hardly a classic but it's three points nevertheless.
The lack of goals in recent games is becoming a major concern.
Who wants to see a strange transfer?
You're welcome.
Back to business and it's Cup Quarter Final day. The old "rigged draw" theory will be in full flow for this.
Dortmund 1 may as well be our name!
St. Pauli please!
Well that is the exact opposite of what I wanted.
Off to Paris then, trying to overturn a 1-0 deficit. We can barely manage more than 1 goal so I don't have high hopes.
CHAPUISAT! Just as extra time was looming, my favourite Swiss maestro pops up with an unprecedented second goal. This after our own Frenchman had levelled things up. Get in!
Man Utd take out Barcelona, which is handy. Quite what happened in Monaco I don't know, but they're through anyway.
It is the French side who we'll face in the last 4.
We survive an international break without further injuries but pick up another in our win at Bielefeld.
Sadly it ends Sibi's season.
He'll be a big miss, especially with the Champions League semi-finals just around the corner. The first leg doesn't go well as a very young Ludovic Giuly getting the goal.
Monaco's team on this game is well documented to be outstanding so it's always going to be tough.
Second place Hamburg are our next visitors, and worryingly they keep us out with minimal fuss.
It means with 7 games to go…
We need to respond and we just about manage to, Marc Emmers with a late header.
Hamburg can only draw with Leverkusen, so the gap is 5 points again.
Our schedule has really been unfortunate, so 2 days after that win it's Easter Monday and we host Bayern Munich. 2 days after that, it'll be Monaco. Seems fair.
Baumgart indeed. A bad start to an important week.
This is cruel.
That Henry fellow won't amount to much I bet.
It's double German disappointment.
The week ends with a very difficult trip to Schalke, who have strengthened their side with Worns and Bienlich from Leverkusen. It's not enough to stop us though!
Cup Semi Final day and apparently there is no such thing as a neutral ground, so we're away to Bayern.
3 minutes away. Bugger!
This is unravelling quickly. All eyes on the league now, 4 games to go and it's in our hands!
It helps that Fredi Bobic turns up for the first time in a while against Wolfsburg.
Hamburg drop points away to 14th place Rostock means the gap is 4 points. It also means that we're at the proverbial match point, one slip by Hamburg could be enough for us.
We keep the pressure on with yet another 1-0 win!
Hamburg draw so now we only need a point!
It's fair to say we were leaving nothing to chance…
Yeah!
We finish with a win thanks to another Marc Emmers double. I wonder why he was so good on this game, it's an odd love.
Looks easy in the end!
So it's fair to say we easily out performed our real life counterparts, winning the league by 9 points. To be fair, I did sign Marc Emmers. Chapuisat was the star man, somehow, 23 in 43 is a very decent return.
Emmers comes through as the top rated player, 2 of my other signings also in the top 3.
What can you say? The Dortmund squad without the signings I added was actually pretty poor, which is backed up by their 10th placed finish. I replicated their run to the Champions League semi-finals, which was largely done without the new signings, so it's another win for the 9798 database!
Thanks for joining me on this trip through time and I'll hopefully see you again soon.
Written by David Black – you can follow David on Twitter @www.thehighertempopress.comcm9798 and also read his fantastic blog over at http://www.cm9798.wordpress.com