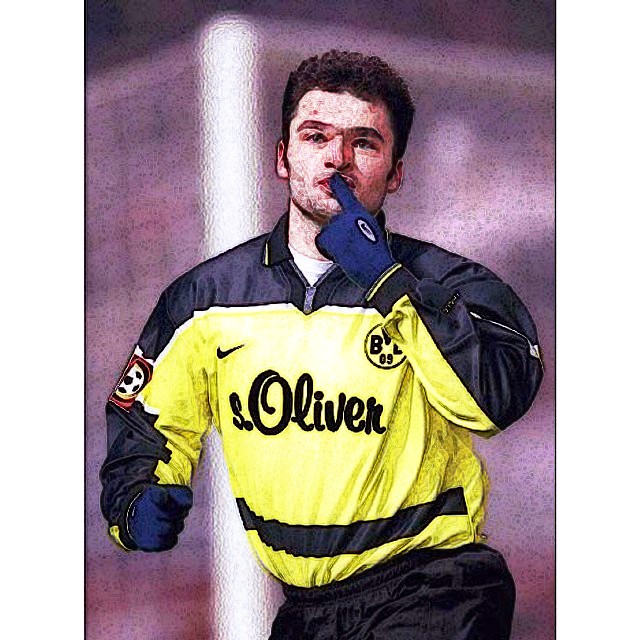 Jurgen Klopp's recent arrival in England led to me using everybody's favourite research website to find out a little bit more about the former Borussia Dortmund manager. The work he did at Dortmund was incredible, re-building a forlorn club into Champions once more. Re-building. Why had the Dortmund house fallen down in the first place? What happened to a club that won the Champions League in 1997 but struggled to get anywhere near matching that feat until Klopp took the reins?
I scoured the internet for serious answers. The manager, Ottmar Hitzfeld, was moved into a sporting director role, and the new Italian manager only last one season, finishing 10th in the Bundesliga – a drop of 7 places. They did make the Champions League semi-finals in an attempt to retain their title, beating Bayern Munich along the way over 2 legs, and winning the World Club Cup was almost expected. But all of this got me thinking – what if I had been in charge, and the Bundesliga was actually played on CM9798?
Consider me in charge.
It's not a glamorous team. I don't recall ever managing a team in Germany which begs the question of why they'd hire me, but I'm not here to ask questions. From the Champions league winning team, Paul Lambert has left and gone back to Scotland, with Celtic to be precise. Was he really the key component in this team? Scott Booth has arrived from Aberdeen, I'm not really sure why. Maybe Dortmund have a strict one Scot only policy? Who knows. Sammer is wanted by Barcelona but that's just tough, I need him.
£5m is not enough to retain the Champions League. I'm beginning to see where the cracks came in. Fortunately this soon increases with season ticket sales to over £10m
What the ruddy hell is this!?
Some sort of fancy pre-season I assume. We'll just play it and hope.
Penalty shootouts in Germany could go on forever. Well it was really worth it.
Anyway, regardless of the team, it's important to do the basics. Marc Emmers signs for £400k.
Oh it's time for another one of these.
After the early shoddiness from the Scott (pun intended) and the American, my German contingent do what they do best to see us through.
Well that sounds like a treat. Some versatility is signed.
I'll be amazed if we get to pens against Bayern!
Yes, that went as well as expected. They're just so much better than we are…
This might help:
It's a canny tragic start to our league season.
Then again, Bayern lose at Rostock so maybe it's just one of those weekends.
Sib's here, that'll help.
Another cup is here. Presumably the cup that matters. We're through anyway.
Spare a thought for Tennis Borussia Berlin. That is just a collection of words.
Heh. Lube.
Time to try and get our first league win but we're up against everybody's favourite pyjama wearing Hungarian
…who we can't beat.
I'm starting to think this wasn't such a brilliant idea after all.
As you can see, it's another white hot day of Bundesliga action.
Champions League groups have been drawn, I think Hitzfeld had the right idea.
Anyway, that's to look forward to later. Third time lucky in the league:
Goals are going to be a problem I fear. Just when I think we've turned a corner, this goes sour very quickly.
I'm tempted by this:
Sammer being a sweeper or defensive midfielder limits him in my team, Abelardo could really shore us up.
Well there we go then.
More liquid football here but at least the new man gets man of the match on debut.
Our first Champions League game is here and we've got literally our easiest of the 6 games up first. It's all downhill from here.
Steffen is our Freund. I'm calling this early but Kirovski is absolutely terrible. Here we are thrashing an amateur side 1-0.
It's fair to say we underperformed!
Round 3 will be a real treat.
Haters gonna hate though, the German entertainers have won 3 games in a week and conceded nothing. We are Alan Hansen's wet dream.
I've moved to solve our goal scoring problems though. Meet my new striker.
5 years before he was scoring hat tricks for Bolton, Fredi Bobic was (probably) a much sought after striker in the Bundesliga. Granted he can't help me in Europe due to being ineligible, but that doesn't worry me. As fate would dictate, Bobic's debut comes at the club he left 2 days ago.
Nerves of steel this lad. That and he's German so missing a penalty wasn't an option. The old BB gun strike force. The old Bobic & Boothy. B&B coming at ya. We'll work on the name, it's not important.
Listen, get to f*ck. You might have won the Champions League but you've got Scott Booth up front. I'm doing the best I can!
Speaking of Boothy, we're off to his homeland. He celebrates by popping up with a priceless equaliser.
Can't help but feel we probably needed to win that if we're going to get through ahead of Barcelona.
Annoyingly, the day after this result Brian Laudrup leaves Rangers to sign for Bayern Munich.
This is a decent result too.
Side note on Chapuisat, one of my earliest football game memories is the Euro 96 game for the PC. Barry Davies did commentary and he really shouted Chapuisat with some gusto. Story over.
He is turning into my favourite Swiss man though.
See how we turned on the style and scored a second goal. Wow.
I mean look at the table. Are you not entertained!?
All I'm saying is, I can understand how they only finished 10th. This isn't a bad result but it was close to being magnificent.
Scott Booth, you dog. We really needed to win though; it's looking grim with only 1st place guaranteed to advance.
From one extreme to another and we actually manage to put lower league opposition to the sword.
It's not the worst quarter final draw either.
I'm sure we can thrash them 1-0. Bayern away now. Have we improved since that weird cup game?
Right. What irritates me here is that Kahn fouled Sibierski for the pen and wasn't even booked. Bobic scored the pen and it had to be re-taken…then Kahn saved it. Big Oliver went on to get man of the match. Denied a famous win but it's a moral victory.
Ridiculously, our next game goes ahead despite Emmers, Chapuisat & Booth all playing for their respective countries in World Cup playoff matches. Fortunately, Sibi gets the job done despite having to watch Kirovski miss about 15 chances!
Big game in Minsk next and the main men are back in the side. Sibi is banned though and Moller is still injured so we need to find some creativity somewhere. I needn't have worried.
It's not impossible but with our last game nigh on impossible, we're looking to sneak a second place finish.
This is however getting silly now. Barry Davies would have been all over this.
I mean, he's not even that good. 6 for shooting!
To be fair, he did score pretty much 1 in 2 during his time at Dortmund so why his best stats are determination and tackling, I dread to think.
This guy will never amount to much.
There's chaos in the World Cup playoff match.
Controversy just follows Beckham around it seems. Stuart Pearce back in the side is a big call.
Sibierski has been a real bargain.
That puts us up to 2nd, remarkably. Borussia MGB top the pile.
The big clash with Rangers is here, and not only is Bobic ineligible, Booth is suspended and Moller injured. That's less than ideal.
Not to worry, Kirovski is here!
With Barca beating Minsk fairly routinely, we're up against it with that big clash at the Nou Camp to come.
Another home win too but a stupid red card spoils our day.
It's even made the board moderately pleased!
World Club Cup time, something Dortmund won against Cruzeiro and I'd like to do the same. It's Sao Paulo for us though. The squad is chaotic – most of the players I've signed are ineligible and there's injuries and suspensions ahoy too.
Sao Paulo have Denilson but we're German, so when it comes to penalties it's routine.
Now, you'll notice that game was played in Japan on Monday 1st December. So how is it humane to have us play 1st vs 2nd back in Germany 48 hours later? With that in mind, I'm relieved to take a point.
That takes us to half way through our season, with it all still to play for.
Come back and join me next time for the second half of the season. I'm looking odds on to finish higher than the 10th place actually managed, but my Champions League hopes hang by a thread. We all love Chapuisat!
See you next time!
Written by David Black – you can follow David on Twitter @www.thehighertempopress.comcm9798 and also read his fantastic blog over at http://www.cm9798.wordpress.com