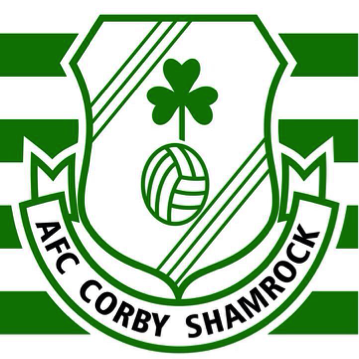 AFC Corby Shamrock Reserve Team Assistant Manager, Callum Stewart, is back to tell us more about the self-proclaimed best grassroots team in Northants.
There is quality at grassroots level, believe it or not.
Now I know what you're thinking.
"Quality, at grassroots level?"
Well yes, across the country at grassroots level there are tonnes of players who, given the chance, could be playing at a much higher level.
There is a horrible stereotype for the calibre of players at this level; Loud, angry, overweight, non-talented players who care more about the sausage and chips in the pub after the game. But this is not always the case. All it takes is to be strolling by your local football pitch one Saturday afternoon and there is a chance you will see that one player, he who just stands out on the pitch with his attitude, desire and sheer talent.
Of course, you do get the "other" player who is the complete opposite of what is mentioned above, it could be the sponsor's son who has the touch of a baby elephant and the skill to match. Or it could simply be your mate Gaz who just shows up for a laugh with his spanking white boots that are surprisingly a year old who is mainly there to check the latest scores for everyone's coupons.
But on that occasion you see the talented player, just watch and see how much passion they will show during the most important 90 minutes of their week. They play every Saturday in front of 10 men and 11 dogs with the same will to win that they would show playing in front of 75,000 fans at Old Trafford.
On this subject, meet Dan White.
Dan was not only Corby Shamrocks top scorer last season, he was also the top scorer in the whole of Northamptonshire scoring an impressive 54 goals in all competitions.
Dan is full of charisma, confidence and natural talent, he is an explosive striker and is the type of player any club at most levels would be lucky to have. His passion for the game is evident whether it be friendly match or a cup final. Sadly for the local game, he is swaying away from football to concentrate on his promising boxing career. I caught up with Dan to ask him a few questions about how he rates grassroots football and football in general:
CS: Do you feel you were given a fair chance to show what you could do at a higher level in football?
DW: Yeah, I feel I was given a good chance I suppose, If you have the talent and you get yourself to the right stage you will be seen sooner or later.
CS: What made you make the decision to take a step back from football to get more into boxing?
DW: I stopped taking football really serious around 17/18, I like trying new things and pushing myself to the next level. With football there is obviously a team around you. When you box, its one on one which I prefer.
CS: What is the best thing about grassroots football?
DW: The freeness of it all. I like being able to play with my mates and have a laugh whilst taking it seriously too. But yeah, having a lot more freedom on how you play your game and being able to express yourself.
CS: What is the worst?
DW: The pitches. Having mole heaps as a covering defender sometimes is a pain!
CS: What advice would you give to any young players reading?
DW: This is the time to put the effort it in. Take yourself to the next level and let yourself be seen. The opportunity is there so take it, and smash it.
——–
Dan is not a one off. There are plenty more players at this level who deserve more of a chance to show what they can do. It may be they don't see what potential they have or even that they wouldn't know where to start in looking at trial days.
Is this the problem that is evident at the top of English football? It's an ongoing argument that more money and time is needed at grassroots football, and from someone who spends their free weekends involved, I can categorically say that more money and time invested in this level would improve the game all the way to the top. The talent is there, the drive is there, it's just a matter of someone stepping up at the FA and making the decision to support grassroots football. I don't mean just verbally support it, I mean go all out and do everything in their power to help.
It's been proven that there is players hidden away who could have an impact at a much higher level. Look at Charlie Austin for example: In 2010 he was playing for lowly Poole Town in the Wessex Premier Division, after being given the chance at Swindon Town he has since gone on to score goals at the highest level in English football, gain an international call up for his country (though he did not feature on this occasion) and as I write this he is apparently the subject of a 15 million pound bidding war between Newcastle and Bournemouth. It's a long way from playing part time and all it took was for someone to give the opportunity to showcase what he could do.
This is not an isolated case, there are plenty of players who have made the step up and with the amount of money being thrown around for foreign talent in English football at the moment, more and more clubs are starting to see there is talent to be had on a shoestring budget who can make an immediate impact.
Look at Peterborough Town, they have taken the chance on numerous non-league players and it has paid off. So this summer with the amount of wheeling and dealing going on, I really hope we see more players plucked from obscurity and arrive on the scene with a bang. It's these players who give other players at grassroots level the hope that one day they can do the same.
So what has been happening all the way down here in the last week? Well, Corby Shamrock hosted the annual, much awaited presentation night for the end of season awards and I'm sure there were a few sore heads on Sunday morning!
We also officially started preseason training, after giving the lads an extra couple of weeks off due to their performances last season. A gruelling training session was had by all involved and I'm sure anybody reading who has had the, shall I say pleasure, of a preseason training session will know what the lads went through. The effort and determination shown by them was second to none.
The Shamrock lads off on a run, first team manager Mark Mcginn overlooking
With the friendlies ready to come thick and fast, it's a great chance for the new faces in the team to show what they can do and it doubles up as a good team building opportunity. Also for the new young players, training and playing alongside men for the first time is great to see and it will be rewarding to watch them develop throughout the coming season. There is silverware to be won and they are hungry for it, and I am sure their sheer passion for the game and our club is what will hopefully see us holding that silverware aloft in 12 month's time!
Written by Callum Stewart (Assistant Manager – AFC Corby Shamrock Reserves)
You can follow Callum on Twitter @www.thehighertempopress.comCal_HigherTempo and catch up with AFC Corby Shamrock on Facebook here: www.facebook.com/afc.corbyshamrock