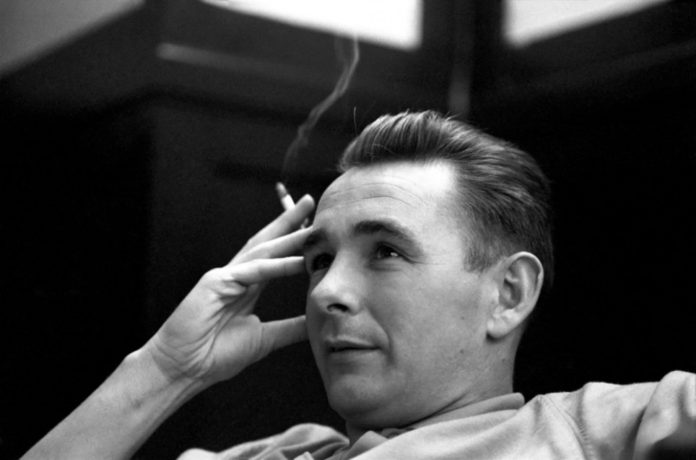 Brian Clough is one of my favourite managers ever.  Not so much because of what he won, or the teams he put together, but more because of the man himself.  I know Bob Paisley was probably a better manager.  I know that Ferguson hammers him on trophies won.  Hell, even Bobby Gould won the FA Cup as a manager.  But none of them, and I mean none of them, had the personality, the alluring character and the sheer entertainment value as Brian Clough.
Michael Sheen's portrayal of him in the movie "The Damned United", adapted from David Peace's excellent novel, was a work of art.  Even typing this now I can hear his voice.  Clough was at his best when he took over an ailing club and rebuilt it into a something new, he was not at his best when he took over something that was already working well – Leeds for example.  In taking over Wolverhampton Wanderers, claimed to be "Champions of the World" back in the 1950's, I have my own version of Clough's Derby or, to a lesser extent, his Nottingham Forest.
I have my methods of playing this game we all love.  Mine are slightly different, just like Brian's were.  I think in his own way he would have respected me.  He was one for the non-obvious too and, although I suspect he didn't sit there pouring through data as I now do, he was always looking that bargain, that player that others had written off but he could get more out of.
The method, inspired by a bit of Moneyball and a bit of Soccernomics, has been christened "Searching the Stats."  My good friend Alex Stewart hosted my initial thoughts on how the system can be used in Football Manager to make better recruitment decisions and hopefully save some money at the same time.  In a nutshell, I tend to ignore a player's technical, physical and most of their mental attributes.  At a push I will cast an eye over their determination, decisions and off the ball.  What I am really interested in is the key performance data that tells me whether they are good at their job.  To read up on my method, visit the original post at Put Niels in Goal here.
This recruitment strategy combined with the rules I have set myself below mean that Wolves should become known as a very, very well run club.
All signings must be U23 on the day of signing
If anyone makes an offer that exceeds the value of a player, sell them
Always have a replacement lined up for players that are wanted by other clubs  – this replacement, ideally, will come from the youth squads
Always replace a player with a better player if he becomes available and fits the criteria
If a player is unhappy, off-load him – dressing room harmony is worth 10 points a season
Now, it takes at least six months to start building up a picture of a player's performance as, in my opinion, I need at least 15 games to use as a sample.  Anything less than that becomes a bit of guess work.  That means for my first six months at Molineux I will not be looking to make sweeping changes.  Take note Brian.  I will work with what I have, develop the younger players and take a view in the January window.
Wolves have a really decent set-up, I have never looked at the club until now.  It has a solid backroom staff, though I am likely to have a search for my own Peter Taylor, great facilities and a squad that looks at first glance to be far better than the predicted 19th place finish.  There is also a strong core of youth talent in the U21's and U18's that I believe I can develop.
I'm quite excited by a young defensive midfield called Jordi Ortega who I have moved up from U21's.  There is also going to be a challenge in our best player, Bakary Sako.  My initial scribble down of a tactical framework does not include a left-winger, and that is his best position.
We are predicted to finish 19th this season and the board are asking for a mid-table finish.  I would like to think, despite my total inexperience at this level, that I will over-achieve that.  I have a tactic that I have been dabbling with in pre-season and the early signs are very, very promising.  Having read "Lines & Diamonds" by the Hand of God and kindly hosted on Si Sports Centre, the penny dropped that some of my previous tactical attempts have been a little complex.  Again, following Mr Clough, I am keeping it simple.  Ball on the floor, work it into the box and when you lose it, try and win it back again as quickly as possible.  Couple that with an attacking three inspired by @www.thehighertempopress.comfmanalysis but tweaked by myself, the team now massively resembles the Rushmoor Saints U9's side I coached back in the late-90's.  Boy were those kids tactically flexible, not many sides at that age played with a half-back and a false nine supported by a couple of lads playing in free roles.
The Championship is the Sky-proclaimed "toughest league in the world" – we shall see.  With the update I am using from the ever-busy @www.thehighertempopress.comfmwhizzkids Hull, Burnley and QPR will be in the division alongside other former Premier League sides Derby, Middlesboro, Reading, Sheffield Wednesday, Nottm Forest, Fulham, Cardiff, Blackburn, Ipswich, Charlton, Leeds and Birmingham.  Including us that is 16 of the 24 clubs that have graced the top flight since football began, or if you don't believe Sky, since the Premier League started.
There are eleven players in a football team, therefore there will be eleven updates to this journey.  This is the first, the introduction.  I hope it has caught your attention enough to follow it over the next ten episodes, one a week.  Each episode will be a season, therefore I am aiming for a decade in charge of Molineux.
To consider the decade a success I need to look at what Clough achieved in his career.  At Derby he got them promoted into the top flight in his second season, and won the league three seasons later.  That is some feat.  Hard to beat you would imagine.  Except Clough not just beat it, he completely beasted it at Forest.  He got them promoted from the second tier in his first full season, then won the top flight the following season.  That just does not happen anymore!  They then won the European Cup for the next two years, incredible.  Putting the two together in the decade of 1971-1981 Clough won the following.
2x First Division, now Premier League (71/72 and 77/78)
2x League Cup, (77/78 and 78/79)
2x European Cup, now Champions League (78/79 and 79/80)
1x Manager of the Year (77/78)
Stunning.  Therefore, what would constitute a successful decade at Wolves?  To keep pace with Clough I need to get promoted in the first season, this season.  Yikes.  Even if I achieve that there is no way on earth that I will win the Premier League at the first attempt, but I think if I can win it three times in the remaining nine seasons that would be considered beating the great man.  Equally, I would imagine I can overhaul his League Cup record.  Clough actually lifted that trophy four times, but the final two were at the back end of his career and outside the decade boundary that I chose.  The really hard one to beat will be the European Cup/Champions League – I think winning it twice in a decade would be amazing, and winning back-to-backs absolutely unlikely.  Clough never won the FA Cup, so I can beat him there and if I am winning all that silverware then I am bound to pick up more than one manager of the year.
Can I beat Brian Clough?  When we look back at the 2024/25 season we will know the answer.