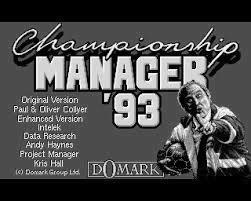 Welcome back to our trip down memory lane. We've gone back over 20 years to dig up CM93/94 – and if you read part 1, I'm sure you're on tenterhooks waiting to see who won the Anglo-Italian Cup. If you missed it, click here to see part 1. Up to speed? Then on we go…
When I left you last time, my Newcastle side were going great guns, up in second place trailing a Chris Waddle inspired Sheff Wed on goal difference only. We've also got a North East derby Coca-Cola Cup match to get through, which is our first stop.
Fairly comprehensive, not even the presence of a young Craig Hignett can take down this unstoppable freight train from hell (working title).
The other results see most of the big dogs progress but a couple of shocks at Charlton and Stoke.
Naturally I've got everything crossed for one of the non-Prem teams at home.
Disaster.
Monthly awards time and Ossie Ardiles is loving life.
As the Coca-Cola Cup reaches the business end, the FA Cup is just getting started. One thing you have to admire about this game is that rather than make up some fake names, it's better to just whack the positions down and call the subs subs.
This looks like a game for the purist.
We draw Watford in the third round, which could have been a lot worse.
Meanwhile, massive celebrations in Huddersfield.
No doubt he was unlucky due to a series of refereeing blunders. Unfortunately, this is 1994 and he's still young enough to take on another 30 jobs yet.
Whoever did this has a death wish.
58 weeks is quite precise though, I can only commend the doc on that one.
Some huge ties here.
As if by magic, here are the 2nd leg results.
Rekjavik taking Barcelona out on aggregate would have killed Gary Neville in today's world, but it barely gets mention here. Man Utd succumb to Bayern Munich in less of a surprise.
Sheff Wed are having a great season and are still flying the UEFA Cup flag for England.
Any ideas who this is?
Another month goes by and Trevor Francis is rewarded for Wednesday's continued success. Eric Cantona and Peter Beardsley are pretty much having their own competition for player of the month but Cantona gets the nod this time.
However Beardsley gets the last laugh by helping us knock Cantona & co out of the CCC.
Ian Pearce.
I know.
Portsmouth do us a turn as well, winning at Highbury.
Just Liverpool to avoid then with the semi-final draw.
We'll take it.
Would love to be able to tell you what's going on here, it seems they're now in two groups?
A quick check on everybody's favourite resource website, and it turns out rather than use groups to work it down for say a 16 team knockout, they go the other way and work us down to 8 teams. Then there's two groups of 4, where the top 2 go into the semi-finals. Obviously whoever designed this was fired and went on to design the format for the Cricket World Cup. We'll re-visit the Champions League later.
To maintain our league push, I've signed stone cold Steve Bould for £500k.
It's been a grim month for football, I get the manager gong and Andy Townsend takes the player award.
For me Clive, Andy Townsend is a clogger. The axe is still hovering over Dave Bassett but he has company from Billy Bonds and Ossie.
Kinnear's working his magic against me too, bringing our FA Cup run to an end at the 5th round stage.
Andy Clarke's 87th minute goal sends us packing. Then this disaster happens.
Out on away goals to bloody Oldham. Still, at least I'm not Souness.
Oldham vs Portsmouth in the final nobody wanted to see.
With us on the ropes a bit it's a surprise to see us win 3-2 at Arsenal and go top of the table:
With 10 games to go, it's getting serious. I don't feel so bad about our cup loss at Wimbledon when I see they are 5th! No wonder Ossie's job is under threat when he's overseen 5 goals scored at White Hart Lane all season. Up next, it's Newcastle vs. Sheff Wed.
It's an absolute steal for us, Waddle missing an open goal late on and sealing his position in Pizza hut adverts for years to come. They should have brought on Bart-Williams to be honest. Ian Pearce also had a screamer of a game as you can see. Anyway, prepare to be shocked:
They're as good as down now, too late I think!
Let's see how the European Competitions are progressing. Everybody loves the Cup Winners Cup (Except UEFA who savagely sacked it off).
That's a stronger lineup than the Champions League!
Waddle into the semis. Right.
Portsmouth are having a great time in Division 1, with the Coca-Cola cup final to play, they've also secured their place in the final of everybody's second favourite defunct cup.
The Anglo-Italian Cup, for division 1 and Serie B clubs, was unsurprisingly scrapped due to being a massive waste of time, but back in 1994 it was very much a thing. Portsmouth vs Cosenza will set the pulse racing. Ironically Portsmouth are only 4th in Division 1, with no guarantee of even a playoff place.
This is an appointment that's quite realistic.
FA Cup semi-final time, Villa are actually the highest placed team left.
Not anymore! Some things never change and it's a Liverpool/Arsenal final.
Since the win at Arsenal, we've hit a wall and after a draw at Wimbledon, defeats at Norwich and home to Liverpool have seen our lead cut to 2 points.
My mood is soured further by a 1-0 defeat at lowly West Ham, which sees us knocked off the top. One thing about this game is that the detail on various offences is more than usual – Tim Breaker spat at Andy Cole and received just a yellow card. Got to love the early 90s.
In the Cup Winners Cup, Dynamo Dresden stun Real Madrid.
Benfica will face them in the final
Meanwhile in the UEFA Cup, the new Premier League leaders are in the final.
Lokomotiv of…Germany!? Right. Borrusia MG (an abbreviation I'm thankful for) will meet Waddle and friends in the final. Hope it goes to pens.
Oldham win the Coca-Cola Cup, in what must have been a hotly anticipated final.
We have to respond and fortunately we turn up at home to Man Utd.
All that does though is consolidate 2nd as we still trail Sheff Weds with 4 games to go.
Pompey make up for their Coca-Cola loss by winning the much sought after Anglo-Italian cup.
The wheels are well and truly off for us now though, consecutive losses to Coventry & Villa mean Sheffield Wednesday are the Champions. Wat. The final table makes grim reading for Spurs, whilst it couldn't be any worse for Sheff Utd.
Benfica win the Cup Winners Cup.
Liverpool take FA Cup glory.
Fortunately, Sheff Wed can't complete a famous double over two legs.
Marseille win the Champions League, denying poor old David Platt in the final.
The playoffs complete on the same day which is great news for graphics.
But that's your lot – there's no World Cup apparently, I'm given these options.
Help!
Before I leave you though, here's the awards.
This is…ambitious.
So as the game works through all of this:
I must pass on my thanks for you reading this. We've been through a lot together but, at the end of the day, Sheffield Wednesday proved too strong. They came 7th in reality, so Trevor Francis is better in video game form. Newcastle were third, so a slight improvement without any of the style. Villa couldn't replicate their real life Coca-Cola success, whilst Liverpool won the FA Cup rather than Man Utd. It is easy to see from playing the game the successful framework was in place and hopefully you'll join me shortly as I play through Championship Manager 2 to see how the game developed.
Anyway, I'm off to Barbados. Cheerio!
Written by David Black – you can follow David on Twitter @www.thehighertempopress.comcm9798 and also read his fantastic blog over at http://www.cm9798.wordpress.com