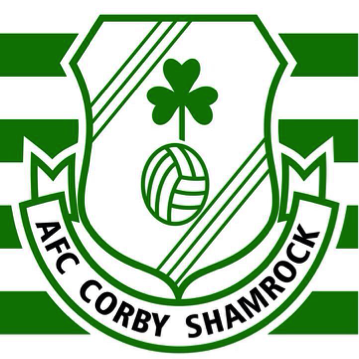 AFC Corby Shamrock Reserve Team Assistant Manager, Callum Stewart, is back to tell us more about how pre-season training is progressing…
Good day to all, and welcome back! Last week I spoke about players at grassroots level, the quality hidden away and how we are in need of help. The biggest problem at this level is lack of facilities, plain and simple. We are quite lucky around the Northants area, due to pretty much every team having a set of changing rooms and a straight pitch.  Some teams can even go one better and boast dug outs and a club house.
The same luck is not shared across the country. Sadly, many teams don't have changing rooms so it's down to the car park to get changed.  It often looks like a strange sort of car boot sale! Pitches can be awful to the point where you could potentially be playing on a hill with a similar climb to Mount Everest (slight exaggeration). It's just not acceptable, to improve the game you need to have good reason for people to want to play and pay. This, in turn, will give teams all the way up a bigger pool of players at all ages, increasing the chance of finding the next Messi at your local park!
So what can be done? The simple answer is money. The latest TV deal for the Premier League was a staggering £5.1b. Considering the first TV deal back in 1992 was £191m, it's come a long way. So whilst the top teams are throwing £49m at a player like Raheem Sterling, teams lower down are struggling to pay players.
The FA have said time and time again grassroots football is getting investment, but season after season costs are going up. Matches fees, the hiring of pitches and changing rooms from the council, paying the match officials, it all adds up.  To add insult to injury, the pitches are poor and a majority of clubs who have facilities find that they are poor to say the least. The Premier League have said they will invest £168m in the next 3 years to grassroots football and charitable causes. They will add 150 new 3g pitches across the country, which sounds great. But when you compare that investment to the latest TV deal the numbers put everything into context, a £5b difference is absolutely criminal.
I hope we start to see changes immediately, it will encourage a whole new breed of players.  The next generation should be playing on adequate pitches and not on a minefield for injuries.  They should have decent changing rooms and shower facilities, not somewhere you'd expect to see in a prison.
Now my ramblings are out of the way, back to normality. Corby Shamrock to be precise.
Pre-season training has continued. The sessions are getting more and more gruelling and the players are enjoying it. Even at this level to be competitive you have to be fairly fit. Our local league structure has seen major changes which now, for the first time,  has first team's and reserve team's mixed together.  The competition week in and week out will be tougher than ever before and to stand a chance you have to be able to go out there and give it 100% for 90 minutes. To achieve this the players need to be worked hard, so for the last few weeks myself and first team manager Mark Mcginn have been doing exactly that.
A nice run around the local field is followed by an intense work out, including circuit training and numerous core exercises. General fitness is then followed by a match to end the session on.  With the lads training twice a week the improvements on their fitness is evident and it will only get better. It's been an eye opener seeing some of the younger players stepping up and trying to show what they can do. I admire the determination and will they have to succeed, even at this level, and it will no doubt take them far in the game if they keep that scrapping attitude with them.
The dreaded planks, Always a favourite at training
The training finally had a chance to pay off.  Last Saturday saw us take the pitch for the first time this pre-season with both first and reserve teams in action. It was a nice double header game away to Oundle Town FC. The first team play first followed by the reserves straight after. It was a nice day for it and Oundle were brilliant hosts, even had the BBQ on the go which is always a bonus for those watching!
 Home of Oundle Town FC – Venue for the days games
Shamrock first team started proceedings and, with the ball getting knocked around the way it was, you would struggle to believe they hadn't played in a couple of months. With Oundle being a league above Shamrock it was always going to be tough but the class all-round the Shamrock team came through in the end with favourite Dan White scoring a solitary goal to give the first team a 1-0 victory in their opening friendly, Well done to them, it was a much deserved win.
Next up were the reserves.  I took charge of the game myself, and with a young team and a few new faces they battled hard.  Unfortunately we eventually went down 3-2 to a strong Oundle team that plays 4 divisions above ourselves. Goals from Scottish right back Sean Lattimore and young midfielder Carl Richards were the highlights of the game, Carl not only scoring, but putting in a solid performance in the middle and being named Man Of The Match.
With approximately 40 players turning up to play, we had plenty of options and it was a great chance to see what everyone could bring to the table early on.  A number of 16 year olds made their very first appearance in men's football, and they all put in performances to be proud of and we could not of asked for anymore. Saturday was just the start of a busy schedule coming up, so there will be plenty more opportunity for new players to prove they can cut it and opportunity for the younger lads to show they can make the step up to men's football. Just as importantly, the current players must try and keep their shirt for the coming season.
Talking of the coming season, I just want to show you just what is at stake this season and where the 2 Shamrock teams will be playing, So:
Teamwork Sports & Trophy Centre Northants Combination League
                The Duston Garage Division 1                 The Duston Garage Division 4 
It will no doubt be a tough season ahead for both teams, but if the effort put in over the last few training sessions carries on into the start of the season then I am sure we will see results. Anyone reading locally will know that we are sue to face some real quality, but it is much more productive playing teams that will test us than a bunch of teams you will put 20 goals past on a weekly basis.  Sure that is fun, but what are the players going to get of that longer term?  I think that is one of the main reasons why a lot of Sunday teams have now made the move to Saturday football.  Saturday football is starting to boom in comparison to Sunday's.  You find yourself officially on the footballing ladder, the competition is rife and the standard is so much higher. The players know they need to put more in on the pitch, and I'm sure they feel they are part of something a bit more than just a glorified kick about with their mates.
So if you are reading this and you don't currently play for a team, get on any form of social media and find your local club.  Get to training! Teams are always looking for new players to come in and make the competition for shirts that bit harder, it's a great way to meet new people and get yourself involved in football.
With the talk of facilities earlier, I just want to again say thanks to Oundle Town FC for having us over for the games, they have a fantastic set up, a private clubhouse and a nice pitch and I am sure they will be playing at a higher level sooner rather than later.
Written by Callum Stewart (Assistant Manager – AFC Corby Shamrock Reserves)
You can follow Callum on Twitter @www.thehighertempopress.comCal_HigherTempo and catch up with AFC Corby Shamrock on Facebook here: http://www.facebook.com/afc.corbyshamrock